While the football game is shelved for this year, there is still hope that the Blue-Gold Senior Showcase basketball game will still be played. Indian River High School senior Yonya Wise will be the lone representative of the green and gold in the game if it is still played, which is tentatively rescheduled for June 13.
Wise was a superb senior leader for the IR girls basketball team this season. The daughter of Sherron Wise and Amanda Lawrence, she was selected to participate in the Blue-Gold Senior Basketball Showcase tournament as one of the Top 30 seniors in the state of Delaware.
For more than 20 years, the game has featured the state's high school seniors who have participated in the exhibition having been selected by the Delaware Interscholastic Basketball Coaches Association. The Top 15 girls from the North — which is the Blue team comprising players from schools mostly from New Castle County — take on the Top 15 girls from the South - which is the Gold team comprising players from schools mostly from Sussex and Kent counties, while the same takes place on the boys side in the doubleheader action on game day.
The games usually are the final event after a week of activities that includes spending a day in Dover learning about the state's judicial and legislative systems. The evening includes a banquet to celebrate with their parents and coaches. All that may not still be a part of the process, but the game is hopefully still in the mix.
"I was very honored when I received the news that I would be playing in the Blue-Gold game," Wise said of her selection. "I've worked so hard this season to make my senior year my best and most memorable year. Being selected to the Blue-Gold game showed me that my hard work paid off, and I will never forget the moment when I received the news."
Wise averaged a double-double in points and rebounds this past season for the Indians as the young squad worked their way through growing pains early on under first year head coach Pat McCrea. The team finished with a 7-13 overall record, but were 5-6 over the final 11 games of the season.
"Yonya was a wonderful asset to our team this year," McCrea said of his senior. "She was a great leader by example. Her hard work, great attitude, and desire to get better every day was something we were very fortunate to have as a part of our team. Every team should be lucky enough to have a player like Yonya, who was really the glue for our team."
The 22nd annual edition of the Blue-Gold game was originally scheduled for Saturday, March 21, but was postponed due to the COVID-19 pandemic. There is still hope the game can be played. If it is played, it will take place at the new state-of-the-art Philadelphia 76ers Fieldhouse in Wilmington.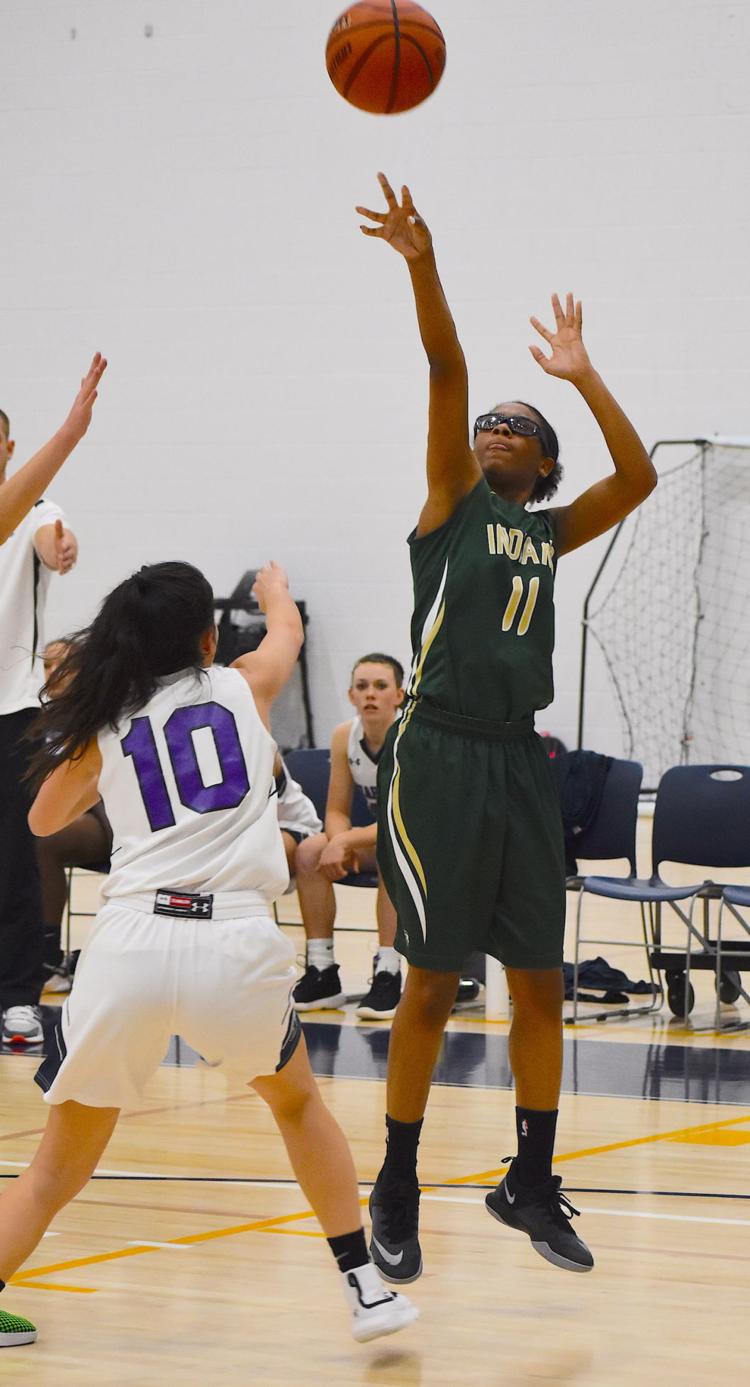 "As far as I know, there is still a chance that we may have the game," confirmed Wise. "I received an email from (game director) Carmela Longbardi that the game has been rescheduled for Saturday, June 13. So, I still have hope that the game will continue. My fingers are crossed."
The Blue-Gold basketball games give the community the opportunity to recognize the achievements of the state's star student-athletes at the end of their high school basketball careers.
The games were created by Mort Kimmel, and the legacy is now carried on by his son, Larry. The law firm of Kimmel, Carter, Roman, Peltz and O'Neill, P.A. is the premier sponsor of the games, and helps to take the event even further by designating a local nonprofit as the beneficiary of all the games' proceeds.
This year, the beneficiary is Cancer Care Connection, an organization that Mort Kimmel served as a board member of for over 15 years. He was a huge part of the organization's success. Cancer Care Connection, located in Newark, is a group of oncology social workers which provides information, resources and counseling to people affected by cancer.
Here are the rosters for the teams:
GIRLS - BLUE TEAM
Izzy Gioffre, Archmere; Fiona Teaney, Archmere; Madison Stewart, Archmere; Michelle Kozicki, Padua; Serena Pluta, St. Mark's; Allie Kubek, Sanford; Juli McCarron, St. Elizabeth; Ber'Nyah Ward-Mayo, St. Elizabeth; Keeley Ciszkowski, St. Elizabeth; Makaila Carter, A.I. du Pont; Julie Kulesza, Conrad; Alyssa Faville, Conrad; Kanisa Tucker, Sanford; Khalia Hart, McKean; Kaleigh White, Ursuline. Coach: Dan Pisani, Archmere.
GIRLS - GOLD TEAM
Yonya Wise, Indian River; Lillian Ayers, Caesar Rodney; Haley Hansen, Caesar Rodney; Abbey Hearn, Cape Henlopen; Dania Cannon, Cape Henlopen; Carlin Quinn, Cape Henlopen; Tamyah Jones, Dover; Alley Manifold, Dover; Liza Blake, Milford; Yaa Yaa Afriyie, Polytech; Tameeyah Bowden, Sussex Central; Jillian Baker, Woodbridge; Mikayla Serpa, Woodbridge; Alissa Crafton, Middletown; Aniyah Williams, St. Georges. Coach: Patrick Woods, Cape Henlopen.
BOYS - BLUE TEAM
Corey Perkins, Sanford; Jyare Davis, Sanford; Hassan Perkins, Sanford; Nasir Brown, St. Elizabeth; Kevin Keister, Caravel; D.J. Earl, Appoquinimink; Brett Lesher, Newark Charter; Jahkeish Demby, Christiana; Brandon Ash, William Penn; Isaac Brady, William Penn; Julian DeJesus, William Penn; David Nichols, Glasgow; Donald Burton, Newark; Lamar Duncan, St. Andrew's; Ayo Ogunbo, Delcastle. Coach: Stan Waterman, Sanford.
BOYS - GOLD TEAM
Kamal Yellowdy, Appoquinimink; Ese Efekodo, Appoquinimink; Syed Myles, Caesar Rodney; Kamal Marvel, Caesar Rodney; Andrew Workman, Delmarva Christian; Elijah Allen, Dover; Eden Davis, Dover; Jy'Heim Spencer, Dover; Jaysem Vazquez, Lake Forest; Amir Mollock, Seaford; Nah'shon Sylvester, Smyrna; Brandon Smith, Smyrna; Skylar Johnson, Sussex Tech; Devon Reynolds, Sussex Tech; Ricky Kane, Woodbridge. Coach: Stephen Wilson, Dover.