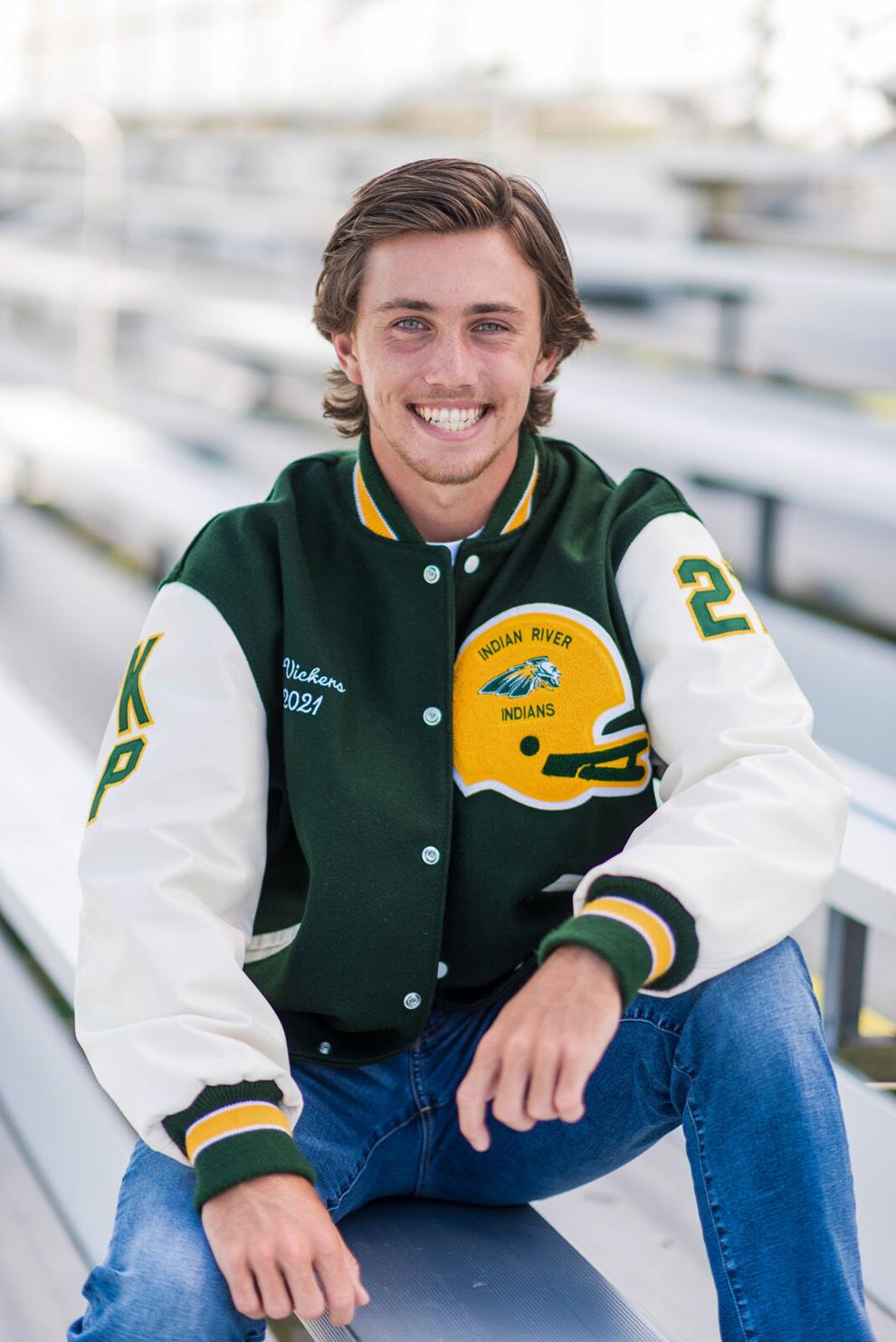 The very first Blue-Gold All-Star Football game was played way back on Aug. 25, 1956. This year's game will be the 65th annual contest pitting the best senior football players in the state of Delaware against each other.
Locally, Indian River High School's River Vickers was selected to participate in the game this year. He will serve as the kicker and punter for the Gold team.
"It's exciting to be selected, and it's exciting to be able to go out there and play football one more time," said Vickers, who will be heading to the University of North Carolina at Wilmington in the fall and will major in accounting. "Last year, I was one of the ambassadors to participate, but with COVID, the game was canceled. It's great to be able to have a chance to play this year. I just have to get out there and kick the ball as far as I can."
This year's game will be played on Friday, June 18, at the University of Delaware. The Delaware Foundation Reaching Citizens (DFRC) Blue-Gold All-Star Football Game showcases Hand-in-Hand Buddies — children and young adults with intellectual disabilities — and Delaware's finest high school students, who participate as football players, cheerleaders, band members and school ambassadors.
Nearly 50 public, private, parochial, vo-tech and charter schools across the First State are invited to participate in helping to spread the DFRC message of diversity, acceptance and abilities throughout their schools and communities.
There is special excitement for this year's game, as it will feature coaching staffs led by brothers Zeb and Zach Blum. Zeb Blum of A.I. duPont High School will serve as head coach for the Blue team, while his brother Zach Blum of Middletown High School will head the Gold team.
The Blue and Gold teams each have rosters of 40 senior players who have been chosen from across Delaware as students who possess outstanding character and who are also exceptional football players.
Assisting Coach Zeb Blum on the Blue coaching staff will be Mark Alley, John Barr and Albie Conley, who are also from A.I. du Pont High School, along with Darren Brodie from Newark High School, Justin Glenn from Delaware Military Academy, Dan Ritter from Howard High School of Technology and Ronnie Smith from St. Mark's High School.
Coach Zach Blum will be joined on the Gold squad staff by Tyler Reynolds and Lee Shipe from Middletown High School, with Jed Bell and Eston Ennis from Woodbridge High School, Scott Cook from Salesianum School, Mark Quillin from Seaford High School and Brian Timpson from Appoquinimink High School.
Marvin Dooley, head football coach at St. Elizabeth High School, will serve as the Blue camp Director, assisted by Jody Russell from Newark High School and Frank Moffett from Hodgson Vo-Tech High School. Dan Candeloro from Caesar Rodney High School will serve as the Gold camp director, assisted by John Wilson from St. Georges Technical High School and Fred Johnson from Lake Forest High School. Jody Russell serves as the DFRC Blue-Gold Athletic Committee chairperson, assisted by John Wilson.
Proceeds from the game and the Blue-Gold program are used to support programs for individuals with intellectual diabilities throughout the state of Delaware. Opening ceremonies begin at 6 p.m., with the game's kickoff slated for 7 p.m.
Additional information is available on the DFRC website at www.dfrc.org or by calling the DFRC office at (302) 454-2730.