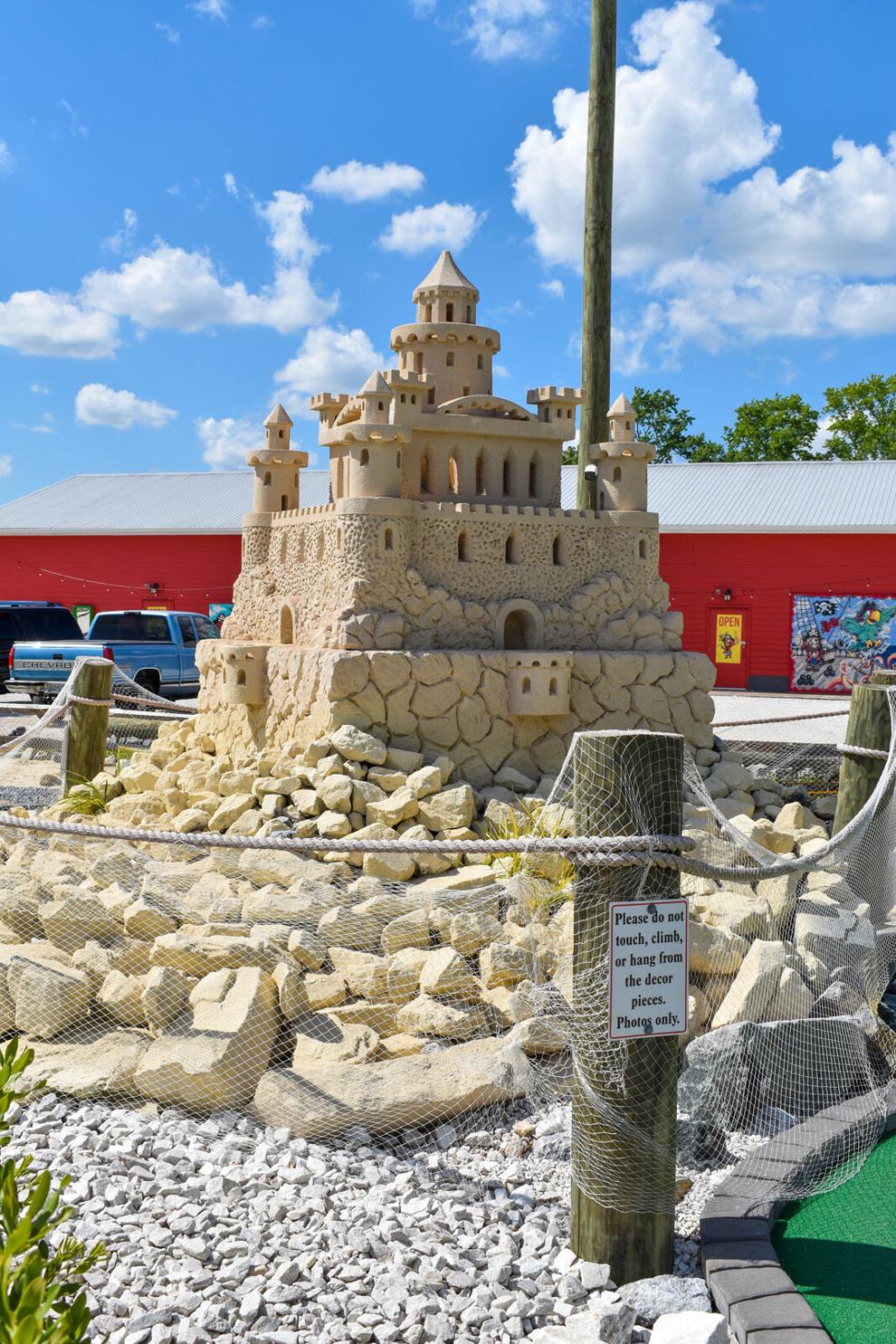 Young and old. Inside or outside. Cone or milkshake. The possibilities are endless when you head out for a day or night at the Millville Boardwalk, located at 35287 Atlantic Avenue in Millville.
Three businesses come together as one to provide just about anyone the ultimate day or night of fun, which could include miniature golf, video game arcade play, or just simply a cone of ice cream. All of the fun is offered seven days a week during the summer, with availability extending even into the winter months.
Lighthouse Beach Golf, Agape Creamery and Captain's Quarters Arcade are the three businesses that provide hours of entertainment options for both locals and vacationers who want to get away from the hustle and bustle of the beach.
The Millville Boardwalk is in its second summer of existence, and the facility looks great from the moment you drive into the parking lot. The first building you see as you drive onto the property is the Agape Creamery storefront, with the large lighthouse landmark that is connected to the left side. Around the back is the Captain's Quarters Arcade and entertainment building.
The golf course is an awesomely challenging 18-hole course with a 19th hole that provides a chance for you to win a free game of golf if you can sink a hole-in-one. The par score for the 18 holes is 44. There are holes that are bi-level, and some with traps and other items to create more difficulty. Then there are some that are perfectly simple miniature-golf holes.
There truly is something for everyone on this course. No hole is the same.
The sign mounted on the side of the lighthouse states that it "is a fun but challenging course that brings together everything you love about the Delaware Beaches. Take a break from the craziness of life, and enjoy an evening on the course with family and friends."
The cost to play the course is $9.50, with children ages 2-8 paying $7.50, and kids 2 or younger playing free of charge. The have a 65-and-older discount for seniors, at $8.50, and military and first-responders also are given the same discounted rate of $8.50.
They also have a various specials throughout the week, including a happy-hour that takes place Monday through Thursday from noon to 4 p.m. that features $7.50 rounds of golf, $2 kiddie scoops of ice cream and $1 bags of popcorn at Captain's Quarters.
The ice cream is made fresh daily — and on-site. There are nine "Classic" flavors that they always have at the ready, and then there is a rotation of 35 other "Creation" flavors. Get any of those delicious flavors on a cake cone or freshly made waffle cone. The ice cream shop also provides extras, such as ice cream cookie sandwiches, ice cream cakes and pies, and milkshakes.
The complex is now offering the chance for you to host your party or fundraiser. Is there any better way to celebrate your birthday, graduation, or any other milestone event than with some mini golf, ice cream and a boatload of arcade games? There are several party packages listed on the website at www.millvilleboardwalk.com that will cover any level of party you are looking to have. If fundraising is something you would like to consider for your organization, when you host an event at the Millville Boardwalk, 20 percent of your group's sales are donated back to your cause, and everyone has a great time in the process.
The Captain's Quarters, located on the backside of the golf complex, is separately owned by Jeff Jankowski and Brooks Trimper, and is open daily from 11 a.m. to 9 p.m. There are games and fun as far as the eye can see, with an opportunity to win tickets that can be exchanged for various items. There really were far too many games to list here.
We have been grading just the golf course in our previous two stories, and if I was just reviewing the golf course, it would easily be a Birdie, teetering on the edge of Eagle. However, when you add in all of the other fun and entertainment at the Millville Boardwalk, this whole place clearly deserves an Eagle and then some.
Great time. Great fun. Great experience. Take a trip to the other boardwalk. You'll love it all.
---
Our scoring system: Bogey (1 star), Par (2 stars), Birdie (3 stars) and Eagle (4 stars). Check back next week to see where we go next. There are plenty of fun courses we are looking to play.