He purposefully approaches an iron bar that holds more than 500 pounds of weight.
The 15-year-old high-school student-athlete takes a deep breath, then a few more. He focuses with that telltale 1,000-yard stare, shutting out the cacophony of encouraging supporters as he mentally foresees what his muscle memory and resolve will enable him to accomplish.
Garrett Rogers of Millsboro bends his knees and grasps the metal rod holding the unforgiving weight. He prepares for the lift by pulling on the bar, tensing his muscles. Then he lifts as his face contorts. He is calm, he is focused, he is one with the unrelenting heft.
He steadily holds the bar for a few seconds, totally in control, then releases. Forcibly exhales. Relaxes. And brings his hands together in a gesture of genuine thanks.
It is Oct. 2, 2021, and the throng at Powerbuild in King of Prussia, Pa., a suburb of Philadelphia, goes absolutely wild. Garrett Rogers has just lifted a career-high deadlift weight of 501 pounds (501.63, to be exact).
As he gracefully accepts the onrush of well-wishers, Rogers silently gives thanks to God. He also gives thanks to his mom, Wendy Rogers Palermo; to his dad, Kirk Rogers (of blessed memory); to his stepfather, Jim Palermo; to his 12-year-old sister Aubrey; and to all of the relatives and close friends who have accompanied and inspired him during his miraculous journey.
He gives thanks because he has defied the odds in the aftermath of a near-fatal accident in 2016.
Garrett Rogers, who was hit by a vehicle allegedly operated by a drunk driver, has not only survived — he continues to thrive, to ascend the world of powerlifting. He continues to attend Delmarva Christian High School, and to play baseball for both the DCHS Royals and his Bagel Bombers travel squad.
Christmas is approaching, and he will certainly give thanks for the season's true meaning, to his family's love, and to the holiday tree and the gifts. And, to all being together.
"It's a blessing … to be able to lift 500 pounds," Rogers said quietly, humbly, when asked about the thoughts that occupy his mind when he's alone during those quiet, private moments. "It's kind of a miracle, just the journey going from nothing to being on top of the [powerlifting] world. It's pretty exhilarating. I thank God every night that I get a day in His creation. He's too good to not worship and not thank Him for everything He's done."
A journey of inspiration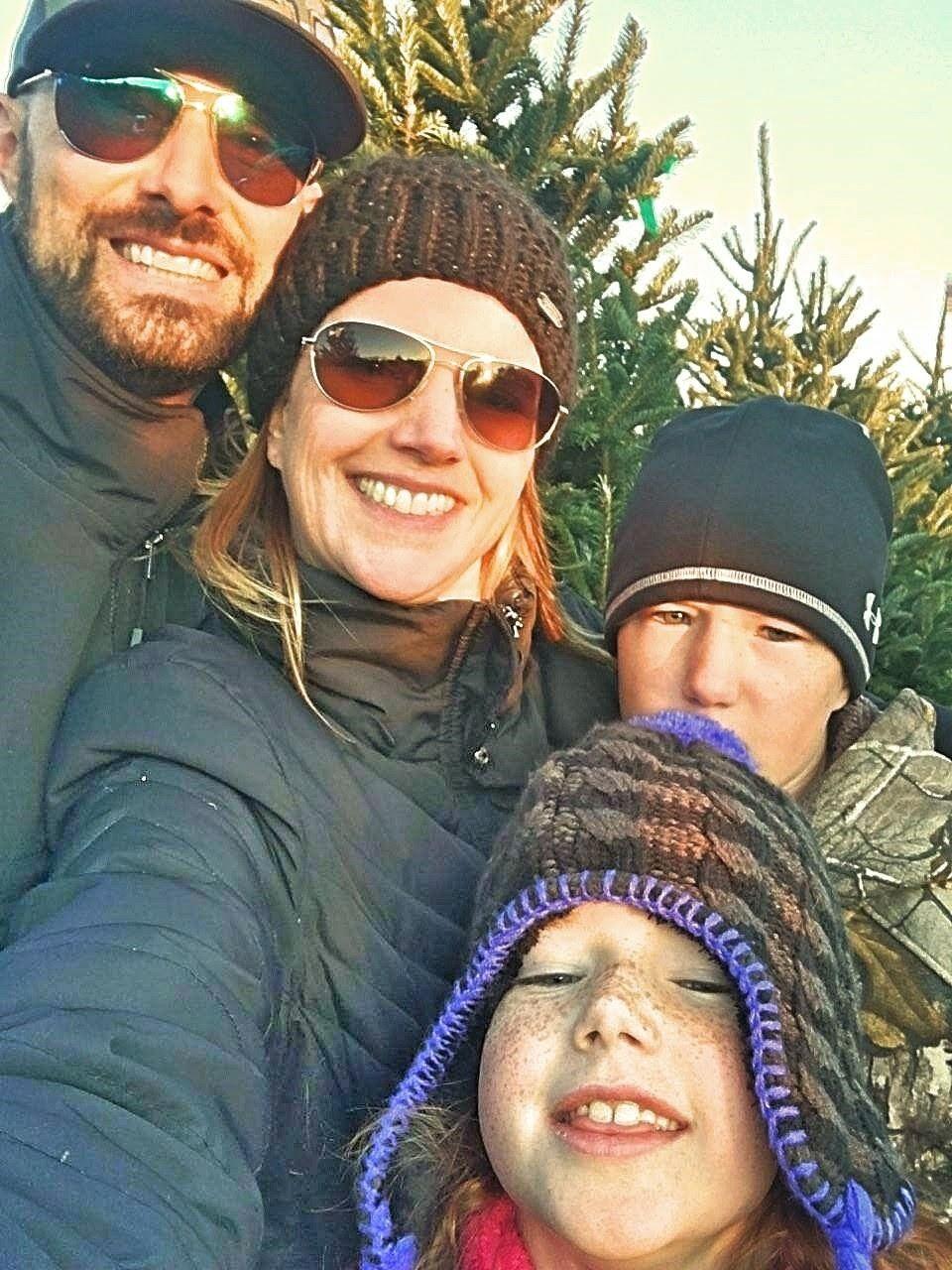 On May 14, 2016, Garrett Rogers was crossing Iron Branch Road in Millsboro to retrieve several baseballs when his life changed. The then-10-year-old boy was hit by a motor vehicle and sustained multiple bone fractures, brain trauma and numerous injuries affecting many parts of his body.
Placed in a medically-induced coma, Rogers spent three weeks in intensive care at Nemours Alfred I. du Pont Hospital for Children in Wilmington, Del., accompanied by the grim possibility that he might not survive. His brush with death occurred about six months after his father, former Army Ranger Kirk Rogers, had passed away suddenly in November 2015 from cardiomyopathy, a heart disease.
Rogers spent more than three months at the hospital as an inpatient. His rehabilitation included the task of relearning just about everything, including how to walk and feed himself. Physicians said he likely would never be able to play his beloved baseball again, or any sport, for that matter.
But an amazing desire to survive and recover took root in young Garrett. He stubbornly accepted and completed every facet of the physical therapy he was being force-fed. After three months, he finally left the hospital for the welcome comfort of the family's Millsboro home at the end of August 2016.
His family continued to transport him to and from Wilmington as an outpatient through the following January, sometimes staying at the Ronald McDonald House to facilitate Garrett's rehabilitative schedule and needs. His recovery accelerated as his life began returning to normalcy.
He also reconnected with the indescribable thrill of the baseball diamond, returning to the game he truly loves. In one of his first games back, in early April 2019, he struck out on each of his first five trips to the plate at Sports at the Beach in Georgetown. But on his sixth at-bat, Rogers calmly blasted an opposite-field home run, circled the bases and was crossing home plate when he was mobbed by his Henlopen Wave teammates. Not surprisingly, the emotional highlight went viral on social media.
"His ability to hit is amazing, given what he's had to do as part of his recovery," said Palermo, who initially worked with 9-year-old Garrett as the Wave's pitching coach. "Garrett was a pitcher before the accident, but ever since, we've been very tentative about putting him at an infield position where he could be reinjured by a line drive. We didn't want to risk that kind of injury with what he's been through. His transition to the outfield was a struggle, because it's tough to learn a new position.
"The thing that doesn't make sense whatsoever is that since his accident [the medical professionals] would tell you his reaction time should be declining," he continued. But he can react to a pitched ball and hit well, Palermo said. "He's a power home-run hitter who can jump on a fastball in a high-school game.
The power of powerlifting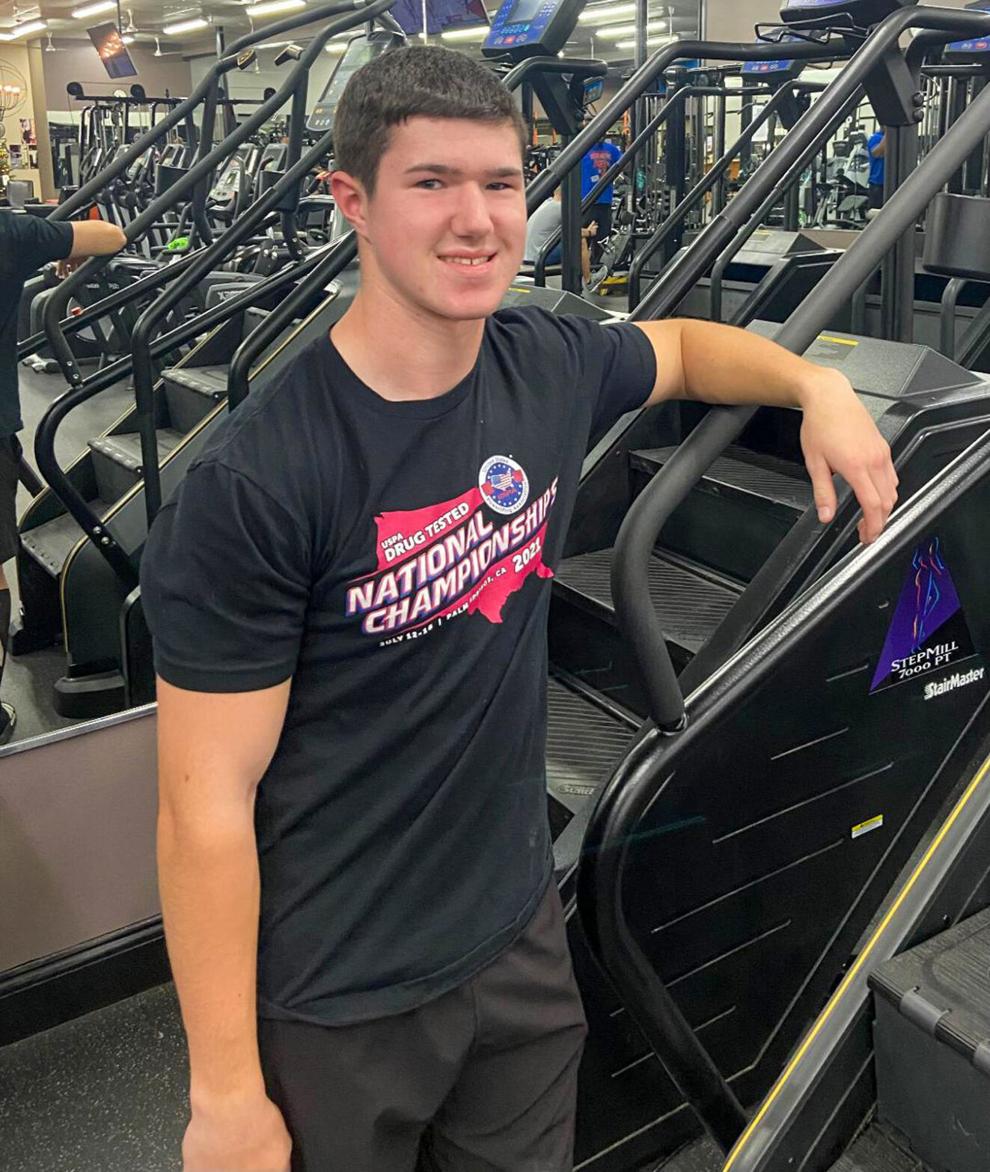 Garrett's rehabilitation and healing had left him rail-thin, or as Palermo put it, "skin and bones. I told Garrett we had to put some muscle on his body, and that's how we became involved with fitness," he said. "The original thought was to [build him up] and get him into baseball shape. We started our own workout routine at World Gym [in Millsboro], whose previous owners made an exception to allow him to use the gym because he was under-age.
"I quickly noticed that he loved working out — it started a spark in him, and it's been a complete forest fire ever since," added Palermo.
Garrett began gravitating to powerlifting, which focuses on achieving maximum strength when performing one-rep maxes on three core lifts, known as squats, bench presses and deadlifts.
Palermo quickly transitioned into Garrett's workout partner. The duo continues to follow a specific workout regimen created by their coach, Travis Rogers, a relative of Garrett's and a world-ranked powerlifter who owns a gym in Salisbury, Md. With both mentors guiding him and coach Rogers pushing him toward competitive powerlifting, Garrett has become one of the sport's elite performers, competing in both the Revolution Powerlifting Syndicate and the United States Powerlifting Association.
Rogers currently holds numerous records in the division for 13- to 15-year-olds, in several weight classes. At his first powerlifting competition with RPS Revolution Powerlifting Syndicate in January 2020, Garrett set world records for his age and weight class in every lift.
"It was wild to see him," said Palermo. "He was 110 pounds soaking wet and lifted 315 pounds. At that point, we were thinking, 'Hey — we've got something here.'"
In late January of 2021, Garrett Rogers established three Revolution Powerlifting Syndicate marks, for the squat (340 pounds), for the dead lift (426.3 pounds) and for a combined total of squat, bench and deadlift at 940 pounds in the 60-kilogram weight class. His deadlift at that meet ranked fifth all-time among all powerlifting federations worldwide, and his total vaulted him to 11th globally, according to OpenPowerlifting's rankings.
Then, in July, at the U.S. Powerlifting Association National Championships in Palm Springs, Calif., Rogers put on an amazing display of power and strength when he became the USPA's national champion for that age group's 67.5-kilogram weight class. He also set a national record for a squat of 364 pounds, a national record on bench of 205 pounds, and a world record deadlift with 475.1 pounds.
Rogers currently sits in second place in the world in the 13-to-15-year-old 67.5-kilogram class. He secured that rank during his most recent competition, on Oct. 2 at Powerbuild in King of Prussia, where he topped off a perfect 9-for-9 meet with his best deadlift of 501 pounds. He wants to become No. 1 in the world and to achieve the all-time world-record deadlift in the 67.5-kilogram weight class before he ages out of the division in May. The current record of 535 pounds was set by Vladimir Burnashov of Russia in 2018.
Garrett has also set his sights on deadlifting at or above the 600-pound plateau, with a long-range goal of continuing to compete for national titles. He also may compete in the Olympics by his early 20s if the sport is included on that stage.
Regardless of what he endeavors to succeed at, he will be a hero, an inspiration to people of all walks of life.
Establishing a 'powerful' friendship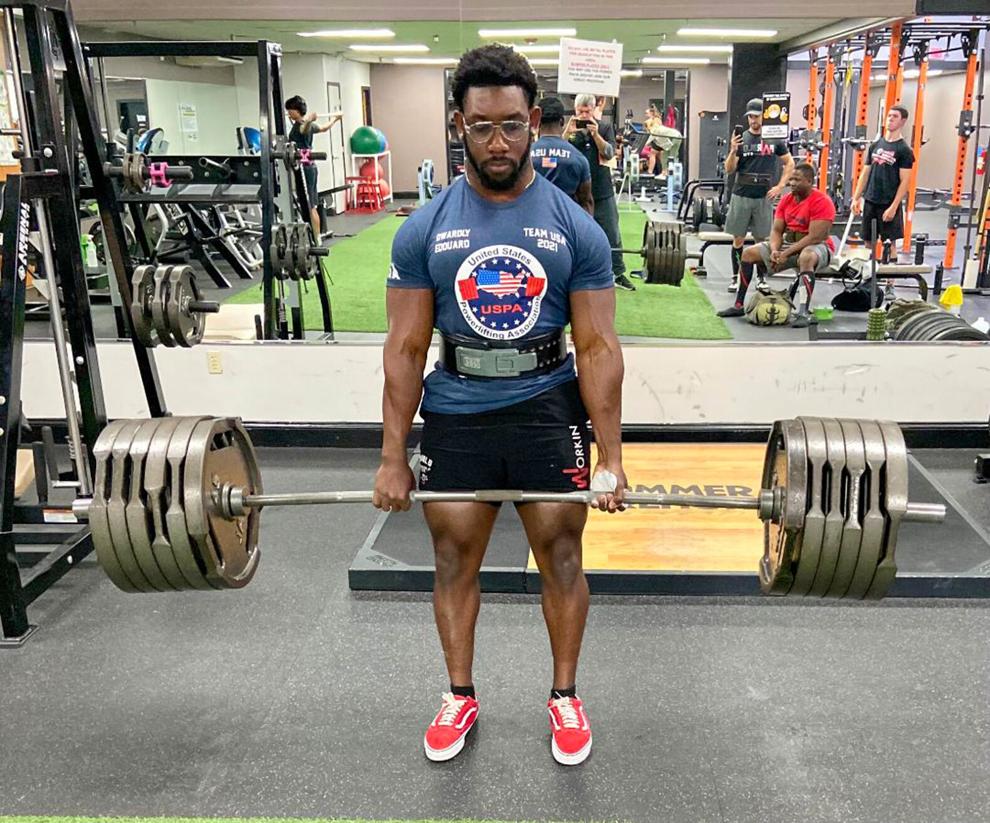 Jim Palermo says the powerlifting community has infused his stepson with internal confidence and physical strength because it forces one to compete internally, to compete with oneself, in addition to battling rivals during workouts and competition.
And then there is the love and sustenance offered by the sport's participants and competitors.
"Everyone in the [powerlifting] community supports and pushes each other," he said. Garrett "stands out in a crowd, so you have guys who are 250 to 300 pounds, and all of a sudden, there's a 15-year-old competing. He gets a lot of attention from that.
"The people in powerlifting are so uplifting, and they enjoy working with each other," Palermo added. Delaware powerlifter Dwardly Edouard, he said, "has followed Garrett for the longest time, and now they've become friends. It's very humbling. The people in this sport have their own backstories."
The 25-year-old Edouard is an elite junior-level powerlifter who was born and raised in Haiti. However, poor living conditions and the lack of opportunities resulted in his family's decision to relocate to the United States. Although the 2015 Seaford High School graduate played football, basketball and soccer, and ran track, he was amazed at the physical and mental changes he experienced while training in the gym.
That inspired him to become a personal trainer, en route to powerlifting. In his first USAPL meet in the 93-kilogram weight class, Edouard set 10 new Delaware state records. In 2019, he graduated from Delaware State University with a bachelor's degree in kinesiology.
Leading by example, Edouard is committed to inspire athletes like Rogers to pursue their dreams by putting forth hard work and commitment. Nicknamed "Debo," he has deeply befriended Rogers and is amazed at the teenager's dominance.
"Garrett continues to improve his numbers at every meet, and he's surpassing norms that haven't been set," said Edouard, who recently won his weight class at the International Powerlifting (IPL) World Championship meet in Costa Mesa, Calif. "He continues to grow as an athlete because he understands the sport and what he needs to work on. He realizes what an off-season [regimen] means" for a powerlifter. "He continues to work and understand his own body mechanics, because everyone isn't the same and [not everyone's body] moves in the same way.
"When I think about it, it's amazing to see the recovery he was able to make and the way he pushes to do amazing things," he added. "It's astonishing to see that happen in real life. He's already one of the best powerlifters at a young age, and he just continues to grow and improve every single day."
Edouard insisted that what Garrett has overcome and accomplished is nothing short of a miracle.
"Just to see the recovery he was able to make and the way he pushes to do amazing things is astonishing," he said. "You can only imagine seeing that in real life. He's already one of the best powerlifters at a young age, and he just continues to grow and improve every single day."
Garrett Rogers said he started following Edouard on Instagram "because he was someone in the powerlifting community that was fun to watch. There aren't many people out there pulling that kind of weight," he said.
According to Palermo, Garrett "never really thought that he would one day meet up with [Edouard] or become friends with him. And being friends with top-ranked powerlifters like Debo gives Garrett something to strive for and provides a good role model for him, a teenager who has aspirations of being a top-tier powerlifter himself."
Garrett and Edouard have developed a mutual admiration for each other as they work out side by side at Pure Fitness in Seaford.
"He says I inspire him, and that's great to hear," said Edouard. "But knowing where he's come from, he's definitely inspired me. He's a motivational story, a great kid. I think every youngster who finds him or herself in a tough spot should just look at Garrett's story, and realize that life is about moving on and taking everything that happens to you, and building from there.
"To be honest, I've learned from him," Edouard added. "Just seeing him earning his records by continuing to work and grow and show how bad he wants it. I literally watched him not give up, and when I say 'not give up,' he also didn't give up on life or in school. He just continues to go and take everything he wants. When I think of not giving up, I think of him."
From 4th-and-long to recovery and the future
To use a football metaphor, 10-year-old Garrett Rogers was facing an almost-impossible fourth-down-and-long-yardage situation when he was admitted to the hospital five and a half years ago. But he never doubted himself, or his ability to walk the walk required by the long road back. Loving parents and miracle-making medical professionals can go a long way toward helping someone traverse the sometimes-rugged path to recovery.
"I knew it would be hard, but you should never doubt yourself," said Garrett, who has transformed himself into a robust, confident and strong 15-year-old. "You can do anything you want to do as long as you put your mind to it. I've had a lot of help along the way from Jim, my mom, my sister, so many family members, and Travis Rogers."
Garrett awakens each day looking to advance his game, no matter what game that might be. The 5-foot-8, 143-pound sophomore student-athlete says he is 90 percent recovered and should be completely healed by the time he is a high-school senior.
In addition to his powerlifting goals, he also wants to continue to play baseball for Delmarva Christian High School and his Bagel Bombers traveling squad.
My stepfather, the pitching coach
Jim Palermo was the pitching coach for the 2014 Henlopen Wave travel team when he first met 9-year-old Garrett, the ace of the team's pitching staff. A year later, he was one of the first people to visit Garrett in the hospital.
"I just had to get involved," he said. "The following year, after Garrett had successfully completed his rehab, the team's head coach, Kevin Cooper" — who is also Garrett's uncle — "asked me to again help out. I told Kevin I'd try to get Garrett to [play baseball], and I'd work with him. We'd pitch and catch off to the side," to protect him from being injured by thrown and batted baseballs.
Palermo, who developed a closer paternal relationship with Garrett, also met his mom, Wendy Rogers. Those two began dating, and were married in 2018.
He speaks with pride about his stepson, and said he believes that Garrett's unbeatable resolve stems from the standards established for him by his late father, Kirk.
"He was a strong-willed man, and he raised Garrett to be the same way," said Palermo. "That's why [Garrett] has a no-quit attitude. You put a challenge in front of him, and he won't stop until he achieves his goal. He's been given a lot of challenges, and he's risen to every single one of them."
The injuries he sustained have made school a challenge for Garrett.
"He can't process very well when he's reading by himself; he needs a lot of extra attention," said Palermo, the owner of Trap Woods Inc., a local crop-consulting firm. "But he will grind it out and put the work in. He'll spend four hours on a homework assignment that might take another student a half-hour to complete, but he's going to get it done.
"Every day you sit back and look at what he's done," Palermo added. "It's just a miracle. And to play any part in it is a blessing."
Praising God and Kirk Rogers
Wendy Rogers Palermo has experienced and managed a vast range of emotions ever since that day in May of 2015. She often ponders on various levels the wherefores and whys of Garrett's miraculous and inspiring recovery. And she has compartmentalized her answer into three key factors.
The absolute first factor to why Garrett survived and is prospering "is God," Rogers Palermo said recently.
"God has a plan for this boy. I truly and firmly believe God and Garrett's dad, Kirk, have had their hand in this entire journey. From the amazing first-responders who stabilized him (and me) immediately, to the gifted team at Beebe [Healthcare] who met with us, many of whom are friends and people with whom I work, and immediately spun into action."
Rogers Palermo said she firmly believes that early omens that appeared foretold a hopeful future.
"The whole journey has been infused with God and Kirk's guidance and love," she said. "From the rainbow that appeared that evening," after the mishap, "that so many sent me pictures of, to the buck that stood right next to a cross on Route 1 as we sped [to the hospital] — my only real memory from that ambulance ride — and that was just the first two hours."
The couple and their children are fortunate to be surrounded by close family members and friends, not to mention a strong community.
"It almost felt like a wave swept in and just took control," she said in reference to that second factor. "Our family — especially my sisters-in-law — stepped in and just handled so many things. Our friends just showed up in so many ways that I didn't even know I needed. I never had to worry once that my daughter Aubrey" — only 7 at the time — was being taken care of and loved.
"The entire community prayed and sent their support, and it was overwhelming — especially for a person like me, who does not like to be in the center of things. I couldn't even think about all of this during those first weeks. It was survival mode for both Garrett and me."
The third factor to Garrett's miraculous recovery, said Rogers Palermo, is the young man himself.
"He is truly one of a kind, an absolute miracle and, according to the odds, should not be here," she said. "I told the doctors immediately after [the accident] that he was one of the strongest, most-athletic kids I'd ever known. [I said] that if anyone could beat the odds, it was him."
There were numerous touch-and-go moments during Garrett's recovery "that had me sliding down the wall to the floor, but he always rebounded and kept fighting. And little by little, he made progress," his mother said. "It was exactly what they said it would be — a marathon, not a sprint. I try to share that message with other parents who have kids in traumatic situations. I find myself looking back now and remembering some of these horrific moments, and just taking a minute to truly give thanks and appreciate what I've been given."
During those quiet moments, Wendy Rogers Palermo reviewed her mind's snapshots of that tumultuous timespan, from losing her first husband to her son's accident.
"I think to myself, 'Did I imagine it? Did it all really happen, and how in the world did I survive it?'
"But I think the answer is above," she concluded. "Left foot, right foot, breathe."