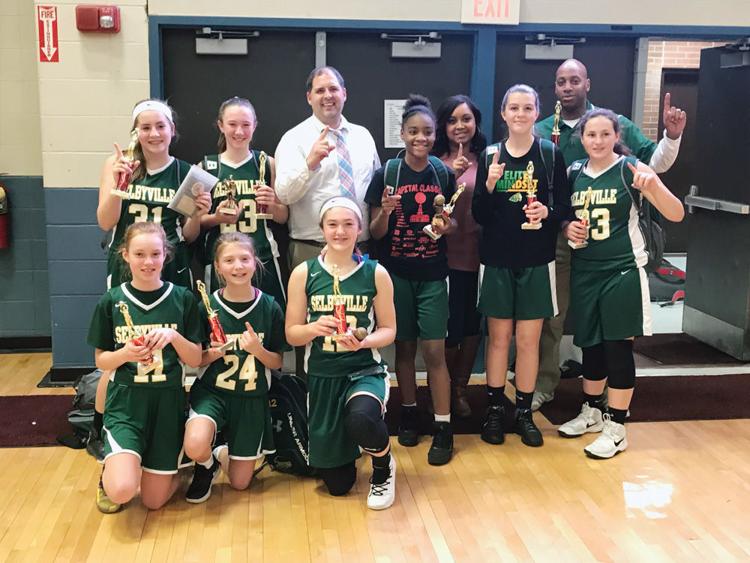 The Selbyville Middle School girls' basketball team finished off its 2018-2019 campaign showing "No Mercy" to their opponents.
Behind a game-high 11 points from sixth-grader Sophie Scurci, the Indians rolled to a 21-10 win over Mariner in the championship game of the H&R Block bracket of the Capital Classic at Delaware State University last Saturday, Feb. 16. The win avenged a 12-8 regular-season loss to the Vikings almost one month to the day prior.
The performance earned Scurci the nickname "No Mercy" Scurci by public-address announcer John C. Martin Jr.
"It's exciting because this is my first year playing basketball," Scurci said. "We really wanted to win against them, because the first time we played them we didn't do as good as we should have. But we did better this game. We shot more and made more baskets. I feel like I played good this game, and I really tried my hardest."
For her efforts, Scurci was named the game's Most Valuable Player. Her sister Isabella Scurci was named to the All-Tournament team, as was teammate Maleyah Bell. Grace Fiorilla was presented with the Sportsmanship Award for the Indians. Kinsley Hall was honored with the Mike Rice Award, which is given to a player who gives an outstanding performance on the court and in the classroom, and exemplifies character and integrity.
Head coach Matt Mayette said he felt like his team — top to bottom — really put it all together in the championship.
"That was what we talked about in the locker room. We said, 'If we ever have all five people playing their best basketball at the same time, we would have been playing'" Sunday night in the elite bracket, Mayette said. "We really felt like we were strong athletically, and that we were coming together at the right time. We felt like we belonged with the Dovers and Woodbridges of the world."
The Indians had jumped out to an 8-0 lead after the first quarter, and expanded it to 15-2 at the halftime intermission.
Mariner had no answers for Sophie Scurci or her teammates. Fiorilla added six points, while Bell and Scarlett Dunn each chipped in with two points for the Indians.
For Mariner, Jayla Johnson, Emma Maxwell, Grace Feather, Cailyn Bledsoe and Ava Iacono each scored a bucket.
Selbyville beat Milford, 22-21, in the semifinals on Friday, Feb. 15. In that one, Bella Scurci hit a free-throw with 2.3 seconds left to win it for the locals. They overcame a 6-point deficit over the final two minutes.
The Indians closed out their season by winning four of their final five games, to finish with a 7-6 overall mark. Perhaps more importantly, though — they will always be able to call themselves champions.
By Jason Feather
Staff Reporter