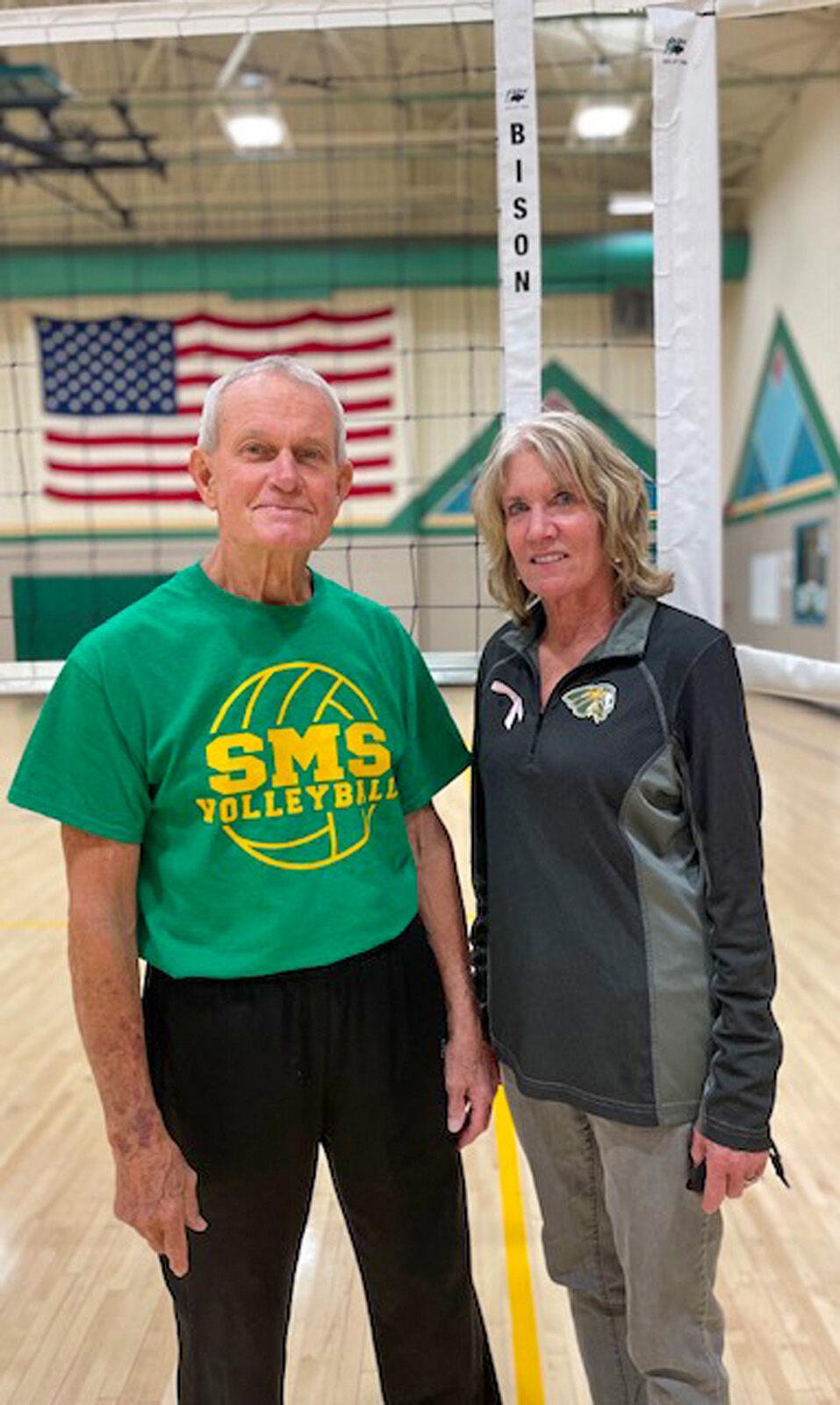 In athletics, coaches always say, "Players win championships," or "We're only as good as our players play," or "My job is easier because of how good our players are."
However, in the case of the Selbyville Middle School girls' volleyball program, their success can squarely be pinned on a pair of coaches who are easily recognizable on the sidelines, and really should be dubbed the "Dynamic Duo" because of their energy, commitment and love for the sport of volleyball.
It's that love, commitment and energy from coaches Sally Craig and Bill Croal that has led the SMS Indians to two Delaware state middle-school girls' volleyball championships over the past six years. The duo has been the coaches of the program since its inception back in 2015. This year they were assisted by Sara Powell and Lisa Stetler, both of whom are employees of the Indian River School District, while both Craig and Croal are retired.
The program came to life thanks to their collective efforts to "Grow the Sport" after many years of practically begging Indian River School District leadership for the opportunity to start up.
"Coaching the SMS volleyball team for six seasons has been an amazing experience for me," said Croal, who has been a volunteer coach for the program. "Sally and I have been able to blend our coaching talents, experiences and philosophies together in a most productive manner."
Clear evidence of that comes by way of their 57-3 record over six seasons, which includes those two championships (2018 and 2021), as well as four seasons where they went undefeated.
"It's been my honor to have worked with many fine young athletes, lots of very supportive parents, dedicated volleyball coaches and cooperative school administrators," Croal added. "As the saying goes, 'It takes a village,' and I firmly believe the future of SMS volleyball is looking very bright."
The list of successes also includes that the SMS girls have never — never — lost a set on their home court. In fact, the 2018 and 2021 teams didn't lose one set their entire seasons.
"We truly love the game and continue to hope that we can 'Grow the Sport,'" continued Craig. "We want more athletes to play the game. It's been a winning combination from the start. When Bill returned to the area, he was looking for something to get into. A friend recommended he call me, and the rest, as they say, is history.
"Bill has been a volunteer every season but has definitely put so much more time and effort into the program. He has been a huge part of the success for this program over the years."
SMS volleyball rocks
Parents interested in getting their kids — both girls and boys — involved in school volleyball should contact the IRSD Adult & Community Education coordinator at the district's central office in Selbyville. The Beginning and Intermediate Volleyball Academy classes will resume in January of 2022. The sessions are open to students in grades 4 through 8.
They also expect to offer the Summer Volleyball Academy camp in early June of 2022. Parents should periodically check with the Ocean City (Md.) Parks & Recreation Department about volleyball clinics and camps offered at their Northside Park rec center.
Craig is also in the process of organizing a volleyball open-gym program, which will begin sometime in the near future.
Their guiding principle has always been and will always remain the same: "Grow the Sport."