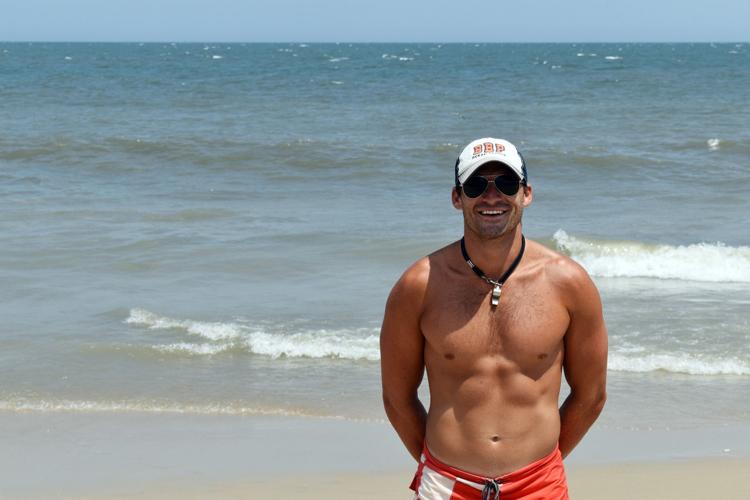 He's been coming to Bethany Beach for as long as he can remember, and from the moment he saw a lifeguard on the shores, sitting on the stand, he knew that he wanted to someday be one.
Being a lifeguard was something Ryan Smith had envisioned for himself ever since his first trip way back in the days of his early youth, coming to visit Coastal Delaware from his regular residence in Maryland.
"My grandfather had the foresight to buy a house down here in the '60s when it was nice and cheap," Smith said jokingly. "My family has been very lucky. I've been coming down here ever since I was a little kid."
Born and raised in Maryland, Smith's intuition of becoming a lifeguard became a realization after three years of participating in the Bethany Beach Junior Lifeguard program.
"I always wanted to be a Bethany guard in the summer, but I was a three-sport athlete in high school, so I always had something going on in the summer," he continued. "I went to college for lacrosse, and then didn't really have anything to do in the summer. I was very, very happy. I was 19 when I started" being a lifeguard, he said, "and my only regret is not doing it sooner. I absolutely love it."
Smith is a graduate of Georgetown Prep in North Bethesda, Md., and then Denison University in Granville, Ohio. He is currently the assistant dean of residence at his high school alma mater. The private Jesuit college-preparatory school is the fourth most expensive boarding school in the United States.
"It's about 20-25 percent boarding, so about 120 kids live on campus, and I am the legal guardian for them," Smith continued. "Honestly, the Bethany job really helped me and taught me a lot of professional skills … communication, patience, and the first-responder stuff has been really important. I am like the night medic for my students."
Now in his seventh year on the stand, Smith, who is now 26, has seen plenty of excitement during his time as a lifeguard. He credits his physical gifts from a higher power for his ability to do the job every day.
"I've been blessed," added Smith. "God saw fit to give me a lot of gifts. I'm very lucky, and some of those gifts are physical. I knew I could do the job, and always knew I could do the job. The first year was truly an eye-opener though."
And the excitement he's experienced over the years started very early during his career. In fact, just two weeks into being a lifeguard, Smith was faced with a lifesaving opportunity that cemented his decision to become a guard.
"One of the things that really attracted me to the job is I love the rescues," Smith admitted. "My first rescue, I was actually on Stand 10, and it was lunch, and I was sitting with a lieutenant at the time. I was two weeks in, and there was a little kid in a rip. I stood up, and I'm looking at the kid and I'm looking at the lieutenant, and I'm like, 'Do I go?' And he was like, 'I don't know, do you?' And so I look, and I pull the trigger, and I jump down.
"I was so excited. I ran in, made the rescue, and came out with the kid. I don't think I stopped smiling. I actually had another rescue that day. It felt great to use the gifts that God has given me for just good. … It felt wholly good. It was an adrenaline rush. I felt like I saved someone's life. You never do something good and feel bad about it, and it's just such a fantastic feeling. It's almost addictive.
"I love this job, and I love being able to wake up in the morning and say I am going to save someone's life today."
And, of course, Smith also loves the camaraderie with his fellow lifeguards he has experienced over the years.
"Every year that I can do this job I'm grateful, every day … especially during the season. It's a blessing," Smith said. "I'll do this job as long as I can. We've had people that guarded 10 years ago come back and help when they can. That's just how great the job is. It's a testament to not just how busy we get, but the camaraderie, the culture and the people here.
Capt. Joe Donnelly, he said, "is a fantastic captain, and him and the lieutenants and the vets have all created a tradition that has been passed down that's generational. The job is fantastic, and the training is great. It really speaks to the people that have been involved, and Capt. Donnelly is the cornerstone for all of it, in my opinion. He's a hell of a role model. I mean, he's definitely one of my role models."
With all of his experience and excitement for the stand in Bethany Beach, it's certainly a bonus for the people — both locals and vacationers — to have someone like Smith, with his passion for their safety and protection, around when they are on the beach. It's that passion, experience and excitement that will be an example for guards now and in the future to get to see firsthand as they grow in their own careers.