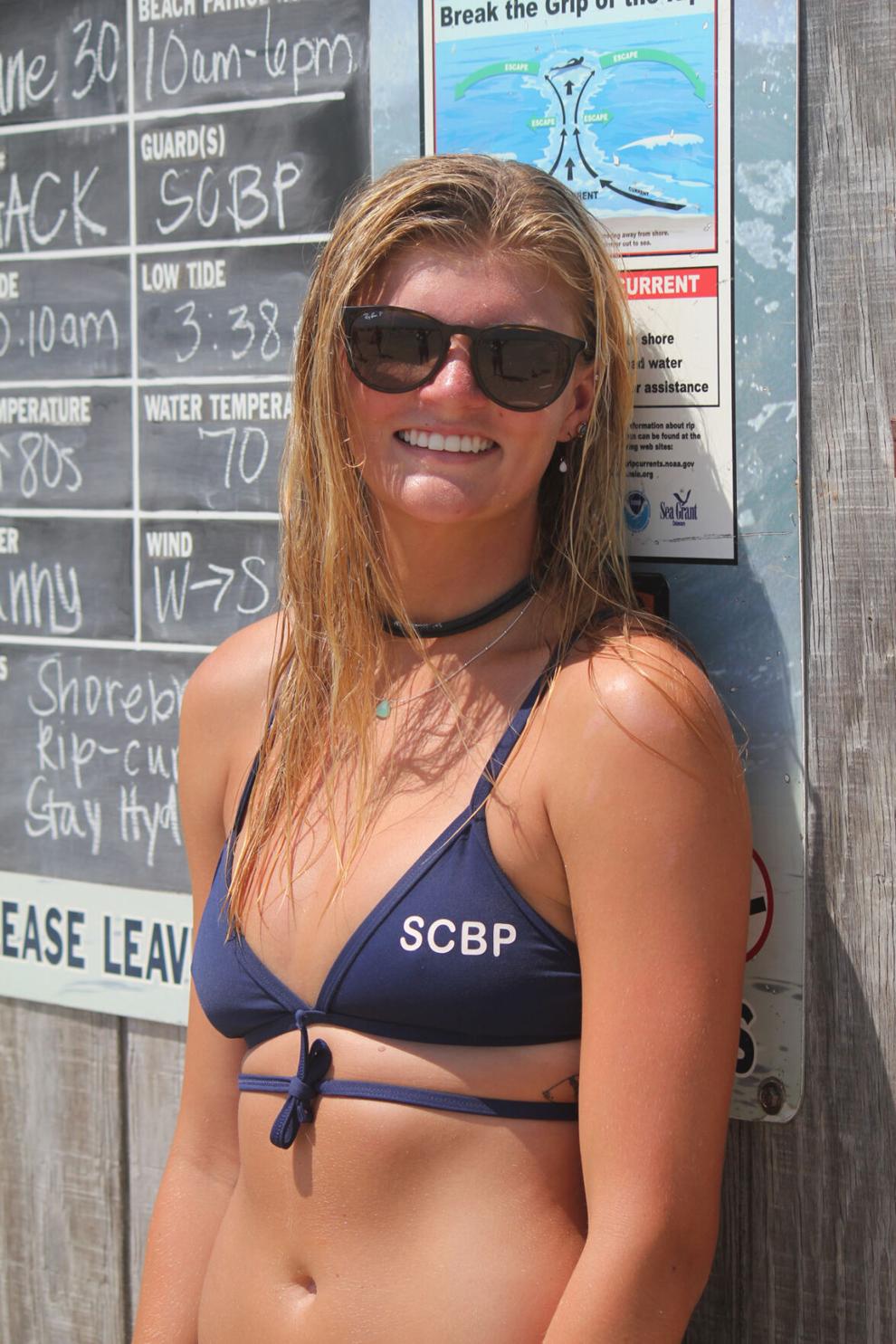 On strict watch. On guard. On the stand. On their toes.
That is the job from 10 a.m. to 6 p.m. each and every day.
While virtually everyone else around them on the beach is cavorting, reading, sleeping, talking or just taking in the magical salt air, the Guardians by the Sea are ready to spring into action.
Even while being cordial to those who approach the lifeguard stand, they are always on alert. Even while they are sipping and chewing for sustenance during the long day at the beach.
For them, this is no day at the beach, someone's life may be in danger. And they are the ones who can rescue swimmers in need.
The Coastal Point is spotlighting one of these Guardians by the Sea with a beach lifeguard feature story each week during the summer season.
Megan Perdue realized that it was anything but a party.
The Sea Colony Beach Patrol lifeguard also knew that it was anything but "a day at the beach" — not when conditions threatened to imperil swimmers, and definitely never when all of their lifeguards had to respond in a split second.
"I will never forget that huge 'party pull' on our beach that involved every lifeguard we had," said the SCBP lifeguard. "Every single lifeguard stand, except one, was empty, because there was a large group of people who were all stuck in a rip current in the middle" of their beach's surf. "There were at least seven people who needed assistance getting onto shore." Many of the guards each had "two people on our buoys. We waited for others to arrive and then pulled the victims into safety together.
"I remember my captain carrying a child in each arm into shore, and we all came in one by one, ensuring the whole group was safe," Perdue added. "It was the biggest rescue I had ever been a part of, and it was also pretty cool to see so many lifeguards all working together to help a big group of people."
Sea Colony Beach Patrol
The Sea Colony Beach Patrol oversees a half-mile of private beaches daily from the weekend before Memorial Day to Columbus Day in October. The SCBP is a United States Lifeguard Association Advanced Certified Agency consisting of 21 guards who are each certified in American Red Cross Lifeguarding, CPR for the Professional Rescuer and Emergency Medical Response.
Each of the six lifeguard stands are located in front of the Sea Colony high-rise condominiums south of Bethany Beach. SCBP lifeguards respond to land and water emergencies, and they provide information and education about hazards in the sun, weather and ocean. SCBP beach lifeguards train daily to prepare for any situation on land or in water, and they constantly strive to exceed their high standards of open-water safety.
Perdue said being a lifeguard means she must "constantly be prepared to assist people who need help in a variety of situations. I train to be comfortable in an environment that others are not familiar with," she said.
"I have always loved the beach like many others. But after becoming a lifeguard, I am able to see the beach in a different light. There are always potential hazards and issues that can cause harm to people who are enjoying their relaxing vacation with family and friends. Being a lifeguard also means that I am the first line of defense for a person in trouble."
The toughest part of the job is being alert and ready to jump into danger at any time, she said.
"The ocean is always unpredictable, and conditions can change in the blink of an eye," said Perdue, who was born in Seaford and lives in Bethany Beach. "As lifeguards, we have to be ready to help those who cannot help themselves. We train every day to be prepared for any situation that we may encounter. We train for water and medical emergencies, and we must be ready to use our training when needed. We are the first-responders to situations where people rely on us for assistance in sudden life-or-death situations. It can be stressful."
The easiest responsibility of Perdue's job is showing up to work "with some of my best friends. This job has given me the opportunity to meet so many new people, from many different areas," she explained. "I am always so happy to be back in the place I love with my favorite people. And the new rookies are brought into our patrol, which is one big family. We are all very closely-knit and rely on each other through our jobs, and also in our regular lives. Being a lifeguard requires you to trust your team, and in the case of our patrol, it is this trust that has brought us all so closely together."
Perdue's beach patrol team works and trains together every day, and becomes closer even as the workouts become tougher. Team members trust each other and rely on one another to be there when they are needed in emergency situations.
"We also hang out outside of work and, by the end of the summer, we all share memories we will never forget," she said. "I truly love working with everyone on the patrol and am always looking forward to the next summer by the end of the season.
Perdue started as a swimming pool lifeguard for a few years before applying for a beach post.
"One of my best friends in high school told me all about the job and how thrilling it was" to become a beach lifeguard, she recalled. "She also told me about how difficult the job could be, but I am always up for a challenge. I also have always loved the beach, and there is no better way to enjoy the beach than to work there. As soon as I began this job, I realized just how difficult the workouts and the training were. But it was totally worth it to be able to work on the beach with an amazing group of people."
She credited her then-rookie colleagues on the SCBP with making a huge impact on the lifeguard that she is today.
"We all suffered through the grueling rookie school, and four of us still work together on the beach as veteran lifeguards four years later," she said. "We shivered in the freezing water making mock saves for days on end. We went through rookie school together and persevered through the toughest workouts.
"We also all made each other better by practicing semaphore," she added of the flags and hand signals used as a mechanical apparatus for transmitting messages between stands, "and doing 'ins-and-outs' for what felt like forever. There were definitely times where we thought we wouldn't make it to where we are now, but we did it!"
Perdue said she hopes to be accepted into dental school after having earned a biology degree at the University of Delaware.
"My goal is to specialize in pediatric dentistry, opening my own practice somewhere in warm weather in order to enable children to have a healthy smile," she concluded with a bright, healthy smile of her own.