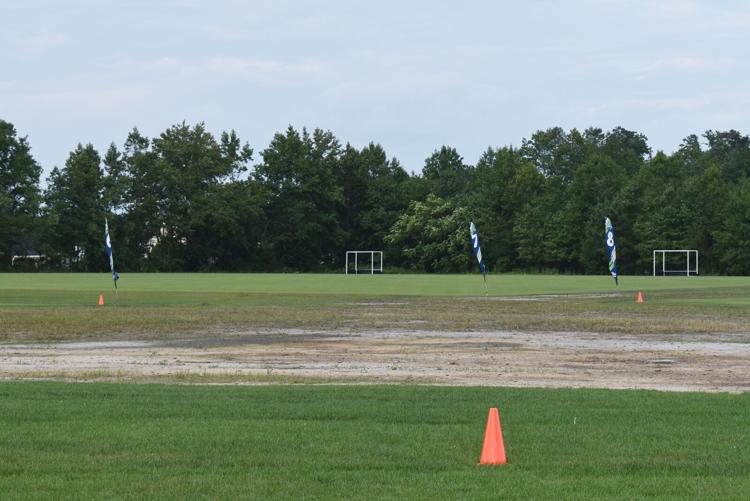 A project spawned from an idea four years ago from two people having lunch has turned into a beautiful 90-acre sports complex that will be the site of many youth and their families coming from near and far to play in soccer, lacrosse and field hockey leagues and tournaments.
Sandhill Fields in Georgetown is a $6.5 million public/private collaboration that officially opened on Wednesday, Sept. 9. The complex features eight Bermuda grass athletic fields, six regulation-size outdoor pickleball courts, picnic pavilions, a walking trail and a playground, among its many perks, sitting off of Sandhill Road, just a short distance from the Sussex Academy school complex, and just north of the CHEER Community Center on Sandhill Road.
The project was something that Bobby Horsey and Darren Short had come up with while dining at the Georgetown Pizza King back in 2016. The two wanted to come up with a complex that would help promote an active, healthy lifestyle for residents, while also serving as a sports hub for kids and adults.
To make the idea even start to become a reality, the two knew they needed some land, and, ideally, somewhere in the center of the county.
Horsey knew just who to call.
That call was to Joe Schell, who agreed to join the project, and now serves as the president of the Sussex Sports Center Foundation Inc. He owned the land that is now the Sandhill Fields complex.
"I get credit for being the brainchild, but I am not," admitted Schell during a special soft-opening event to recognize the many sponsors and supporters that helped with the project. "The brainchild was Bobby Horsey and Darren Short. They are the ones that said, 'We need a facility like this, and don't put it on Route 1. Bring it into the middle of the county. We need something that everybody in the county can access.' They came to me and were like, 'We understand you own a bunch of land in Georgetown.' That is where the idea started."
Since 2017, when things really got started, the SSCF's capital campaign has raised more than $6.5 million through community members, businesses, foundations and a $1.5 million loan from the Sussex County Council.
Construction of the complex began with the official groundbreaking in 2018.
"It all started at a meeting at the Georgetown Pizza King," Horsey said. "They asked me to meet with [Schell]. They needed my help, and I said, 'Well, I know the place. Let me make the phone call to the landowner.' That is how it all started.
"This is my pride and joy. It is an asset that the county and everybody in the area should be proud of. It is really a walk through nature."
That's literally true, as the complex also features a 3.5-mile walking trail, as well as a 3.1-mile cross-country course that will likely be the site of future high school county championship races and many other racing events. It is expected that the walking trail will be used heavily by the public as they navigate around areas of natural ponds and take in all the wonderful views of nature.
"We did very minimal clearing," said Horsey, who served as the contractor for the complex, and operates David G. Horsey & Sons Inc. "You'll see all kinds of wildlife as you are walking in there. When we were building it, we saw deer, turkeys, foxes … everything. It is truly a nature walk through that wooded section."
Kathleen Schell, who is the daughter-in-law of Joe Schell, spoke during the soft-opening ceremony, and was very enthusiastic about the complex, sharing her excitement from a mother's point-of-view.
"I have spent countless hours trapped in a really stinky car filled with lacrosse equipment, driving to Baltimore, Philadelphia, driving to Long Island, with hungry kids that are grouchy … and have spent lots of nights in probably less-than-stellar accommodations, as you can imagine, in little-known places, but they have fields," said Schell with a laugh.
"I can't tell you how excited I am — as a mom — to look around and see these fields, to know that our kids are going to spend more time playing their sports, instead of traveling to play their sports."
Another speaker at the event was Georgetown Mayor Bill West, who said he believes the complex will be another great draw to the area, just as Sports at the Beach — a 16-field baseball complex located just down the road — is.
"We have got a place here to create a lot of family memories," West said. "I coached travel softball for 14 years. I've been to Baltimore, Pennsylvania … Florida with a World Series team. It's nice to be away from home. But it's always nice to be back home. It's a nice complement to Sports at the Beach, with having a venue for different sports."
One of the big draws for the complex will be the ability to hosts tournaments for those previously mentioned sports — soccer, lacrosse and field hockey — and those tournaments will draw a lot of teams from states near and far.
"We're certainly excited about it with the opportunities that our hotels will have, because that is our mission: to keep occupancy growing year-round," said Scott Thomas, executive director of Southern Delaware Tourism. "In good times and bad times, economically speaking, especially in economic downturns, families are going to be harder-pressed to cancel sports for their sons or daughters. I think they'll cut a leisure vacation before that. So, what Sussex County has, it will allow them to do both, to come for a tournament and vacation as a family."
Sandhill Fields will, of course, be available for community use, which can include tournaments and club practices — such as for the Henlopen Soccer Club. There will be field-use limitations when there are scheduled tournaments and/or club practices.
For more information on the Sandhill Fields complex, check out their Facebook page under SandhillFields, or email them at sandhillfields@gmail.com.
The Sussex Sports Center Foundation (SSCF) was incorporated in Delaware on Jan. 24, 2017, as a 501(3) non-profit, charitable entity. The SSCF's mission is "to build, operate and maintain a first-class multi-sport center in the middle of Sussex County for the citizens of Sussex County of all ages to enjoy."
From the early looks of things, that mission has been a success.