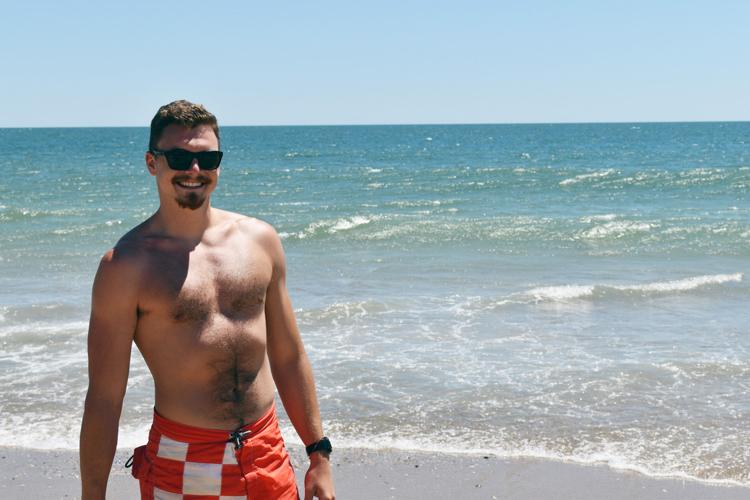 The life of a lifeguard has many days where there is little that happens while watching over the waters of the ocean, especially along the shores of Coastal Delaware. Many times, lifeguards will go days, weeks, or even a whole season, without having to make any significant rescues.
One lifeguard in particular has had plenty of those easy-going days. However, just last September, he had one of the greatest highlights and most rewarding feelings of his career when he saved a little girl from the worst possible situation.
Brendan Regan happened to be on the stand last fall when a little girl and her mom were wading around in the ocean water that was about knee deep. The tide was rough due to lingering storms off the coast causing the surf to be extra-difficult and troublesome.
"I was sitting on Parkwood Street, and the waves were pretty big — about 4 to 5 feet high," said Regan, 23, who is in his sixth season as a lifeguard along Bethany Beach. "We were basically trying to keep people careful, and not let them get out too far that weren't comfortable.
"I saw this little girl — about 8 or 9 years old — with her mother, and I was looking at them. They ducked under a wave and got sucked into a rip current. I said to my partner, 'We gotta go get them.' We run over there and hop in, and at that point I am thinking we're just gonna grab them and swim in.
"As soon as we get out there, I get to the little girl, because I was the first one in. A huge set of waves came, and we just ducked under these waves. The next thing I know, the rip had pulled us out about 50 to 75 yards. I couldn't see the faces of the people on the beach, and I could barely make out the houses.
"This little girl is just screaming bloody murder, and she legitimately thought she was going to die. I tried to calm her down, but her fight-or-flight just took over. I'm out there, and realized we were really out there. We start swimming, and we are getting closer. I look behind me, and there is this huge set of waves.
"We duck under the first wave, and it pushes us closer to shore. And then we duck under the second wave. Finally, the third wave just picks us up and drops us, like an elevator dropping five floors. The [rescue] peter goes under, she goes under, and then I go under, landing on her. We got thrashed around and pulled around the bottom of the ocean for a little bit.
"I pick her up, and she's gasping for air. We'd been under the water, and I knew I needed to get a good breath of air. The little girl is still screaming, scared and gasping for air. I again try to calm her down. We finally get back in, and I am exhausted. Her mom comes over and is just super-thankful. There were people on the shore watching, and they were clapping because we made it back safely."
To tell the story here in words just doesn't do it justice. It was intense to sit and listen to Brendan tell his story of his greatest rescue. It's these types of stories no lifeguard ever really wants to be a part of, when you think of it. Like the police or firefighters, they sign up for the potential of these situations but really hope it never materializes.
Regan also told of another rescue-type scenario back during his third year as a guard, when an elderly gentleman was swimming in the ocean waters and his heart's pacemaker just stopped. The man collapsed. The team of guards sprinted into action, and Brendan's role was to get the oxygen, while the other two guards performed CPR.
Cool. Calm. Collected. Never allowing the moment to get so big that they get overcome with the magnitude of it all.
He keeps these two stories locked away in his memory bank, and certainly talks about them as if they happened yesterday. Every minute detail. Every twist and turn. They are forever imprinted in his mind. It's these types of things that have kept him coming back for six years now.
"Being a part of the Bethany Beach Patrol is such a great feeling, and so rewarding," said Regan, who just completed his first year as a third-grade teacher in Potomac, Md. during the offseason.
"The way Capt. [Joe] Donnelly kind of operates our beach patrol — I can't speak highly enough of him. He's the best boss I've ever had. He's like a father to all of us. Many people will say that. We are like 40 of his adopted children, and he has like seven of his own. It's a family culture that's instilled, and that's another reason so many people keep coming back. I love it, and I really feel like I've grown a lot as a person."
During his tenure with the Bethany Beach Patrol, Regan has been awarded the "Rookie of the Year" designation, and just last year, he was presented with the Captain's Award, which is given to the guard that has been most helpful to Donnelly over the course of the season.
And while he said he doesn't know how much longer he'll be a lifeguard because, according to him, "I always say it's a young man's game," Regan does know that he really loves what he's doing every summer right now.
"I'm still young," he concluded. "I know at this point I want to take things year-by-year and see how it all goes. But I love it."