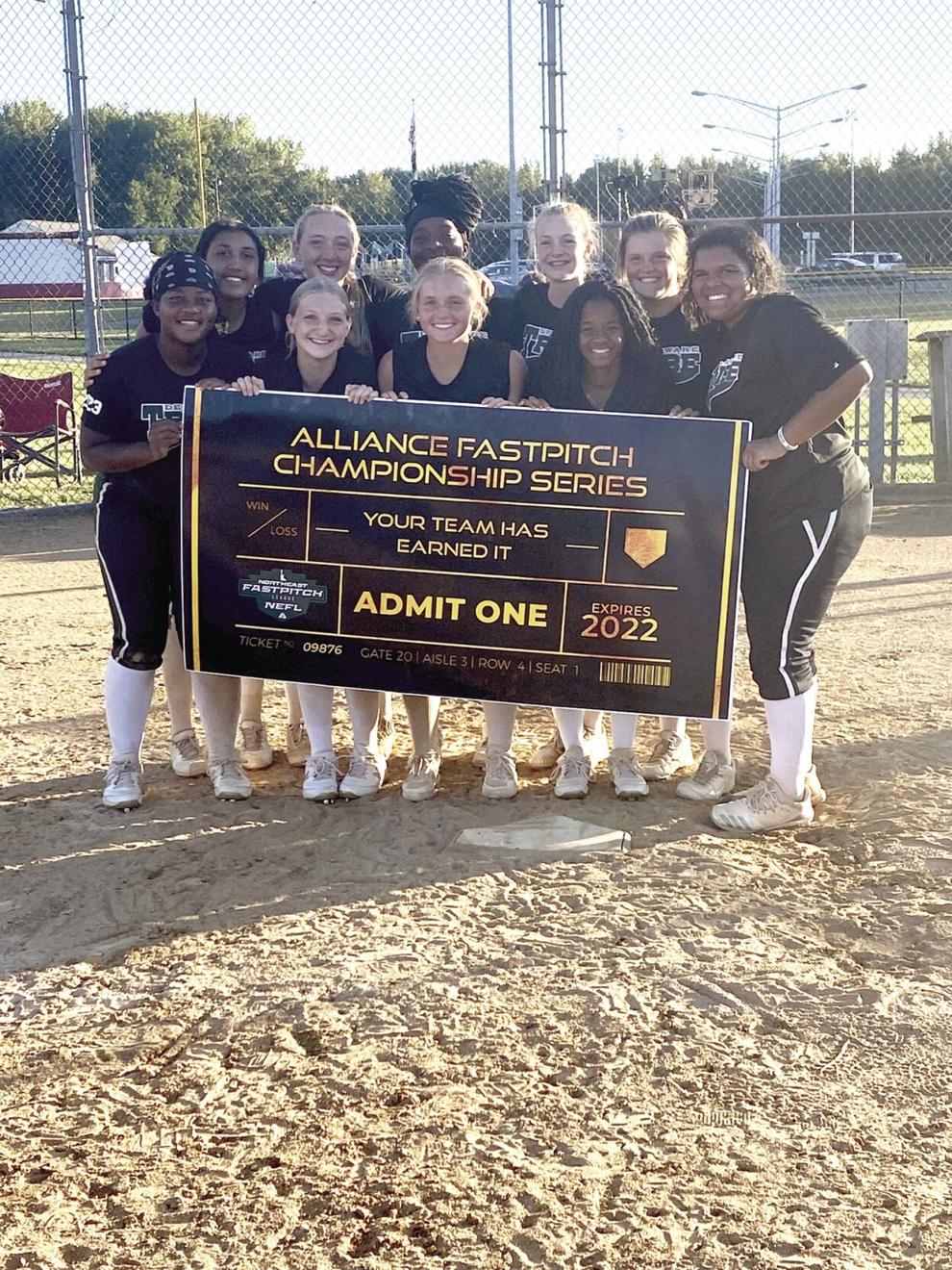 It was a proverbial flex of the softball muscles for a pair of local Delaware Tribe softball teams this past weekend, as both the 16U and 14U teams won their respective Alliance Softball National Qualifier brackets to earn a spot in the national championship tournaments next year.
The 16U Tribe squad — coached by Sarah Hoban — went undefeated in their games held in Pennsville, N.J., last weekend. Shaniya Lewis and Lily Hoban each hit home runs in the team's quarterfinal win, with Lewis adding a second to her stat line with a walk-off, game-winning blast in the semifinals.
"Alliance Fastpitch is who puts on the championship series, and it was hosted by East Coast Softball," Hoban noted. "It's done like the college World Series. We competed against teams that featured kids from multiple states on them, while we are basically an all-local team. So it makes it pretty special to know that.
"The girls really played well all weekend long," she added. "Lily Hoban batted over .500 for the tournament. Sisters Laniya and Shaniya Lewis really swung the bats well. Ava Calciano, Jaya Shaub and Kinsley Hall also had some big hits for us."
For the weekend, Hoban batted .556, with a pair of doubles, a triple and the home run previously mentioned. Laniya Lewis had a pair of doubles, while sister Shaniya had the two home runs and a double amongst her offensive output.
Other extra base hits for the Tribe included a triple from Calciano, two doubles and a triple from Hall, three doubles from Shaub and a double by Aniya Blake.
The pitching duties were handled by a trio of hurlers who toed the rubber inside the circle. Kylee Hill, Reghan Hintz and Hall all started two games each, and combined for a 3.21 ERA with 42 strikeouts. Hill hurled 16 innings, Hintz fired 13 frames and Hall covered eight innings overall.
"Our pitchers did a nice job of battling in each of the games," Hoban said. "They kept the hitters off-balance by changing up their pitches and speeds."
The Tribe 16U took down the Asburn Shooting Stars, 3-2, in their opener. They defeated their next opponent, 7-6, before closing out Saturday with a 10-0 win over the Delaware Cobras.
On Sunday, they took out their first opponent, 10-2, in the quarterfinals. In the semifinals, the Tribe used the walk-off homer from Lewis for the 2-1 win over the Empire State Huskies 16U Select. In the finals, it was a 12-7 decision over the Stars National team that clinched the tournament championship, sending the team to Indiana.
The team's roster includes both Lewis sisters, Lily Hoban, Aniyah Blake, Ava Calciano, Emma Cooper, Jaya Shaub, Katie McHale, Kiersten Anderson, Kinsley Hall, Kylee Hill and Reghan Hintz.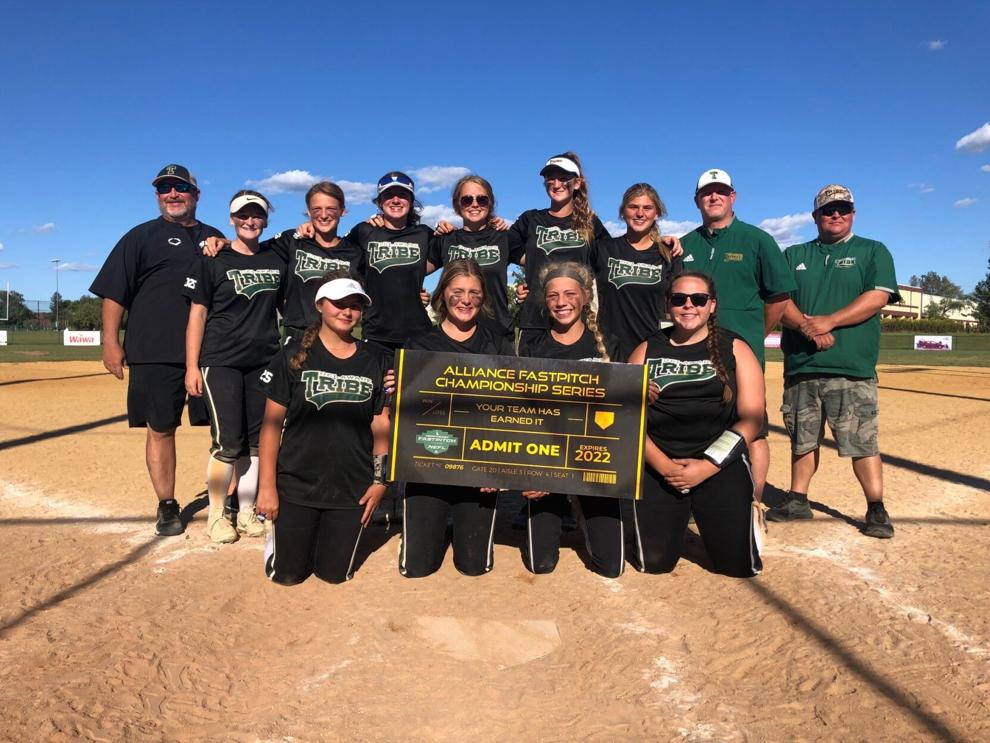 Things started out rocky for the Tribe 14U team — coached by Dennis Scurci — with a tie and a loss, but the team regrouped to win its next five games, including four on Championship Sunday, to claim the bracket's title.
"It was a total team win," said an elated Scurci. "We batted .450 as a team on Sunday. The chemistry on this team is amazing. These girls have been together for a long while. Most have played together since they were 6, and it showed this weekend. We preach team mentality, working together and not just individually. They are a very unselfish group that will do whatever is needed to get the team win.
"While the whole team played well defensively, Sophie Scurci and Paige Krepps locked down the left side of the infield with exceptionally athletic plays. Ryleigh Smith was also outstanding behind the plate throwing out close to 50 percent of those who attempted to steal."
With the win, the Tribe 14U earned a berth in the Alliance Fastpitch Championship Series that will be held in Southern California next year.
"We set a goal in 2020 to win our way into this national event by the end of our 14U season, and these girls achieved it," acknowledged Scurci. "We have a great group of parents and grandparents that are just as committed as these girls. It's the commitment and sacrifice by the parents that makes attending these types of events possible. I am very grateful for our group."
Sophie Scurci batted .524 for the weekend, with three triples, five RBI, 13 runs scored and six stolen bases. Smith was .500, with five doubles and nine RBIs. Kiersten Passwaters chipped in with a .444 average that included five RBI and 11 runs scored. Paige Krepps hit .429 with three RBIs, and Gracie Hoban was .400 with six RBIs.
Ramsey Revelle handled the pitching duties, covering 28 innings over the two days. She sported an impressive 1.24 ERA with a 1.024 WHIP, including 16 strikeouts to just three walks.
The Tribe opened the tournament with a 1-1 tie against the New Jersey Gators National and a 5-4 loss to the Virginia Glory Atkins. They closed out the day on Saturday on a high note, with a 6-4 win over Team Long Island.
That set the stage for the four-game sweep to the championship on Sunday, where they took down the New Jersey Cheetahs Voluntad (10-0), Lady Dukes McHale (8-1), Jersey Outlaws Premier (12-4) and Team Long Island (12-0).
The 14U Tribe team consists of Autumn Cookson, Ava Snelsire, Baylie Williamson, Gracie Hoban, Jaz Mayfield, Katelyn Murray, Katie Lasher, Kiersten Passwaters, Paige Krepps, Ramsey Revelle, Ryleigh Smith, Sam Witte and Sophie Scurci.
Because of the substantial costs associated with earning their way to the Alliance Nationals, both Tribe teams are currently hoping for the community's generosity in the form of monetary donations to help defray those costs. For more information, contact the coaches at delawaretribe@hotmail.com or call Hoban at (302) 363-7311. Donations may also be mailed in, sent to Delaware Tribe, 29690 Revel Road, Millsboro, DE 19966.