Earlier this month, the National Federation of State High School Associations (NFHS) voted down a proposal to implement a shot clock for both boys' and girls' basketball for the upcoming 2020-2021 seasons.
They did leave open the possibility for individual states to utilize shot clocks if they so choose.
NFHS, the national governing body for high school athletics, and its basketball rules committee, rejected the proposal to establish a 35-second shot clock for both boys' and girls' basketball around the country. It also blocked a proposal to allow individual state organizations — such as the Delaware Interscholastic Athletics Association (DIAA) — to adopt a shot clock if they wanted.
The NFHS establishes rules for all high school sports throughout the country.
Nationally, a shot clock in high school has been debated for many years, but it has become more of a hot topic in recent years. As it stands, in high school basketball, teams can hold the ball for an extended period of time, playing a game of cat-and-mouse or keep-away, without ever taking a shot once they get a lead.
And during those times, fans in the stands often voice displeasure with watching the stalling tactic, or as it has been referred to, "taking the air out of the ball."
Both the NBA and WNBA have 24-second shot clocks in their leagues, while the NCAA has a 30-second shot clock for both their men's and women's games. A shot clock generally allows for more action and a quicker pace of play during the game.
A poll was started on Monday, May 18, on the Coastal Point sports Facebook page, asking fans to vote and voice an opinion on whether they would like to see a shot clock instituted in high school basketball. Check out the page to see the most recent results. Within an hour of the poll being posted, there was a resounding number of votes cast in favor.
"The basketball rules committee, as a whole, is not against the shot clock," said Theresia Wynns, the director of sports and officials for the NFHS, in a press release. "There are some members of the committee that support a shot clock. They tend to be in the minority. This issue is discussed very thoroughly each year. We offer what we think are the pros and cons for the use of the shot clock. We talk about what does the game gain by using a shot clock that the game does not have without the shot clock."
For the past two years, there have been eight states that went against the NFHS ruling — California, Maryland, Massachusetts, New York, North Dakota, Rhode Island, South Dakota and Washington — all used a shot clock. By using the shot clock without the consent of the NFHS, those states forfeit their chance to have representation on the rules committee for that sport.
There are critics of using a shot clock who cite money as their reasoning, especially in light of many schools athletic budgets seeing sports get cut due to financial constraints. There are perceived cost-prohibitive issues with the use of a shot clock, such as the cost of equipment, cost to train personnel to use the shot clock and then run the shot clock, and finding someone who will be consistently available to run the clock.
Then there is the issue of training officials to learn and enforce the rules regarding setting and resetting the shot clock.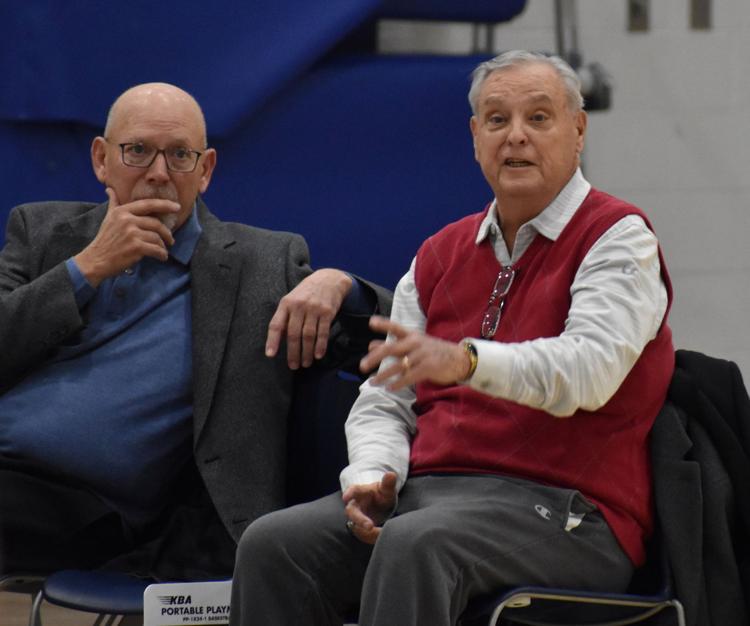 Locally, at Indian River High School, the idea of using a shot clock is something that boys' basketball head coach Devin Mann said he would certainly favor.
"I definitely would love to see a shot clock added to Delaware basketball," Mann admitted. "To me, the advantages far exceed any negatives, and that includes money.
"Playing with a shot clock does a few things. Every level after high school uses a shot clock so it familiarizes athletes with that. It causes coaches to have to strategize, and build offenses based on the lack of ability to hold the ball. It creates a more exciting game for the fans and those in attendance. Lastly, it gives teams the ability to come back from deficits by stringing stops together and getting more offensive opportunities.
"The biggest obstacle thus far has nothing to do with basketball," he noted. "We have heard for years it's about money, but to me it's as simple as saying, 'Look guys, in two years we will be making a shot clock mandatory. You have until the 2022-2023 season to fundraise and purchase clocks for your school.' That gives schools time to make it happen.
"If you never push for it, then there will always be that excuse. I've seen some Maryland schools use digital hand-run clocks on desks at opposite sides of the floor until they could afford to purchase the proper clocks. But they made it happen. There's no reason Delaware can't. No excuses."
Administratively, there's nothing keeping the IRHS basketball programs from being able to use a shot clock at their facility. The high school's gym is already equipped with shot clocks above the rims at each end of the court.
"Our only issue would be that we might have some difficulty finding someone that could confidently operate the shot clock separate from the actual game clock," said IRHS athletic director Todd Fuhrmann. "Since our gym currently has the shot clocks, there would be very little concern, financially, for us. I understand other schools having financial concerns regarding purchasing the shot clocks. There are also schools that are older, so their facility may not have the ability to install them.
"If the state were to decide that they would be implementing a shot clock, I would be fine with that. I could see it really helping out the girls' game with creating more action, but keeping the scores lower with more competitive scores."
And what about Mann's opinion about coaches getting their teams to hold onto the ball?
"The issue of a slowed-down game always comes up in the discussion of the shot clock," Wynns added. "This is not a situation that occurs game after game. We concede that it does happen occasionally. It is not an overriding factor that makes the use of the shot clock necessary. We have in the past shared information with the committee that showed the average time for a basketball shot was less than 35 seconds 90 percent of the time."
So, while there are certainly factors that support each side of the argument, there is not likely going to be a shot clock coming to Delaware anytime in the near future.