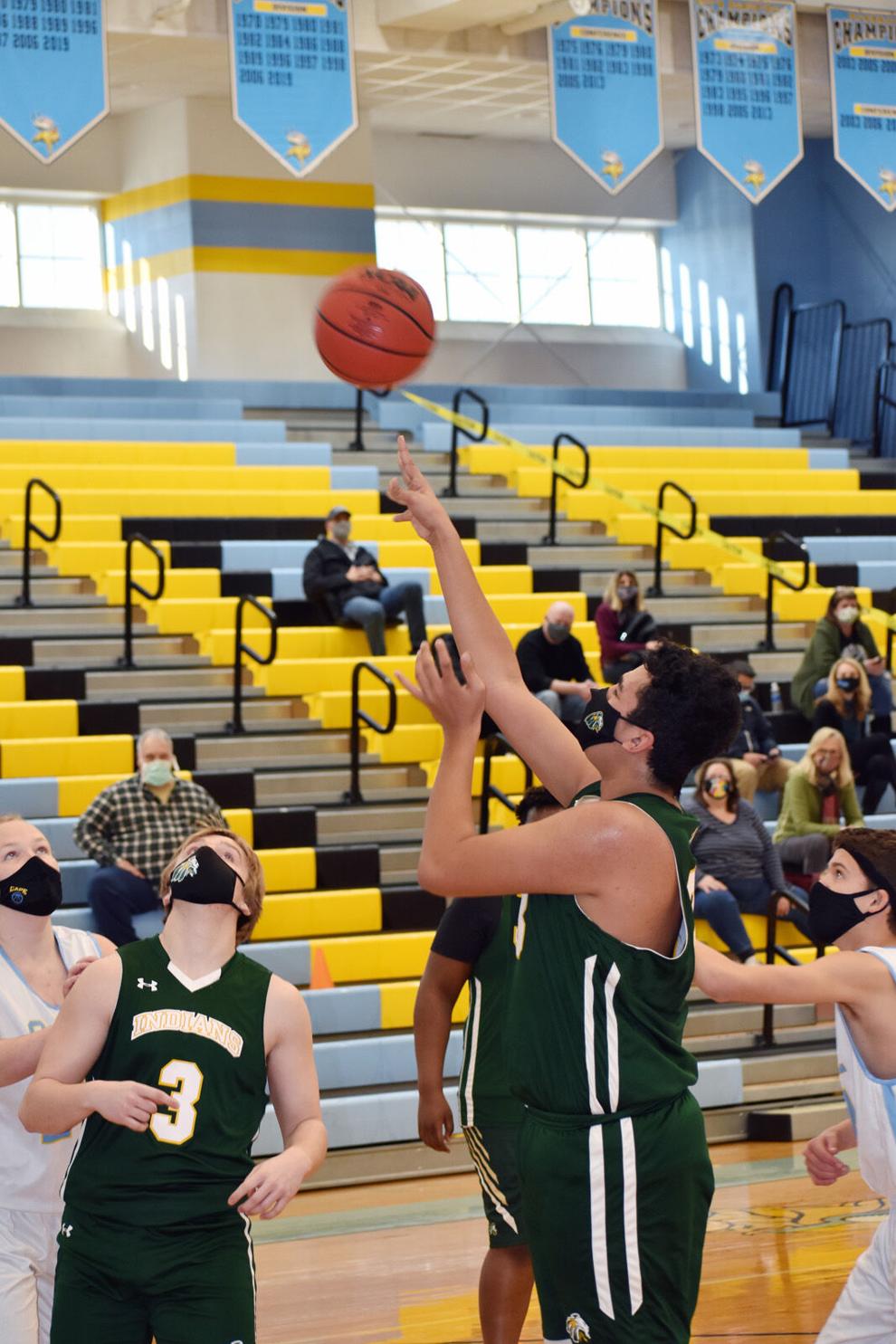 For three seasons now, Gabe "Big Shot" Mouynivong has been hitting, well, big shot after big shot for the Indian River High School Unified basketball team.
This season, though, Mouynivong has found himself a new "home" closer to the basket than outside on the arc. Thankfully for the Indians, he has become quite comfortable in his new digs, leading the way in points and on the glass.
Such was the case on Monday, Feb. 8, when Mouynivong and the Indians traveled to Cape Henlopen High School for a battle with the Vikings. He was a forced to be reckoned with, and one the Vikings simply had no one to match as he scored a game-high 15 points to go along with more than 10 rebounds in the Indians' 21-14 win.
"Gabe has been doing a very good job for us," said IR head coach Sam O'Shields. "He really enjoys it. He gives us all he's got. He's a big, tall kid, and he has actually become a lot more disciplined this year, not always looking to shoot threes. He got a lot of his points today in the paint, and he's not afraid to get in there and mix it up a little bit. He's improved a lot."
Mouynivong and the Indians set the tone from the opening tip, rolling to a 9-4 lead after one quarter of play. Mouynivong scored 7 of his points in the first, with Nariah Showell also getting in the scoring column.
Both teams slowed things down over the next eight minutes, with the Indians' Lanc Govens scoring the lone bucket in the second quarter.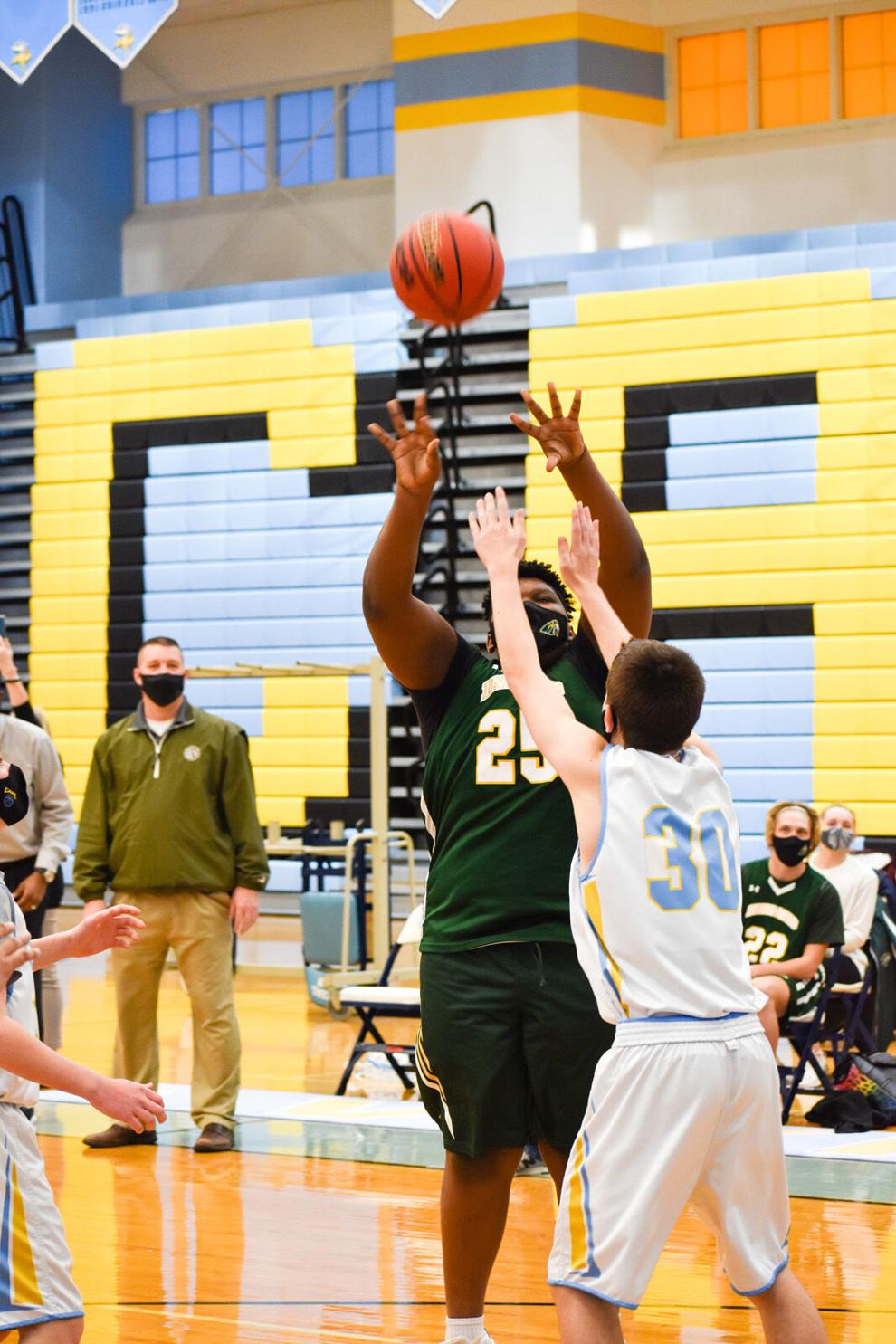 The Vikings came out strong in the third quarter, making things close by out-scoring the Indians 6-2 to cut their deficit to two, at 13-11.
However, Mouynivong again stepped up big for the Indians, scoring another 8 points in the final quarter to close out the win, with all four of his baskets coming off of offensive rebounds and put-backs.
"We have a couple of kids that have been for a couple of years, and we have some new kids that have come in and realized what we are doing, and what it is all about," O'Shields continued. "The kids are having fun and really enjoying themselves. I am really proud of them.
"With everything that is going on right now, with COVID and everything, the kids are just tickled to death to come out and shoot a basketball, even if it is with a mask — to just play, be able to just run up and down the court, and just interact with kids in general. It's just a really good time to be able to just play when there is not much else going on."
Lizzie Shea and Jayden Sheppard led the Vikings with four points each.
The Indians will host Seaford on Tuesday, Feb. 16, for the last home game of the season before traveling to Dover on Thursday, Feb. 18. Results will be on the Coastal Point Sports News Facebook page when they are available.
Boys' Basketball
Indians drop a close one to Delmar
The Indian River High School boys' basketball team fell behind early, and were just never able to recover, in a 44-40 loss to Delmar on Tuesday, Feb. 9. Finding themselves in a 16-9 hole after the first quarter of play, IR would fight and scratch their way to get back into the game, but could never close the gap.
Senior Gage Spinks scored a game-high 18 points, converting 10 of 11 attempts at the charity stripe along the way. Classmate Willem Lambertson also had a double-figure effort, with 10, as he was a perfect 5-for-5 at the foul line on the night.
Eight different players got into the offensive effort for Delmar, with Jeremiah Lumpkin-Beale matching Spinks' game-high performance with 18 of his own. No other Delmar player hit double digits.
The Indians picked up a pair of impressive wins, over Sussex Academy and Odyssey Charter School, prior to the Delmar game, on Monday, Feb. 8, and Saturday, Feb. 6, respectively.
Against Sussex Academy, the Indians outscored the Seahawks in every quarter en route to the 64-27 win. A total of 11 Indians found themselves in the scorebook, with Jax Cathell leading the way with 14 points, including three buckets from beyond the arc.
IR held an 18-4 lead after the first and 34-9 stranglehold at the halftime intermission. The Seahawks came out of the break looking to make a game of things, but the Indians held off any potential run.
The Saturday matinee against Odyssey Charter had helped get the Indians off a five-game slide as they cruised to a 64-18 win. Four different players hit double-figures for IR with Ja'siah Rounds leading the way with 17 points. Spinks, Lambertson and Brendon Bradford each chipped in with 10 points for the winners.
The Indians did not allow OCS to hit double-digit scoring in any quarter, cementing the win with a 24-2 third quarter after holding a 36-11 halftime lead.
The three-game stretch brings the Indians' record for the 2021 campaign to 3-6 overall. With five games remaining, the Indians will look to avenge a couple of their early-season losses against the likes of Lake Forest (Feb. 11), Woodbridge (Feb. 16) and Laurel (Feb. 18) over the next week. Results for those games will be on the Coastal Point Sports News Facebook page when they are available.