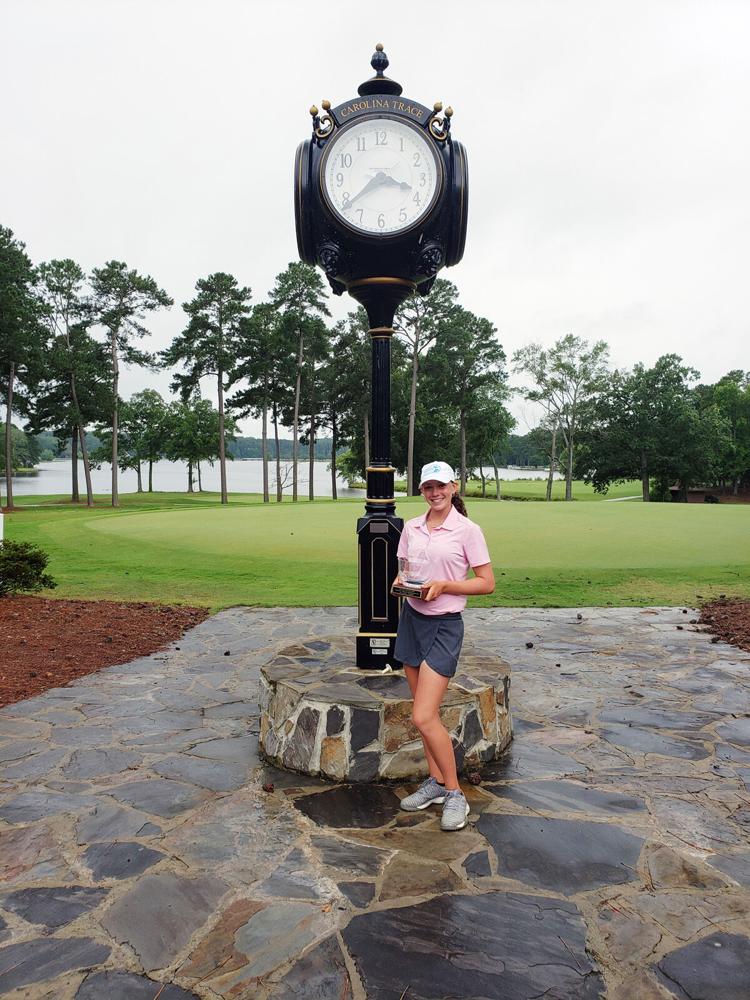 Sussex Academy rising junior Hannah Lydic came from behind to stake claim to the Carolina's Classic golf title at the recent Peggy Kirk Bell Girls Golf Tour tournament in Sanford, N.C., at the Carolina Trace Country Club.
Lydic, whose home course is nearby Bear Trap Dunes and who is a resident of Ocean View, fired a 3-over-par 147 for the two-day tournament, taking the championship and besting Kara Carter of Kingsport, Tenn. She would overcome a three-shot deficit to win the trophy.
"It was a two-day event, and we went down the day before to do a practice round," Lydic explained. "The first day, I shot a one-over, which tied my sister Sarah for second place. The first-place girl," she added of Carter, "shot a two-under, which was really, really good. It was the three of us in the final group in the final round.
"I was gunning for the lead, and the weather was really shaky, because there was a thunderstorm in the area. We were trying to get the round in before the storm came. I ended up getting the three shots back before the storm hit as we were on the green of the 17th hole. Just before the weather horn sounded, [Carter] had lipped out a birdie putt, unfortunately, and I ended up making my par putt to keep us tied."
The inclement weather put a three-hour pause in Lydic's comeback, and left the golfers and their parents sitting in their cars to wait out the storm due to social-distancing guidelines. Following the delay, the golfers weren't allowed to do any warm-ups or stretching to get ready to resume play.
"On the 18th, it's a Par 5, and I knew I was all tied up with her," Lydic continued. "I knew there was no way I was gonna do anything but par that hole. It's not that hard of a hole. It was an iron shot off the tee, and then another iron shot before a wedge. I hit a 4-iron to lay up in front of this hazard that I had hit into the day before. [Carter] hit her shot into the rough to the left, and then hit her second shot into the bunker. I was able to two-putt for a par to win."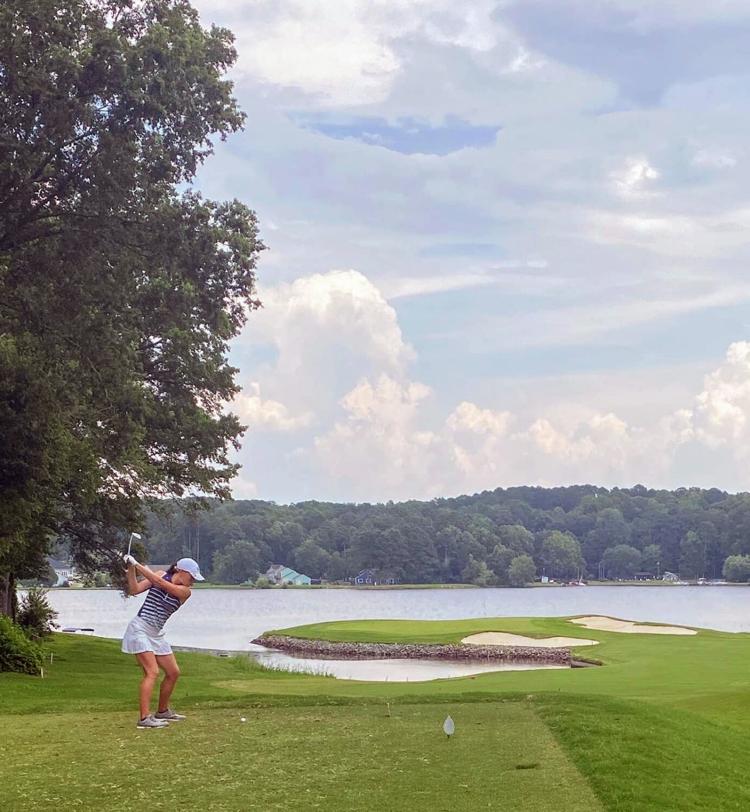 Hannah Lydic made 16 pars during her final round, en route to her first Peggy Kirk Bell Golf Tour championship. The top five finishers included Carter at second, with a 148, followed by McKenzie Daffin (150), Halynn Lee (151) and Autumn Carey (152).
Both Lydic sisters — daughters of Garrett and Leslie Lydic — will be heading back down to North Carolina a couple more times this summer to participate in events.
"This golf course," Hannah Lydic said of Carolina Trace Country Club, "is right on the water of Lake Trace, and is absolutely beautiful, in my opinion. There are a lot of water holes that are right on the lake, which is so pretty."
This weekend, the girls are at Penn State University for a tournament. They will be playing on the Blue Course.
The Lydic sisters started the tournament season with an event in March, before things were shutdown due to COVID-19, but have played in six tournaments since June. They keep a pretty busy schedule, with tournaments up and down the East Coast and stops in Maryland, North Carolina and Virginia.
They will be playing in another Peggy Kirk Bell event at the award-winning Pine Needles Lodge & Golf Club in North Carolina, which is right across the street from the nationally-known Pinehurst Golf Community. Pine Needles was ranked the No. 4 golf course in the state of North Carolina by Golfweek magazine.