It came down to one final game. The tension and emotions were high at the Lower Sussex Little League complex in Roxana on Tuesday, July 13, when the locals hosted District 1's MOT in the Delaware state Major League softball championship.
The "if necessary" game became necessary when MOT defeated LSLL on Monday, July 12, by a narrow 3-2 score. The game-winning run came in the top of the sixth inning for MOT, on a dropped third strike put out at first that allowed the runner at third to cross the plate for a 3-1 lead.
In the championship finale, LSLL was led by the pitching of Maggie Bare and Cierra Lewis, as well as the hitting of Lewis, Sophia Bowen, Taygan Conaway, Bare and Mariah McCabe, as they picked up the 4-1 victory and state title.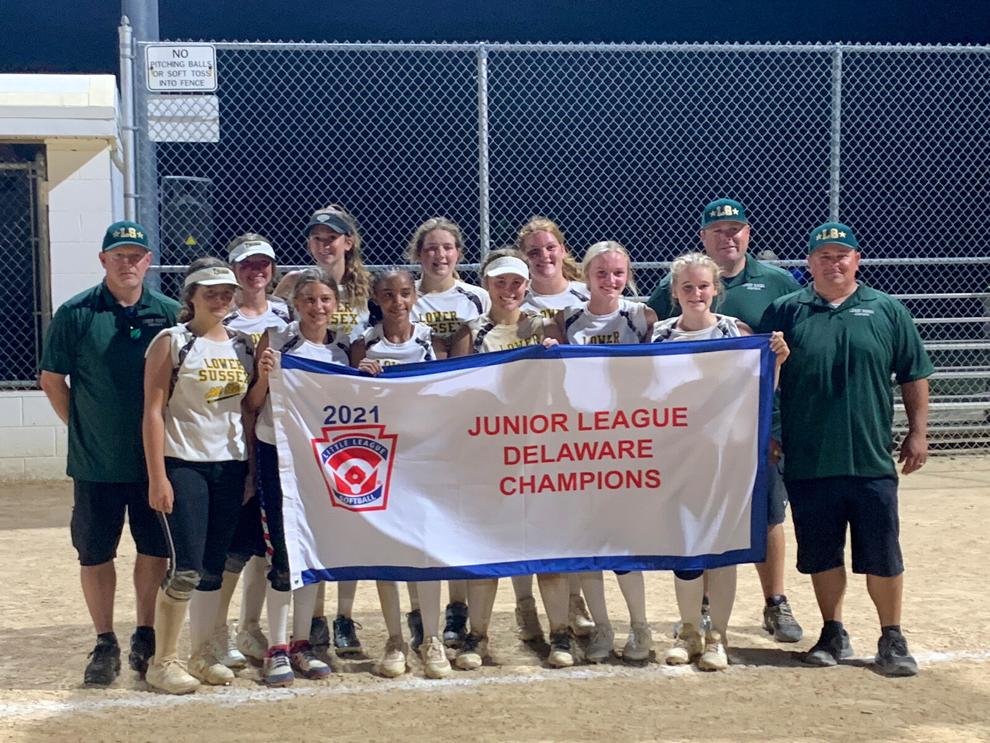 The win secures the locals' trip to Bristol, Conn., for the East Region tournament, which will run July 24-29. The winner of the national regional will advance to the Little League World Series that will be hosted at Stallings Stadium in Greenville, N.C., on Aug. 11-18.
"I am so proud of these girls," manager Jesse Bare said after the game. "They set out when this whole thing started," Bare said of districts and states, "to get to this moment, to have this result. They wanted to go to Bristol, and they have accomplished that goal."
It is the second time in four years — last year's tournaments were canceled due to COVID-19 — that a LSLL team will be heading to Bristol for the national regionals. Sarah Hoban had taken her LSLL Majors team up in 2018, and they came up just short in their World Series bid, falling in the semifinals to Connecticut.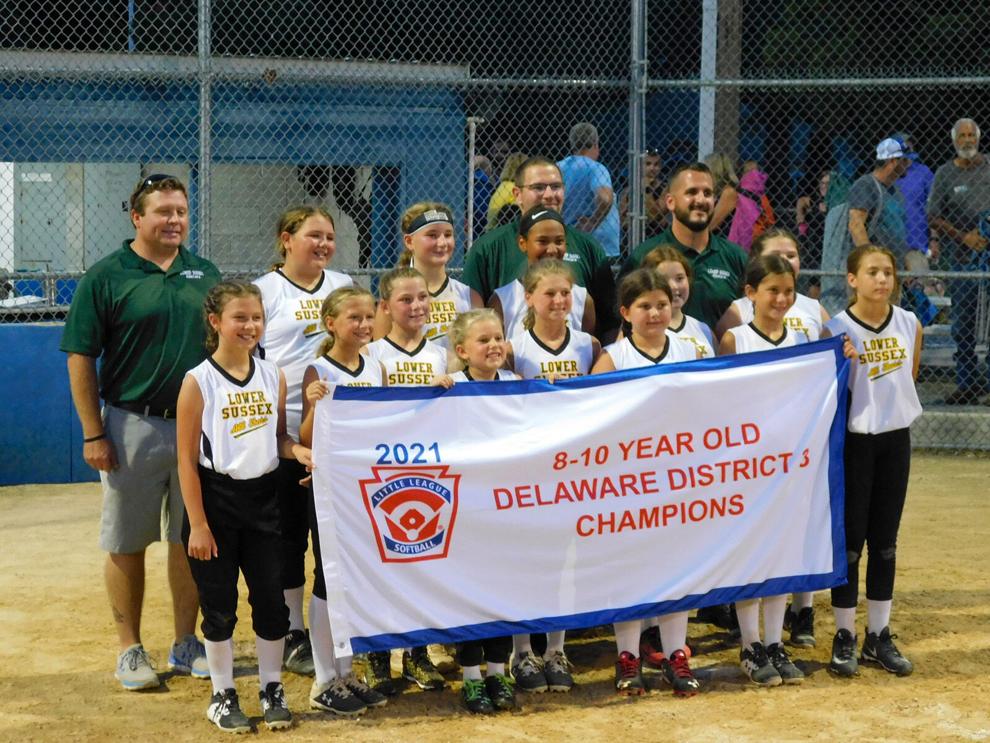 While the girls have taken care of business so far on the field, it's the business off the field now that the adults will have to do to help them continue this journey. Nothing is paid for when it comes to the national regional, and so the LSLL organization is hoping that local businesses can help defray the costs for the girls' travel and lodging expenses through donations to the cause.
Donors can contact the league at lsllbaseballsoftball@gmail.com.
Minors win District 3 crown for LSLL sweep
The LSLL Junior League squad added another state title to the organization's impressive résumé with a 20-6 shellacking of Camden-Wyoming on Tuesday, July 13. (More on this game will be available on the Coastal Point website.)
Manager Scott Murray and his crew of Macy Blades, Jillian Coulbourn, Gracie Hoban, Raegan Kansak, Katie Lasher, Tamiyah McCabe, Isabella Marinelli, Katelyn Murray, Zoe Quillen and Sophire Scurci also cruised to the District 3 title, and have been a perfect 3-0 in district and state play. They outscored their opponents 42-17 in those three games.
Baseball action under way
The Lower Sussex Major and Minor baseball teams got their District 3 tournaments under way this past week as well.
The LSLL Minors — managed by Jim Gates — demolished Milton in their District 3 bracket opener with a 27-9 decision on Monday, July 12. The team features Jaxon Blood, Jack Gates, Jack Owens, Gavin Tritapoe, Miguel Castillo, Brady Fiels, Grant Fiels, Marquise Blake, Rowen Battaglia, Tyler McCray, Bennett Erbe, Ryland Russell and Caleb Bunting.
Against Milton, Jaxon Blood was 5-for-6 from the leadoff spot. Jack Gates, Gavin Tritatoe and Jack Owens all collected four hits apiece, with Gates scoring four runs and Tritatoe smacking a double and triple. All 13 LSLL players reached base offensively.
Ryland Russell anchored the defense with several diving stops and put outs, and Brady Fiels posted a solid game behind the plate at catcher.
The LSLL Minors then squared off with Lewes-Rehoboth on Tuesday, July 13, and battled tough from start to finish, coming up short in an 18-13 loss.
The LSLL entry found themselves in a 7-1 hole early after just two innings but fought back to tie the score at 13-13 after five innings. Lewes-Rehoboth scored five in the top of the sixth inning, and LSLL would strand two base runners without being able to score a run for the final score.
"Great game [Tuesday] night — one of the best I've been a part of in my 23 years of coaching Little League baseball," said Jim Gates. "We fell behind early, but they never quit, never gave up. Very proud of these kids to battle back and tie the game in the fifth. Showed a lot of heart."
LSLL was led on offense by Blood and his 3-for-5 plate showing that included three runs scored. Gates also turned in a nice game, going a perfect 4-for-4 with four runs scored. Owens was 3-for-4 with a double, and Tritatoe was 2-for-4.
Defensively, Brady and Grant Fiels were solid throughout the contest. Brady was a wall behind the plate, and Grant had several nice plays at third base, according to Jim Gates.
The Minors District 3 tournament runs through Sunday, July 18 — weather permitting.
The LSLL Majors — managed by John Williamson — began their quest for a District 3 championship on Thursday, July 15, with a trip up to Milton. The bracket features LSLL, Milton, Woodbridge, Lewes-Rehoboth, Nanticoke, Georgetown, Millsboro and Laurel, and play will continue through to Wednesday, July 21.
Williamson crew consists of Nolan Staniszewski, Josh Larusso, Dominick Marinelli, Kaden Spencer, Jordan Workman, Noah Hutchins, Landon Erbe, Max Williamson, Max Starky, Ji'hyer Turnage, Shane Forjan, Brody Crandall and Tripp Kirk.
While their District 3 run was not what they were hoping for, the LSLL Seniors fought hard in their two games during the tournament at the end of June. Georgetown swept its way to the District 3 crown.
The Senior League team was managed by Matt Freeman, with the roster made up of Carter Guarna, Ben Murray, Rishon Smith, Brayden Lucas, Aiden Pszczola, Dylan Bunting, Nate Silva, Alfonso Santiago, Kyle Custis, Ty'zjuan Jurado, Melvin Mora, Camden Callahan and Landon Fiels.