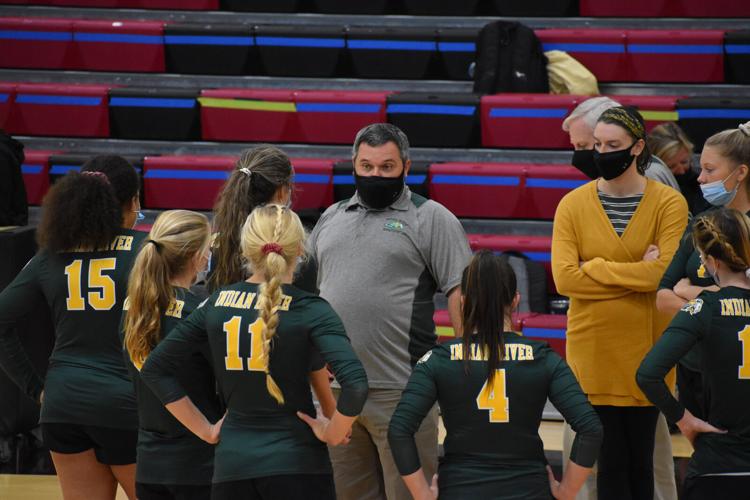 Communication is key to the success of a team in any sport, but especially in a sport like volleyball, with six players on each side of the court. At times this year, the Indian River High School girls' volleyball team has struggled with their communication, which has led to several unforced errors at inopportune times in matches.
Their communication was on point on Monday, Nov. 2, though, when the Indians won a hard-fought 3-1 decision over Caesar Rodney in a Henlopen Athletic Conference divisional crossover contest.
IR won games one (28-26) and two (25-17) before dropping the third (25-18). In the fourth, the back-and-forth contest saw the Indians nip the Riders, 25-23, to seal the deal for the match.
Junior Lia Diakos and senior Raychel Ehlers led a powerful effort for the Indians.
"I think it was kind of a challenging match because [CR] was definitely holding their own," said Diakos. "We played well, and at first it was hard, because we weren't really connecting on the court. By that fourth set, I think that we definitely pulled it together and won as a team.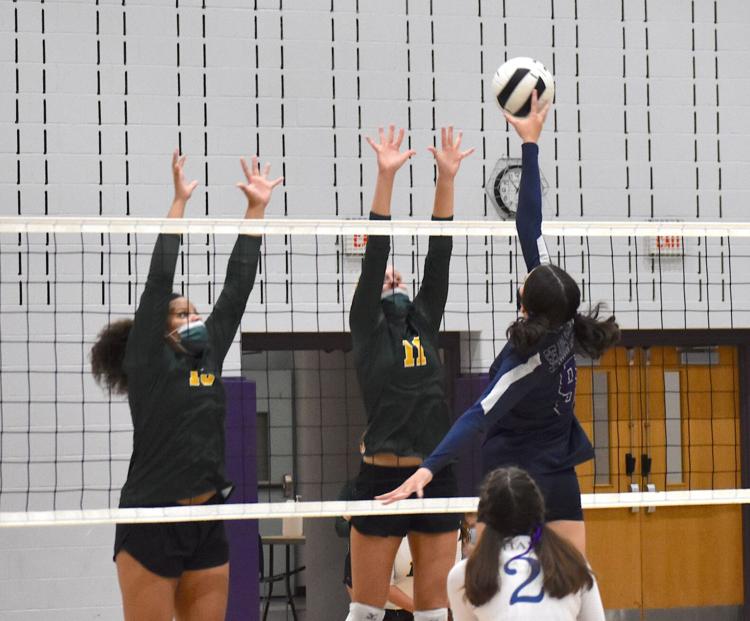 "At first, it was kind of challenging," Diakos said of playing with Ehlers, "because she's a really good player, and she really committed to the sport. I wasn't really sure what was going to happen coming into the season, but I have definitely gotten more comfortable. Raychel and I really work well together — especially during games and at practice — so I have gotten more comfortable, and my stats definitely show that."
Diakos filled the stat sheet with 14 kills, 5 digs, 2 aces, 2 blocks and 2 assists. Raychel Ehlers had 25 kills, 5 digs, 4 aces and a block. Camryn Ehlers was her usual steady self on the sets, with 27 assists, 4 digs and a kill.
The Indians also got big contributions from Mya Mumford (6 kills, 5 blocks, 1 dig), Nicole Norman (5 digs, 2 assists) and Nicole Woody (6 digs, 1 ace, 1 assist).
"I think we are starting to communicate a lot more — especially yesterday, because that was one of our things that wasn't going very well, which was why we did lose that one set," continued Diakos. When coach Rich Comly called the timeout, she said, "We talked about it, and we all agreed that we had to start talking more on the court. Then we went back out onto the court; the energy level started to go up, and it definitely helped a lot that we talked, because that was one of our biggest issues.
"Communication is definitely so important for us, and when we don't communicate well, it just leads to easy mistakes. We have had film-study twice, and it helps a lot, because it shows you a lot, because you get to see the whole court and everything. I think that has helped me a lot, and I think I played better in the back row because I was able to see what I was doing wrong against Smyrna."
The win improved IR's record to 5-1 on the season, with a match against Seaford set for Wednesday, Nov. 4, at 4 p.m., after Coastal Point press time.