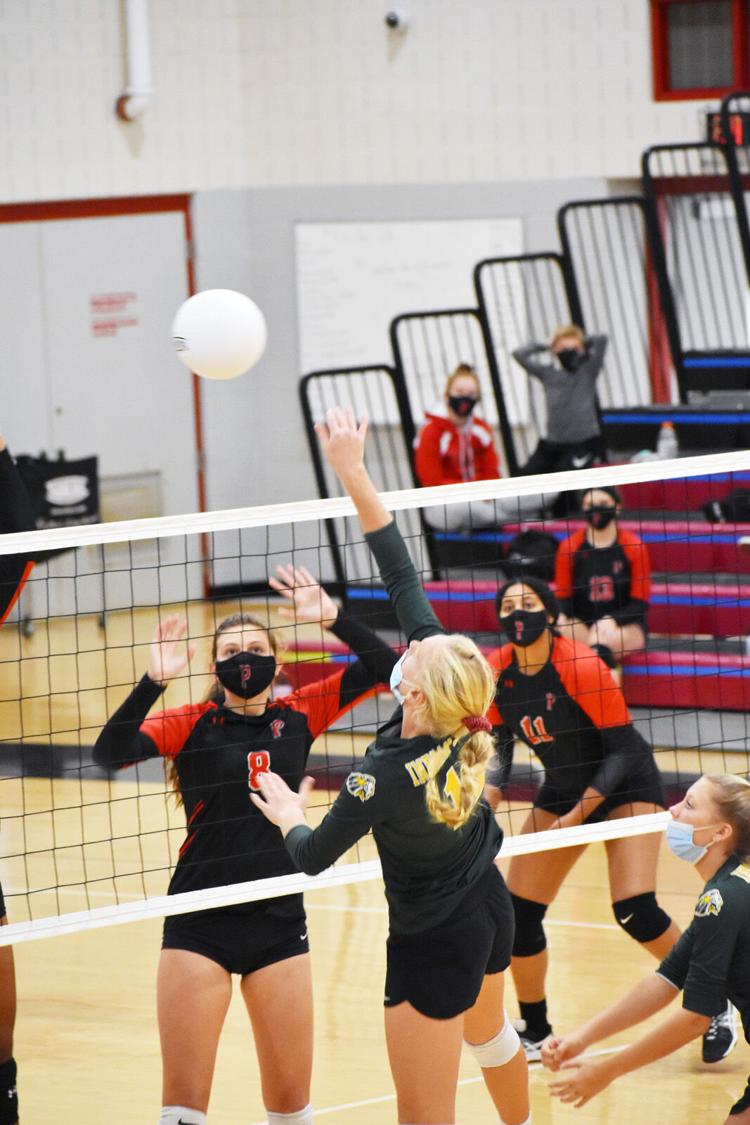 The Indian River High School girls' volleyball team has been on quite a tear over their past five matches.
Following their 3-0 win over Lake Forest on Tuesday, Nov. 10, the Indians were able to win their fifth straight, and now see their season record standing at 8-1.
The Indians had very little trouble with the visiting Spartans, cruising to a straight sets-win by scores of 25-13, 25-14 and 25-14.
Senior Nicole Woody had a strong game for the Indians, with 10 digs to go along with an assist. Sophomore Camryn Ehlers filled the stat sheet with 24 assists, three aces, two blocks, two digs and a kill. Lia Diakos also turned in a solid performance, with seven digs, two kills and two blocks.
The recently Division I Coastal Carolina-committed Raychel Ehlers was once again on point, with 17 kills, 11 digs, four aces and a block. She now has 166 kills for the season, which is an average of 18.4 per match.
Scarlett Dunn (5 kills, 2 blocks), Mya Mumford (5 kills, 4 blocks), Skylar Kneller (3 digs, 2 blocks) and Nicole Norman (3 kills, 1 dig) also played big parts in the IR victory over Lake.
On Friday, Nov. 6, the Indians fell behind 2-0 in their match with host Delmarva Christian, dropping the first two sets (25-22, 25-13). However, IR stormed back for an incredible rally, winning the final three sets for the 3-2 win over the Royals.
The Indians won the last three sets by scores of 25-19, 25-21 and 20-18.
Raychel Ehlers was her usual dominating self, with 25 kills, 12 digs, 6 aces, 3 assists and an ace. Camryn Ehlers posted 40 assists, 5 digs, 4 aces and a kill.
Diakos added 9 kills, 5 aces, 3 digs and an assist, while Dunn (7 kills, 1 ace), Woody (8 digs, 2 aces), Norman (7 dish, 1 ace) and Mumford (4 kills, 3 blocks, 2 aces) all figured into the winning effort for IR.
The Indians were set to host Cape Henlopen on Thursday, Nov. 12, in a tough Henlopen Athletic Conference divisional crossover match. After over a week off, IR will wrap up the home portion of their regular season with a contest against South Division rival Woodbridge on Monday, Nov. 23, before hitting the road for the season finale on Wednesday, Nov. 25, at Dover.
Field hockey goes up against tough opposition
It was this three-game stretch of the season that the Indian River High School field hockey team knew head of time was going to be tough, and they came up on the wrong end of the ledger in the first two, falling to Lake Forest (4-2) and state-powerhouse Delmar (8-0) this past week.
The third game during this difficult stretch was set for Thursday, Nov. 12, (after Coastal Point press time), when the Indians were to host perennial Division I state champion Cape Henlopen. (Results from that contest can be found on the Coastal Point sports Facebook page.)
Against Lake Forest on Friday, Nov. 6, the Indians battled tough, jumping out to a 1-0 lead in the first quarter. The Spartans responded, however, with four unanswered goals to take stake claim to the victory.
The Indians' first goal came off the stick of sophomore Kinsley Hall, thanks to an assist from senior Jess Rybicki. It was Hall again in the fourth quarter who slammed it home into the cage, this time with an assist from junior Emma Ruley.
Senior goalie Allyson Clark made five saves for the Indians in the setback.
Delmar was tough from start to finish, scoring a goal in the first, two more in the second and three in the third, and wrapped things up with a pair in the fourth. Maci Bradford scored four goals for the Wildcats, with Josie Hollamon adding two, Jordyn Hollaman one and Payton Lynch recording the other.
The Wildcats held a decided advantage on shots and penalty corners, putting pressure on the Indians throughout.
Clark did her best to keep things close for the Indians, with 13 saves in the contest.
After the Cape Henlopen game, IR will close out the season with a road date at Laurel (Nov. 17), at home with Woodbridge (Nov. 23) and at Sussex Central (Nov. 24).