The Indian River High School cross country teams had a solid showing at the 49th Annual Salisbury University Tidewater Fall Classic last week at Winter Place Park with Worcester Prep School serving as host of the meet.
IR sophomore Brynn Crandell won the girls' race with an incredible time of 18:32.50, which was nearly a full minute ahead of the second-place runner Sarah van Ornum from Kent Island High School (Md.). Crandell bested 168 total runners in the event that featured 25 schools with Henlopen Conference member Cape Henlopen winning the team championship overall. The Indians finished 6th in the team standings.
Junior Chase Sims was 5th overall out of 236 runners with 28 schools represented in the boys' race with his time of 16:18.10. James M. Bennett (Md.) High School's Timothy Synow won the race with a time of 15:29.46. Cape Henlopen also won the boys' team title with three runners crossing in the Top 10 and their first five all in the Top 26.
On the girls' side of things, IR also had Heather Smyth finish 30th overall, while teammates Kaiden Bonbright (37th / 23:19.65) and Lilah Hanley (47th / 24:08.59) all finished in the top third of the race. Jordan Gonzalez was the fifth IR runner to score points with her 71st place spot and a time of 26:34.72.
Crandell has been on a tear this year having won every race she's been in so far. She set the course record in a quad meet at Sandhill Fields back on Sept. 22, with her time of 18:33.
For the boys, the Indians had Cole Donnelly (36th / 18:36.60), Drew Barthelmess (40th / 18:47.37), Shane Hall (54th / 19:20.94), and Cruzito Baustista (64th / 19:49.15) round out their Top 5 scoring runners in the team standings, which was also in the top third of the overall runners in the race.
Both the Indians' boys and girls teams ran in a tri-meet on Wednesday, Oct. 13, at Laurel with Woodbridge also participating. Results will be available on the Coastal Point News Sports Facebook page when made available.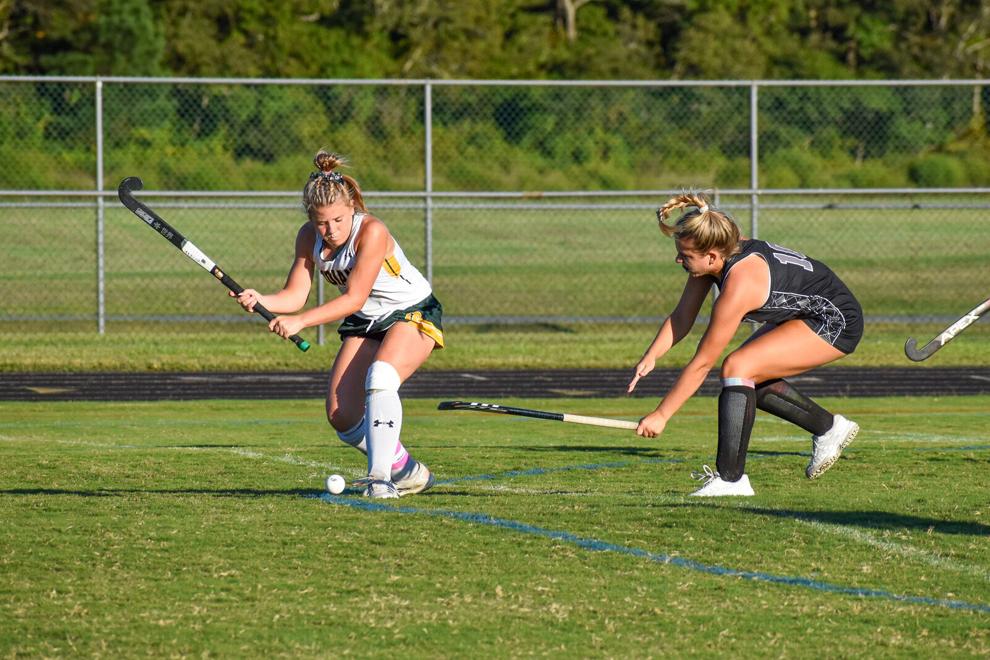 Field Hockey
Indians' struggles continue
The growing pains and struggles continued this past week for the Indian River High School field hockey team as they dropped a pair of contests against Dover and Smyrna.
On Saturday, Oct. 9, the Indians went up to the University of Delaware's Rullo Stadium to take on Dover in the annual Turf Bowl series hosted at the college. Emma Ruley scored both goals unassisted in the 3-2 setback to the Senators.
Dover got on the board first in the first half at the 13:06 mark, but Ruley tied things right up 13 seconds later on her first goal. The Senators went ahead for good with 2:30 left before the half, and added to their lead in second half at with 11:08 to play with an insurance goal. It proved to be needed as Ruley banged home her second with 4:34 on the clock for the final score.
The Indians only managed five shots in the contest versus Dover's 11. The biggest issue for IR could have been their inability to capitalize on six penalty corners. Senior Caylee Schmidt turned aside six Dover shots.
IR then traveled up to Smyrna to take on the Eagles in a Henlopen Athletic Conference divisional crossover game coming up on the downside of a 5-0 result. Schmidt faced 36 shots with only 26 actually being credited going on goal. She would make 21 saves overall.
Smyrna dominated from the opening whistle with three first half goals before adding another two in the second half. They earned 17 penalty corners to the Indians' 4, and outshot IR 36-4.
The Indians hosted winless Laurel on Thursday, Oct. 14. Results will be available on the Coastal Point News Sports Facebook page when made available.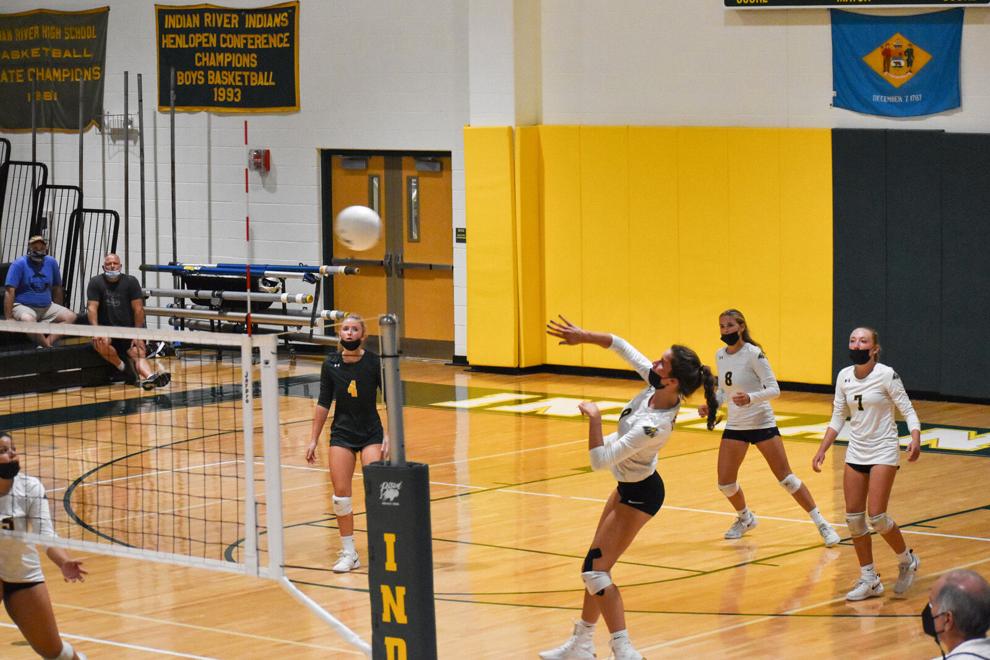 Girls' Volleyball
Indians drop a pair
It was a true battle against nearby Delmarva Christian on Thursday, Oct. 7, but the Indian River High School girls' volleyball team came up short in a 3-1 decision to the Royals. IR lost by set scores of 6-25, 21-25, 25-21, and 19-25.
Junior Cam Ehlers was impressive in the match with 18 assists and 12 digs to go along with 6 kills and 3 blocks. Senior Sia Diakos had a strong contest with 14 digs and 11 kills as well as a block. Classmate Nicole Norman added 16 digs, 5 assists, 5 kills, and a block of her own.
The Indians also got good contributions from juniors Lily Hoban (9 digs, 6 kills, 3 aces, 1 block, 1 assist), Mya MacDonald (6 blocks, 2 digs), and Scarlett Dunn (3 kills, 1 ace, 1 block, 1 dig). Senior Mya Mumford chipped in with 6 blocks and 2 digs as well.
In a contest against fellow Henlopen Athletic Conference foe Cape Henlopen High School, the Indians battled tough, but came out on the short end of a 3-2 decision to the Vikings. IR lost by set scores of 25-17, 17-25, 22-25, 25-16, and 16-14.
No other stats or information were available from the match to include as of Coastal Point press time.