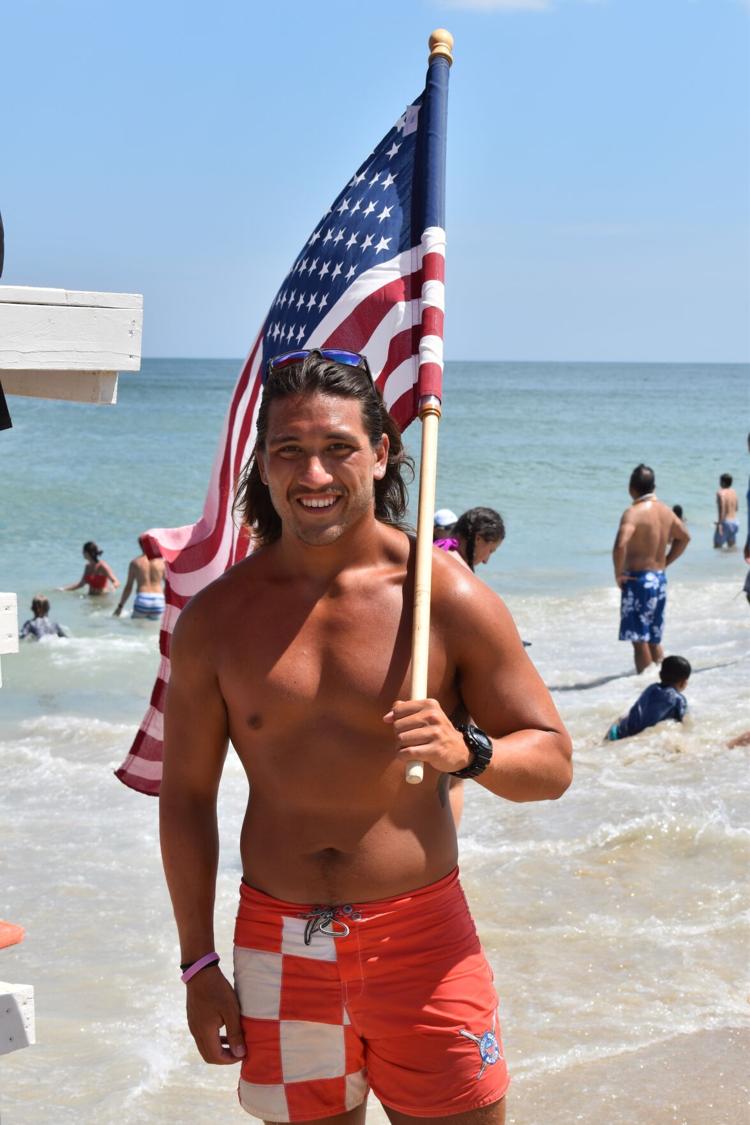 Being a lifeguard is something that has always piqued the interest of this week's featured lifeguard, Justin Kidwell. He'd been a year-round swimmer during his youth, for the Rockville-Montgomery Swim Club, and the idea of utilizing his swimming skills for something good was a no-brainer.
The Silver Spring, Md., native is now in his sixth year as a guard on the Bethany Beach Patrol. During the off-season, he works as a middle-school health and physical education teacher in Montgomery County, Md.
"I have always wanted to become a lifeguard down at the beach," admitted Kidwell, a graduate of Kennedy High School in Maryland. "When I was in high school and college, I would lifeguard at a pool back home for extra money and as my summer job. Growing up, my family would vacation to Ocean City (Md.), the Outer Banks (N.C.) and Virginia Beach, so I was able to see and know that I would want to be a beach lifeguard someday.
"My schedule didn't really work out with being a lifeguard at a beach. With being a resident assistant (R.A.) at college, I was required to stay near the school. I had a year-round position as an R.A., so my schedule was a little more hectic, and I didn't have the opportunity to actually come down to the beach."
While in college, one of Kidwell's teammates on the club water polo team convinced him he should try out in Ocean City to be on their beach patrol. He took him up on the offer, and actually made the team. However, with his work schedule and the training for rookie OCBP guards, it just wasn't a great fit.
Enter former Bethany Beach Patrol lieutenant Christian Sears, who Kidwell met through a college internship with a strength and conditioning group at a private school in Bethesda, Md. The two had gotten to talking, and Sears suggested that Kidwell tryout for the Bethany Beach Patrol.
"I told him that I tried out for Ocean City, and he thought that was great, but he was like, 'Come try out for Bethany, I am a lieutenant there,'" said Kidwell, who played baseball in high school while also swimming. "I tried out and made it, and I am definitely glad I came to Bethany, as opposed to Ocean City."
He said he gets so much enjoyment out of being a lifeguard, and he has no plans of calling it quits any time in the near future.
"To be honest, I don't really have a desire to stop," Kidwell said. "I mean, as long as I'm able and willing to have the time to be able to do it. I would probably envision myself being here until I start having kids or a family. The beach patrol is like an entity and a family in itself, all alone."
Kidwell said he has found that the emergency and medical training, as well as the experiences that he gets during the summer months, have helped him in his teaching profession as well.
"The shore break was definitely apparent on this hot day, and other than that, the beach was pretty flat," Kidwell recollected. "It was a pretty standard day at the beach, but this gentleman was trying to dive under a wave to get out farther. It turned out that the wave crashed down on top of him, and he ended up breaking his neck. So my partner and I ended up pulling him out of the water, and he was non-responsive. We had to do CPR on him, and we were able to keep him alive on the beach until the ambulance personnel arrived to take him to the hospital. It's a pretty wild thing.
"Water rescues are one thing, and that's what everyone sees when the rips are pretty bad, and the water is getting crazy. There's also some medical aspects of the job that are pretty important, too, and being comfortable enough to trust your training to be able to help those individuals when they are in extreme, dire need of our help."
Situations like these and the training are what Kidwell takes back with him to those middle-school kids he teaches each year, and he said he cherishes the extra trainings and experience as they help him during those days in the school.
"A lot of the training that I have gotten here has really helped me back at school," Kidwell continued. "I've had a couple students on a few occasions actually have seizures during class, so being able to tend to them in a professional manner, and being able to help them as like a first-responder during class has definitely also been very helpful. The parents and the administration and the other teachers have definitely seen that as a beneficial asset to have on their staff."
Like all the guards that patrol the beaches up and down Coastal Delaware, the hours they spend before and after their time on the stand is what people don't see. It's that training that helps them to help someone when presented with a potential life-and-death situation — even when it's not on the beach.