With just about a week remaining in this COVID-19-shortened 2020-2021 campaign, the trio of Indian River High School basketball teams are winding down their regular seasons with some strong showings in both their wins and losses.
Boys' basketball
The Indians' boys' basketball team saw a three-point fourth-quarter lead go by the wayside in their most recent contest against a tough, athletic Woodbridge Blue Raiders team. The two teams battled toe-for-toe over the course of 32 minutes to a 51-51 tie, and needed overtime to decide the outcome, which went the way of the home Woodbridge side, 63-60.
Senior Gage Spinks led all IR scorers with 17 points, including a pair of long-distance buckets. Brendon Bradford was right behind him with 15 points — nine of which came on three triples from beyond the arc. Ja'siah Rounds also hit double-figures for the Green & Gold, with 10.
IR held a 24-23 lead at the halftime break and stretched that lead to 37-34 after three quarters.
It was a much better performance from the locals this time around, as they dropped a 58-42 decision to the Blue Raiders almost a month ago. It was the third straight loss for IR, with all three coming by four points or less, in games they clearly had the chance to win. It shows the great improvements that the team has made over the course of the season.
The Indians (3-8 overall) have just three games remaining — all at home — with their first having been on Thursday, Feb. 18, against Laurel. They will then host Caravel Academy on Monday, Feb. 22, at 5 p.m. before closing out the season on Thursday, Feb. 25, against Seaford.
Girls' basketball
The IR girls' hoops squad saw their two-game win streak come to an end following a 61-21 setback to the defending Henlopen Athletic Conference champion Woodbridge Blue Raiders on Tuesday, Feb. 16.
IR struggled with turnovers early, which led to several buckets in transition for the home team.
Against Lake Forest the night before, the Indians had finished off the season sweep of the Spartans with a 50-48 win in overtime.
It was a balanced offensive attack for IR, with Lauren Meehan scoring 16, Le'Anya Garrison dropping in 12 and Micayla Meehan adding 10. Savannah O'Shields almost joined the double-figure army, with 9 markers.
The Indians scored 22 combined points in the fourth quarter and overtime, nearly matching their output from the first three quarters (28), from which they found themselves trailing 29-28 heading into the final eight minutes of regulation.
The locals were able to withstand the heroic effort of Lake's Jalyne Bailey's 30-point performance.
"Great hard-fought game for the girls," IR head coach Roger Clay said. "We hurt ourselves by getting four starters into foul trouble, and one even fouling out. On the defensive side of the ball, we have to be much better at playing without fouling. Savannah O'Shields was very key and clutch for us with making her free throws. We played a great defensive game overall. Lake hit a deep three at the end of regulation that sent the game into overtime. We fought hard in overtime, and our defense stood tall to secure the win."
The most recent two-game stretch for the Indians puts their record at 6-3 overall, with four games left to their regular season. First up is a pair of back-to-back games with undefeated Laurel starting on Thursday, Feb. 18, at 4 p.m. on the home hardwoods. They then travel to Laurel for the backend on Saturday, Feb. 20, at 10 a.m. The girls will then travel to Caravel Academy on Monday, Feb. 22, for a non-conference tilt, before returning home to close out the regular season versus Seaford.
Unified basketball
The IR Unified squad made it two wins in a row for their four-game slate on the season with a 36-29 decision over visiting Seaford on Tuesday, Feb. 16. Strong performances were turned in from Gabe Mouynivong, Reece Stone and Bastian Perry in the win.
The regular-season finale was on tap for Thursday, Feb. 18, (after Coastal Point press time) as the Indians (2-1) traveled to Dover to take on the undefeated Senators (2-0-1) in what promised to be a classic battle between the two programs.
Wrestling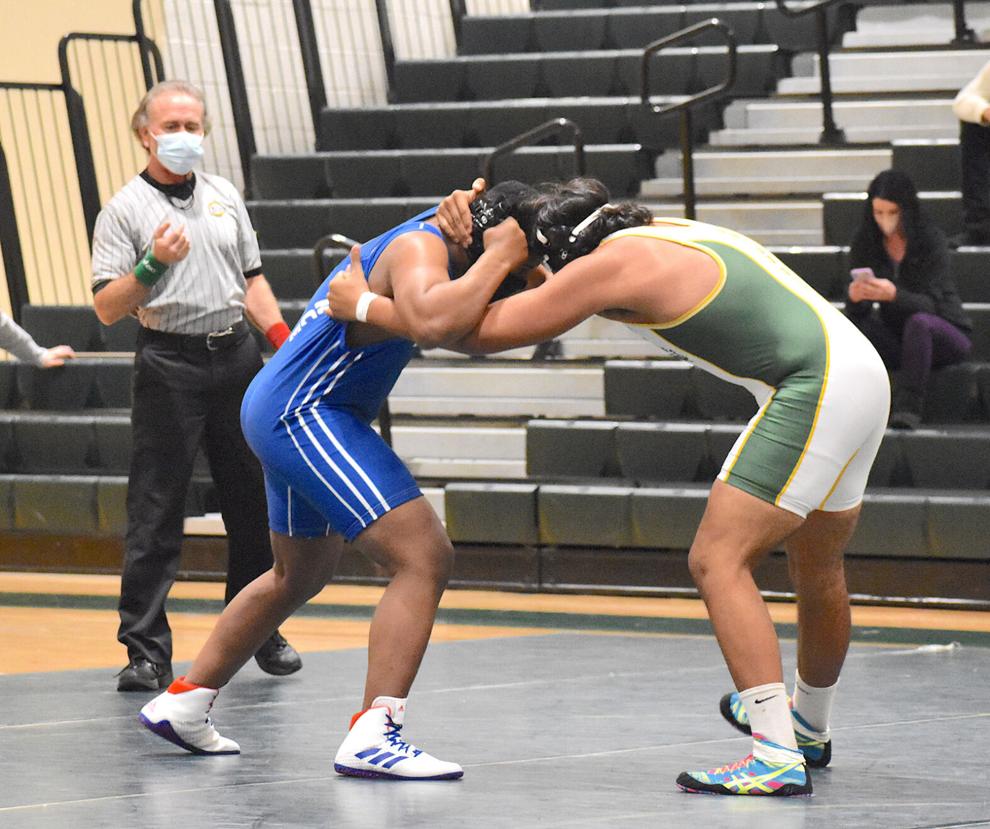 The IR wrestling team saw its regular season come to a close following a blowout 66-12 road win over Concord last Wednesday, Feb. 10. Of the 14 individual matches, only five were contested, with the Indians winning three of them.
At 126 pounds, IR's James Esque needed just 30-seconds to dispatch Concord's Dean Horner, after a pair of wins by forfeit for teammates Samuel Lopez-Mendiola (106 pounds) and Ian Shaubach (120).
Colin Hudson (132), Cole Brickman (138), Angel Mora Salas (145) and River Vickers (152) all followed with their own forfeit wins.
After a win for Concord at 160, the Indians picked up another pair of forfeits for Jack Jestice (170) and Cole Windish (182).
Cris Alvarado-Cruz (220) and T.J. Burke (285) wrapped up the dominating decision with wins by pin of their own. Alvarado-Cruz posting his fall in 4:35, while Burke dropped his opponent's shoulders to the mat in 2:30.
The Indians' regular-season finale with Lake Forest was postponed due to inclement weather and was unable to be made up due to the DIAA deadline to complete the regular season. They concluded their regular season with an overall dual meet mark of 8-3.
IR now shifts its focus to the DIAA State Championship meet, which is being hosted once again this year at Cape Henlopen High School. Seeds, dates and times are expected to be confirmed in the coming days.