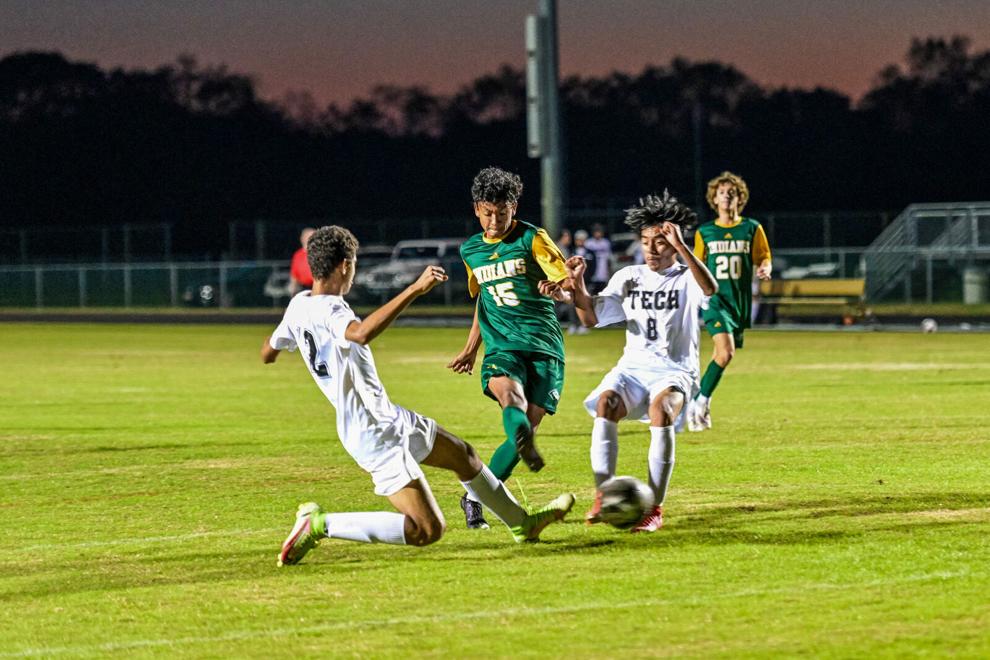 After winning their fourth straight match — a 4-0 decision over Woodbridge — to clinch another perfect run through the Henlopen Athletic Conference's South Division, the Indian River High School boys' soccer team this week turned its attention to their regular-season finale against rival Sussex Central (set for Thursday, Nov. 4, after Coastal Point press time), as well as the HAC championship showdown with Caesar Rodney (set for Saturday, Nov. 6).
Against Woodbridge, four different goal-scorers got into the action in the shutout over the Blue Raiders. Sophomore Jose Savala-Saldivar got things going at the 9:40 mark with a goal off an assist from classmate Luke Veirs.
Senior Dane Shuart made it 2-0 about four minutes later, when he converted a penalty-kick shot. Junior Connor Bird increased the IR lead to 3-0 before the halftime intermission when he buried a shot past the Woodbridge goalie off a pass from Savala-Saldivar at the 25:31 mark.
Luke Veirs put the game away in the second half with an unassisted goal at 67:15 to wrap up the perfect run through the South Division.
The win improved the Indians' overall mark to 10-2-1 on the season, with the matchup with Sussex Central left on the schedule. The Golden Knights — 10-2 on the season — were to play the Indians a night after they also hosted Concord for their Senior Night in a game that was rescheduled from back in September.
The Indians' HAC Championship showdown with the unbeaten Riders (14-0-1) will take place at Sussex Academy at 4 p.m. CR had beaten IR, 2-1, back on Sept. 28, with a pair of late second half goals that wiped out a 1-0 Indians' lead. Both CR goals came in the final five minutes of the match, from Thaddeus Glasser on a PK and Sawyer Ott off an assist from Trevor Sullivan. The IR goal was scored by freshman Dominic Delaney with an assist from Jordan Illian.