The 2021 season got off to a very impressive start for both the Indian River High School boys' and girls' tennis teams, as they took down visiting Polytech by scores of 5-0 and 4-1, respectively.
For the boys, junior Chris Sichina cruised to a 7-5, 6-0 win over Sean Whitmore at first singles. Senior Joshua Bird and junior Dane Shuart both blanked their opponents, 6-0 and 6-0, in straight sets, to clinch the match for the Indians at second and third singles, respectively.
The IR duo of Matt Engel and Destin Smyth made quick work of their opponents at first doubles with a 6-1, 6-1 decision. Likewise with the IR tandem of Caleb Galbreath and Tristen Hood, who took down their competition at second doubles, 6-4, 6-1.
On the girls' side of things, junior Nicole Norman won a highly contested match at first singles for the Indians, 7-6, 6-4, over Katherine Rivera. IR junior Scarlett Dunn followed with a three-set thriller at 6-2, 5-7, 6-2, to win at second singles.
At first doubles, Nicole Woody and Lia Diakos fought to pick up a straight-sets win over Polytech's Diana Rivera and Madison Tyson, 7-5, 6-3, to clinch the match for the Indians. Freshman Isabell Wisniewski and junior Ava Tomlinson also were victorious with a 6-2, 6-4 win over the Panthers' Olivia Creamer and Simone Silent.
IR was set to travel to Milford on Wednesday (after Coastal Point press time) for another Henlopen Athletic Conference divisional crossover match with the Buccaneers.
Girls' lacrosse
Talented Cape overwhelms Indians, 19-0
Two programs on opposite ends of the spectrum — at least right now — met up on Tuesday afternoon, when the Indians hosted the multiple-time defending state champion Cape Henlopen Vikings in a Henlopen Athletic Conference matchup.
The vaunted Vikings scored quickly, early and often, en route to a 19-0 win over the Indians, to improve to 2-0 on the season. The loss dropped IR to 0-2 on the season.
Allyson Clark (4 saves) and Caylee Schmidt (8 saves) split time in goal for the Indians, who managed to get four shots-on-goal in the game.
In their season-opener last Friday, March 26, the Indians had gone toe-to-toe with rival Sussex Tech, but came up just short, falling in overtime, 13-12.
The Indians actually held a 6-4 lead at the halftime intermission, but the Ravens battled back in the second half to force the extra stanza.
Freshman Kylie Harris scored three goals in her first varsity action, and Emma Ruley added a hat trick of goals of her own. Morgan McGee, Drew Szlasa and Kylie Kirschner each added a pair of goals for IR. Clark made 15 saves for the Indians in goal.
Softball
Indians split pair of games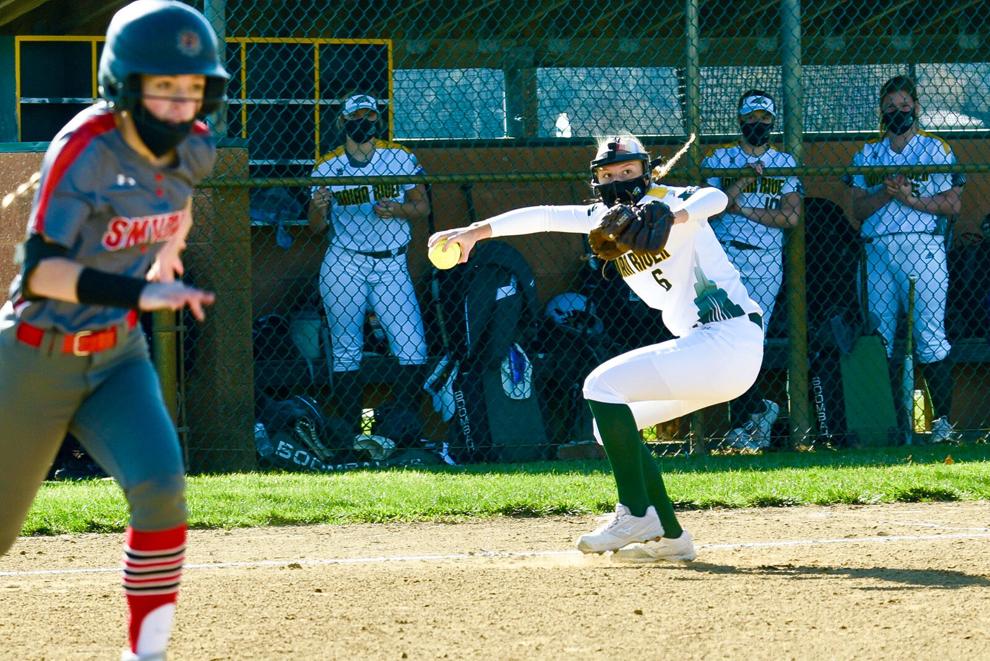 IR sophomore Kinsley Hall and freshman Megan Daisey combined pitching efforts in the circle to help lead the Indians to a 12-9 win over visiting Woodbridge on Tuesday, March 30.
Hall went 4.1 innings, scattering six hits while allowing four earned runs (8 total) to go along with six strikeouts. Daisey followed to toss 2.2 innings in relief and pick up the win. She allowed just a pair of hits, with one run and three strikeouts.
At the plate, the Indians totaled 14 hits over the course of the game, with junior Logan Marvel turning in a 3-for-4 effort that included a three-run home run in the third inning, amongst her four RBI in the game. Junior Sam Derickson also smacked a home run in her 2-for-4 plate showing, with three RBIs and three runs scored. Freshman Kathryn McHale also turned in a two-hit effort.
Hall, Izzy Wade, Brandi Mitchell, Savannah O'Shields, Daisey, Lily Hoban and Jillian Collins all hit safely for the Indians.
In their game against Smyrna, the Indians simply had no answer for the Eagles, in an 11-1 loss. Derickson had the lone RBI for the Indians, scoring Hall with a double in the first inning. It was a short-lived lead for IR, as Smyrna would score four in the third, two in the fifth, two in the sixth and three more in the seventh.
The Indians managed just three hits in all, with O'Shields and Marvel joining Derickson in that column.
Hall took the loss, going the distance and striking out 13 Smyrna batters while scattering 13 hits, and allowing 11 runs (8 earned).
"I honestly have so many good things to say about [Hall]," said IR head coach Sara Powell of her pitcher. "She is the type of player — and I say this over and over again — that will give you 110 percent. Not just in games, but at practice. She's a gamer. She is going to come out here and do whatever it takes. She's just an all-around great athlete and great kid. I couldn't say anything better about her."
The win snapped a season-opening four-game skid that had the Indians at 1-4 as they headed into Spring Break this week. They will return to the field on Thursday, April 8, when they host Polytech in a Henlopen Athletic Conference tilt.
Girls' soccer
DMA rallies to defeat Indians, 2-1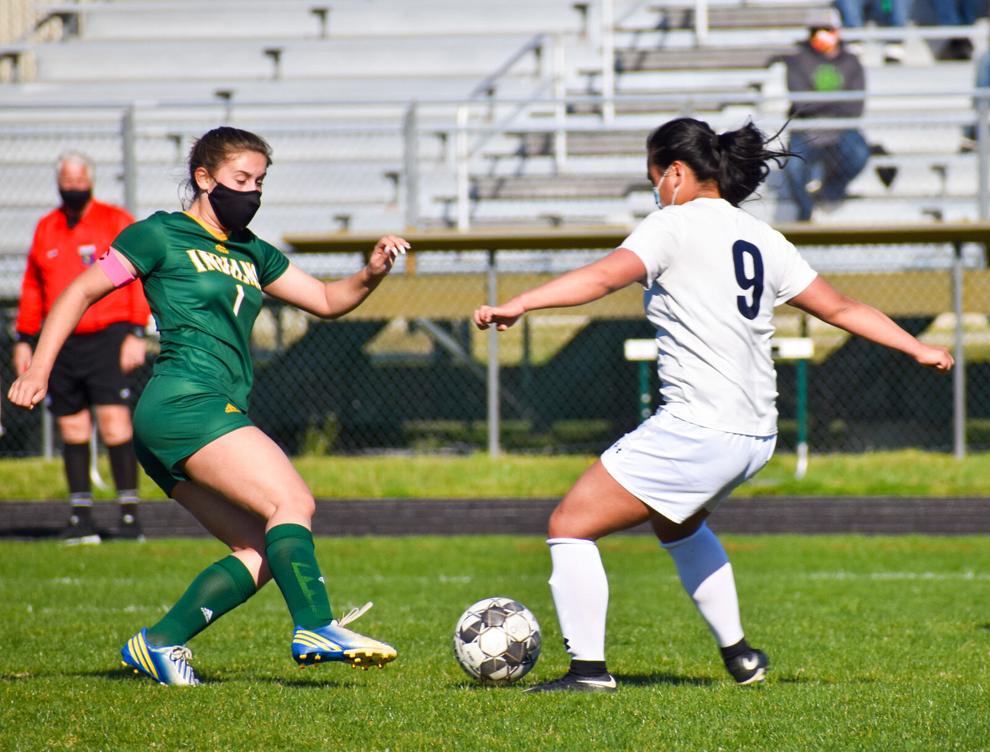 The Indians were playing their home opener for girls' soccer after splitting a pair of road games to open the season, when they host Delaware Military Academy on Monday, March 29.
Senior Izzy Binko — a University of Maryland Eastern Shore commit — scored the first goal of the game for the Indians, on an assist from sophomore Carly Topper in the 18th minute.
That would be the only offensive highlight of the night for the Indians.
DMA scored two second-half goals to rally to defeat the Indians, 2-1, in a non-conference battle on the home pitch of the Indians.
"If we'd have played the entire game the way we played the last 17 minutes, I think the outcome of the game would have been different; but we didn't," IR head coach Steve Kilby said after the game. "I think we are trying to find who's the best fit for which role. Without the preseason, that affects some things; but every team in the state didn't have a preseason, so we can't use that as our downfall. We just didn't have our best game today."
DMA scored goals in the 56th and 66th minutes of the second half to pull out the win, with the latter coming off a penalty kick.
The Indians dominated the shots on goal with a 20-9 advantage, as well as a 9-2 edge in corner kicks.
Clearly, the result of the game should have been different.
Freshman Alexis Davidson made three saves in goal, while her counterpart, Madison Lemanski of DMA, made 13.
The Indians were scheduled to play their final game before the Spring Break layoff on Wednesday, March 31, (after Coastal Point press time), against Woodbridge. For results on that match, check out the Coastal Point Sports News Facebook page.
Boys' volleyball
Indians sweep Cape in home opener
It was a happy return to the friendly confines of home for the Indians as they hosted the Vikings of Cape Henlopen on Tuesday, March 30. It is the inaugural season for the Cape program.
The Indians were playing a man short due to lack of players and some health matters, but that didn't seem to matter, as they rolled to a 3-0 sweep of the Vikings by scores of 25-9, 25-14 and 25-17.
Junior Carson Barnes was once again stellar on the floor for IR, as he had 18 digs, 8 kills, 7 aces and 2 assists. Classmate Finnegan Bellistri filled the stat sheet as well, adding 11 assists, 6 digs, 4 kills, 2 aces and 2 blocks.
Newcomers junior Gustavo Rivera Tejeda, sophomore Jordy Estrada and freshman Grason Howard also figured into the winning performance for IR. Rivera Tejeda had 4 kills, 4 digs, 3 assists and an ace. Estrada added 3 aces, 2 kills and 2 digs. Howard contributed 2 blocks, 2 digs and a kill of his own.
The Indians (2-1) are now off for two weeks and will host Newark when they return from Spring Break on Wednesday, April 14.