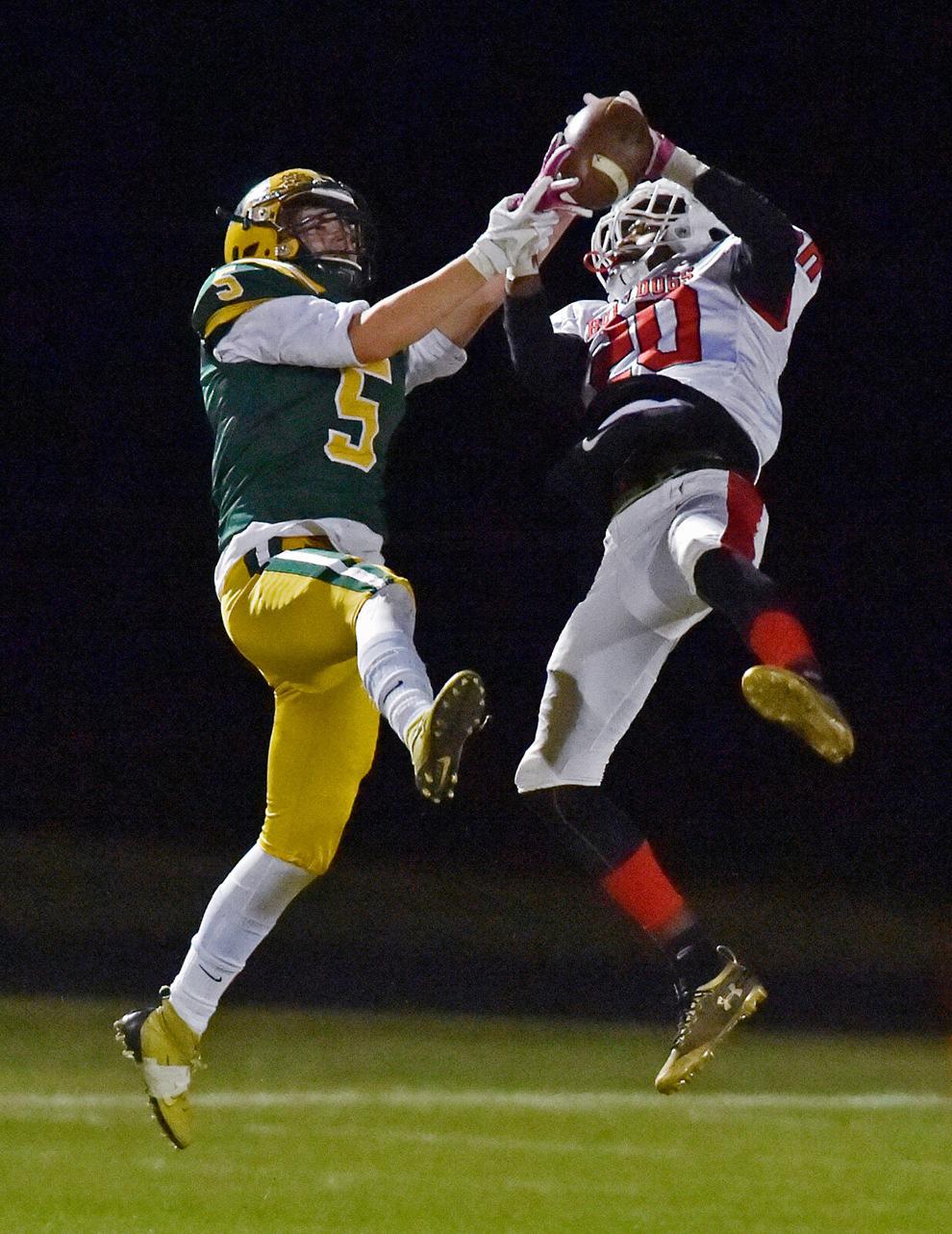 Sometimes, success comes disguised as a bittersweet taste.
That's what the Indian River High School football team experienced late last Friday night, Nov. 5, after losing their regular-season finale, 14-13, to area rival Laurel (6-0-0 district, 8-1-0 overall) in overtime before a sold-out Senior Night throng.
Although the visiting Bulldogs' triumph gave them the Division 1A, District 2, crown that the Indians so fervently cherished, the Indians were already looking ahead to Monday's practice and what promise the post-season might hold.
"We're the first [Indian River] team since 2013 to reach the playoffs," said senior running back Dalton Hall after his outstanding two-way performance that nearly delivered the regular-season title to IR. "As seniors, we made it our mission since we were freshmen to [create] a winning culture and give the school something to be proud of. I really believe that we've done that."
That the Indians (5-1-0 district, 5-4-0 overall) went toe-to-toe with a talented, explosive opponent entering the game averaging 44.5 points per game and came oh, so close to victory in such a crucial contest speaks volumes about what head coach Phil Townsend, his coaching staff and their student-athletes have accomplished this season.
"We played a good football team. Unfortunately, we were the losing side, even though our kids played a great game," said Townsend. "I hope our guys are even more hungry for the playoffs [and] to play Laurel, and possibly St. Elizabeth, [which were] our only Division 1A losses."
After the teams careened into overtime deadlocked at 7-7, Laurel senior quarterback Kaden Shockley plunged over the goal line on fourth down from the half-yard line to culminate a drive that started at the Indians' 10-yard line (per DIAA overtime rules) to put his team up, 14-7.
The Indians, also beginning at the Bulldogs 10-yard line, answered when Dalton Hall plunged into the end zone from 3 yards out on third down. His team-leading ninth rushing TD of the season cut the visitors' lead to 14-13.
Townsend said he considered going for a two-point conversion and the victory but was confident that his defense could get a stop in the second overtime period. He sent in senior placekicker Tristen Hood, who had previously connected on 15 of 16 PAT tries this season.
But the snap from center was short of holder Hayden Hall and forced him to use an extra split second to place the pigskin. By that time, Bulldogs senior defensive back Omori'Yon Cannon, racing untouched from the right corner, went into a spread-eagle leap and blocked the attempt with his torso, touching off a wild Laurel celebration.
"We are definitely proud of ourselves, because we played one heck of a football game," said Dalton Hall. "I think the second half was our half. It just came down to their ability to block our extra-point try."
Indian River had grabbed a 7-0 lead midway through the second quarter when senior running back T.J. Burke wrestled his way into the end zone from 5 yards out for his fourth rushing score of the season. Laurel tied the score early in the second stanza when senior running back Javier White went off right tackle for a 2-yard TD.
From that point, both defenses took over and showcased their immense talents. The Indians stopped Shockley on a fourth-down quarterback keeper from less than a yard out with :31 remaining until halftime, to keep the game deadlocked at 7-7. In the third quarter, junior defensive back Hayden Hall intercepted a Shockley pass less than 5 yards from the IR end zone and returned the pick 36 yards to give the offense possession near midfield.
"Coach [Townsend] studied hours upon hours of film, and he knew exactly what [Laurel] would do and when they would do it," said Dalton Hall, who also contributed six tackles from his middle linebacker position. "And we know their offense very well — we used to run it two years ago. I was a fullback in that offense, so I knew exactly what to do [defensively]. All of us were prepared for what they were going to do."
The outstanding defensive effort was led by senior Gavin Danieri's 11 tackles, along with 10 more by Burke. Senior Laron Horsey also stood out with eight tackles, three of them for losses, and three quarterback sacks. Junior Ashton Stephens also made eight tackles and recorded a sack. Senior Jack Williamson and junior Hayden Hall added seven tackles apiece.
Meanwhile, the Bulldog defensive corps held the explosive Indians rushing attack at bay by sending eight men on nearly every snap.
"We know their defense is very tough," said Townsend, who elected to pass just three times in the game, "and that they were going to send someone into every gap." The Indians considered putting the ball in the air more, he said, "but we were not doing the best job getting rid of the ball, so we stuck to the ground game. They blitz a lot, and that made it difficult to pass."
Senior quarterback Ryan Sheerer attempted only three passes, connecting on a 5-yard screen toss to junior Donovan Roos. On the ground, Laurel held Dalton Hall to a season-low 39 yards on 11 carries, Hayden Hall to 41 yards on seven totes, and Burke to 13 yards on 10 tries. In all, the visitors allowed just 112 rushing and 192 total yards, recovered two of three IR fumbles, and blocked two of the Indians' three punts to enhance their own field position. The two teams combined for 19 penalties covering 180 yards, with IR committing eight for 90 yards.
Laurel ran 61 plays, compared to IR's 38, which hindered the Indians' game plan for ball control.
"We had them on several third-and-long situations, [but] they were able to get first downs," Townsend said, adding that "There were times where [our] offense was rolling and then we would turn the ball over."
Forfeit victory and the Indians' next game
The Indians' scheduled game against Early College at DSU on Wednesday, Nov. 10, is now a forfeit victory, after the Hornets' administration canceled the remainder of their season on Oct. 29. As a result, IR will have nearly three weeks of preparation time for their next game.
"During the next three weeks, we will focus on working to get better," said Townsend. "We'll go back to basics and work on fundamentals. I believe they will be engaged, knowing we can beat anyone in Division 1A. I'm trying to [schedule] a scrimmage, and that is still in the works. We just need the other team to commit." In the worst case, he said, "we will hold an inter-squad scrimmage."
The Indians' will open their post-season on Friday, Nov. 26, or Saturday, Nov. 27, in a state quarterfinal game against one of the seven other Division 1A, District 1 or 2, playoff teams. It is possible they could host that contest at Indian River High School Stadium. The top two seeds, Laurel and St. Elizabeth, are both 6-0-0 in district play. Next are Tatnall and Indian River (both 5-1-0), Seaford (5-2-0), St. Andrew's (4-2-0), and Odessa and Wilmington Charter (3-3-0 each). Playoff seeds will be determined using various criteria, including each team's overall results.