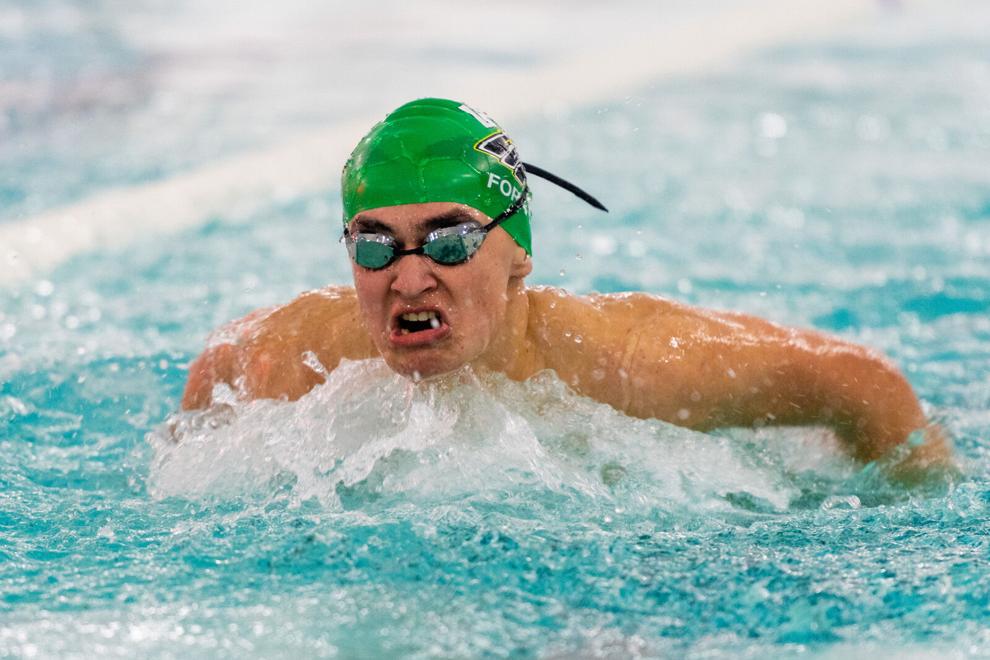 The Indian River High School boys' and girls' swim teams collectively had strong showings last weekend in the Henlopen Athletic Conference Swimming Championship meet, held at the Sussex Academy Aquatic Center.
The IR boys' 200 and 400 free relay teams won both events for the Indians' lone first-place finishes overall in the meet. Those two wins helped lead IRHS to a fourth-place finish in the team standings.
"All but one swim was a season-best for our boys' team," IR head coach Colin Crandell, who was named the conference's Boys' Coach of the Year, said of the meet held last Saturday. "I was extremely thrilled and pleased to see their performance — particularly in a year when so many restrictions were in place.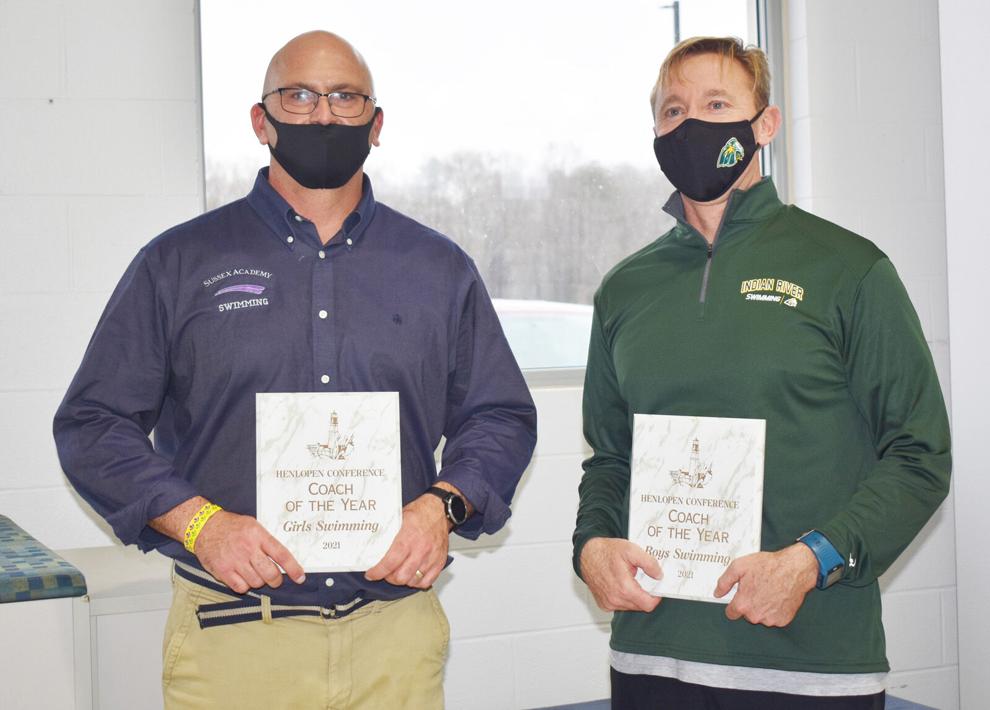 "They rose to the occasion and carried each other emotionally. I love watching them do that. I was speaking with another coach, and he paid them the highest compliment. He said, 'They always show up at the big meets — you can set your watch to it.' He's right. They always impress when it matters. Finishing fourth with only nine boys was most impressive. That speaks volumes to how strong they swam."
In the 200 free relay, the quartet of Zach Lingenfelter, Jackson Donnelly, Shane Hall and Declan Burke posted a time of 1:32.28, which was just .67 of a second faster than the Sussex Tech entry. The IR time was more than three seconds faster than its seed time for the event, which was the fastest seed time amongst the eight teams entered.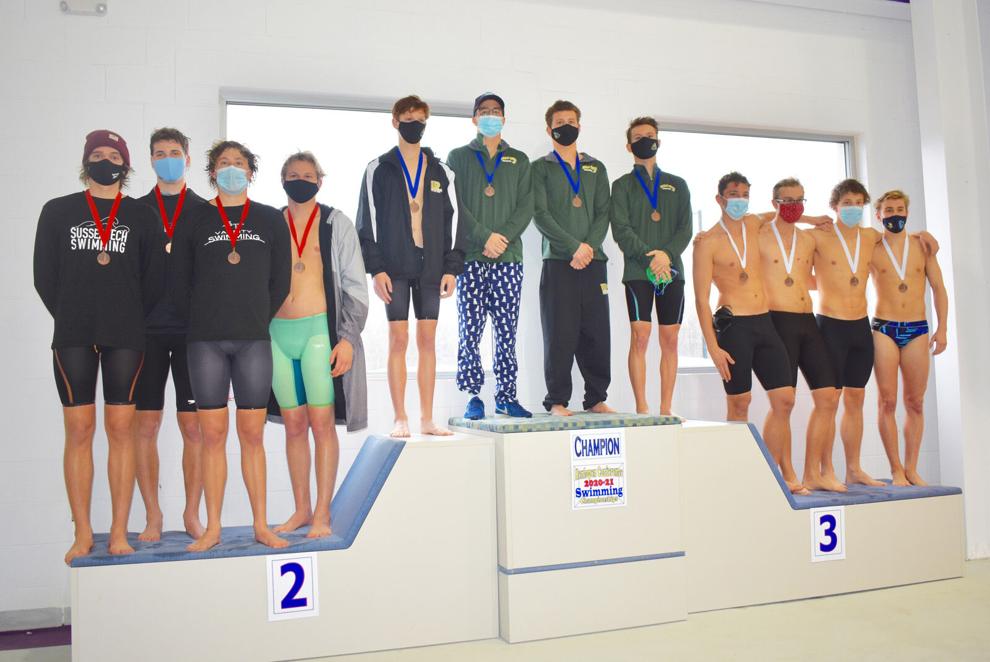 For the 400 free relay, it was Burke, Lingenfelter, R.J. Senseny and Donnelly — in that order — who would swim to a winning time of 3:25.91. That was nearly 7 seconds faster than its top-seeded time of 3:32.14, and nearly one full second ahead of the second-place team from Sussex Tech.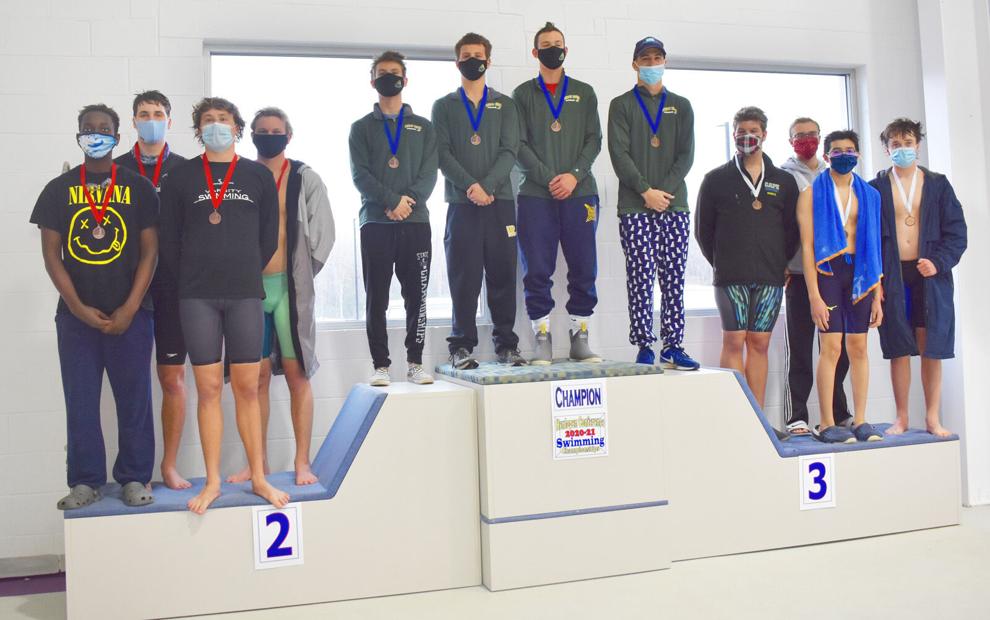 Burke also had some impressive swims individually, as he took second place in the 500 free event with a time of 5:07.19. He took third in the 200 free, with a time of 1:51.55. Senseny was 10th in the 500 free, posting a 5:42.83.
The IR 200 yard medley relay team of Evan Peterson, Shane Hall, Max Forrey and Kyle Topper were fourth in the event with their time of 1:54.40, which was almost 4 seconds faster than their seed time.
Senseny came in sixth place in the 200 freestyle with a 2:03.04, while Finn Bellistri was 15th at 2:16.58. Peterson was 11th in the 200 individual medley, swimming a 2:26.31. Peterson was 11th in the 100 backstroke with a 1:03.10.
Lingenfelter and Donnelly were fourth and fifth, respectively, with their times of 23.64 and 23.98. Topper was also in the Top 10, at ninth, swimming a 24.50. Hall's 58.32 good enough for a third-place finish in the 100 butterfly. Hall also took fifth in the 100 breaststroke, with a 1:08.00.
The 100 free event saw Lingenfelter (6th), Donnelly (8th) and Topper (12th) all finish in the top half of the swimmers entered into the event.
"We won't know how they are seeded until next week," Crandell said. "Right now, coaches just enter times into the Direct Athletics site, so we have to wait and see. I have eight boys qualified: Declan and R.J. in 200 and 500 free each; Shane in the 100 fly and 100 breast; Kyle, Jackson and Zach in the 50 and 100 free; and Evan in the 100 back."
IR also has three of their relay teams qualified, with the 200 medley team of Peterson, Hall, Forrey and Topper, and the 200 and 400 free relay teams consisting of the same winning combinations from the conference championship meet.
"This week, we return to aerobic training and speed work to set up another base for taper," added Crandell. "But our approach is this — and it's a quote my mom sent me. I'm not sure who said it: 'Things turn out for the best for those who make the best of the way things turn out.' So however states is run, we will do our best."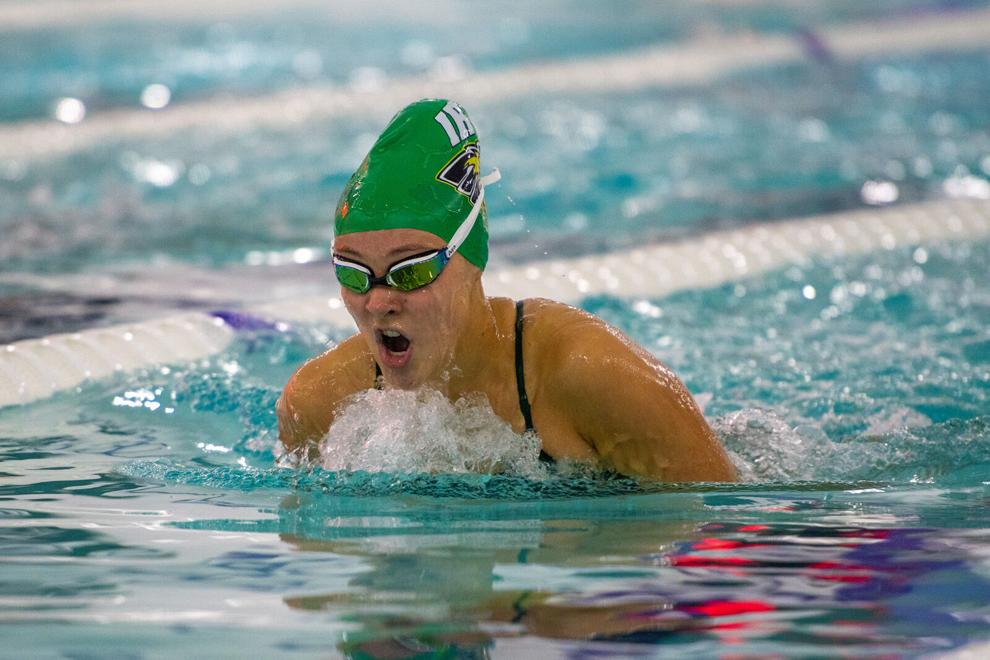 On the girls' side of things, Emma Barthelmess had her best performance of her IR career in her final conference championship meet, breaking two school records in the process, in the 50 free and 100 breaststroke.
Barthelmess posted a 26.48 in the 50 free for a fourth-place finish, and added a second-place time of 1:11.00 in the 100 breaststroke. She also swam a 1:11.00 for a second-place finish in the 100 breaststroke.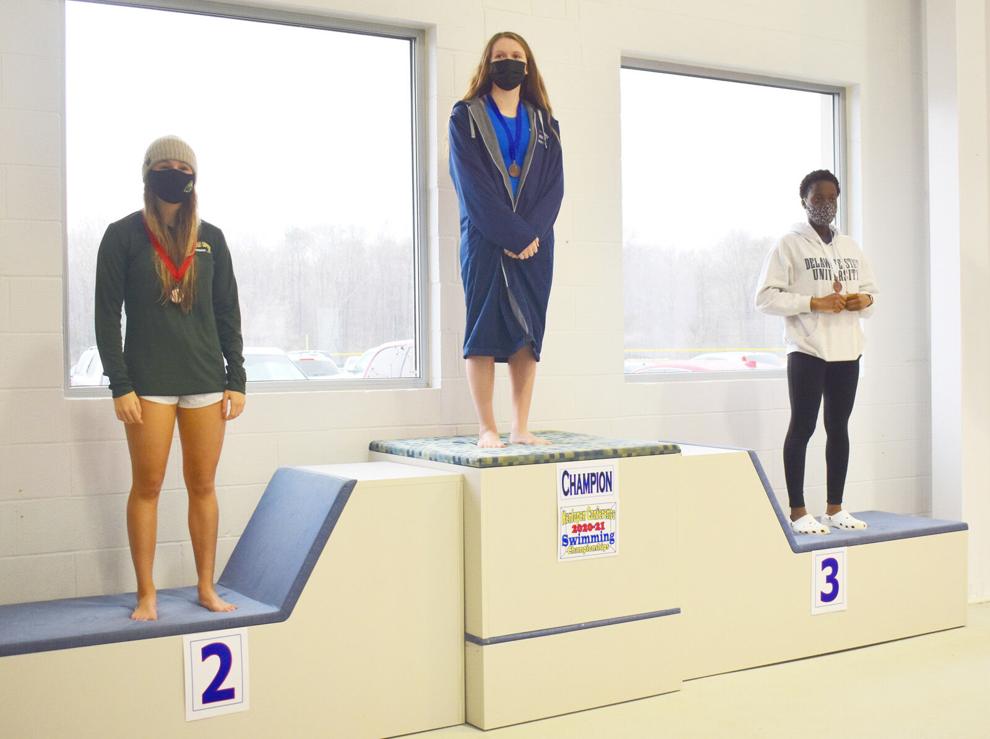 Barthelmess, along with Heather Smyth, Lexi Hall and Bella Scharp, came just 0.3 seconds from a school record in the 200 free relay, with their fourth-place finishing time of 1:49.35
Hall had herself quite a day as well, posting career best times in a pair of events. She swam a 26.70 in the 50 free for a sixth-place finish, and also posted a 1:00.98 in the 100 free for eighth place.
"What a thrilling day it was for our seniors," IR girls head coach Dana Schaefer said of last Saturday's meet, "particularly for Lexi Hall to go as fast as she did in the 50 free. She had all of the effort, and all of the technique that she's worked toward, she was able to put into both of her individual races. She completely blossomed as a swimmer.
"Emma Barthelmess, what can you say? To break the team record in the 50 free was just absolutely the icing on the cake for her for her career," Schaefer added. "We are so excited about that. The other coaches and I were all joking that, if we didn't have the meet at states, we'd feel really good about ending the season with the fabulous job that the girls did. Her 100 breaststroke time of 1:11 was just jaw-dropping for all the coaches. She has worked so hard over all these years. She went into the conference race so relaxed. It was beautiful, technical and precise."
Smyth's 12th place finishing time of 1:15.41 was better than her seed time for the 100 backstroke event, while Lilah Hanley was 10th with a personal best time of 1:25.10 in the 100 breaststroke.
Scharp was eighth in the 500 free, with Brynn Crandell touching in 11th with a PR time of 6:19.32. Scharp also swam a leg in the fourth-place-finishing 400 free relay team with Hall, Brynn Crandell and Barthelmess, as they posted a 4:09.92.
The quartet of Julia Moran, Hanley, Elly Moore and Lauren Carter were seventh in the 200 medley relay with a 2:18.38, which was their best of the season.
"Freshmen typically get pretty intimidated by the conference meet, and that held true this year, except for a couple of them," Schaefer added. "Heather Smyth's backstroke race — she just dropped so much time, and we are so proud of her. I think she may have been frustrated by not beating her time in her earlier events. So, for her to drop a second and a half of her time was just phenomenal."
As Coach Crandell mentioned, the Indians now await word on where they are seeded time-wise, and if those times will be good enough for a call to the state meet at the end of the month. The DIAA State Championship meet will be held at the Sussex Academy Aquatic Center.