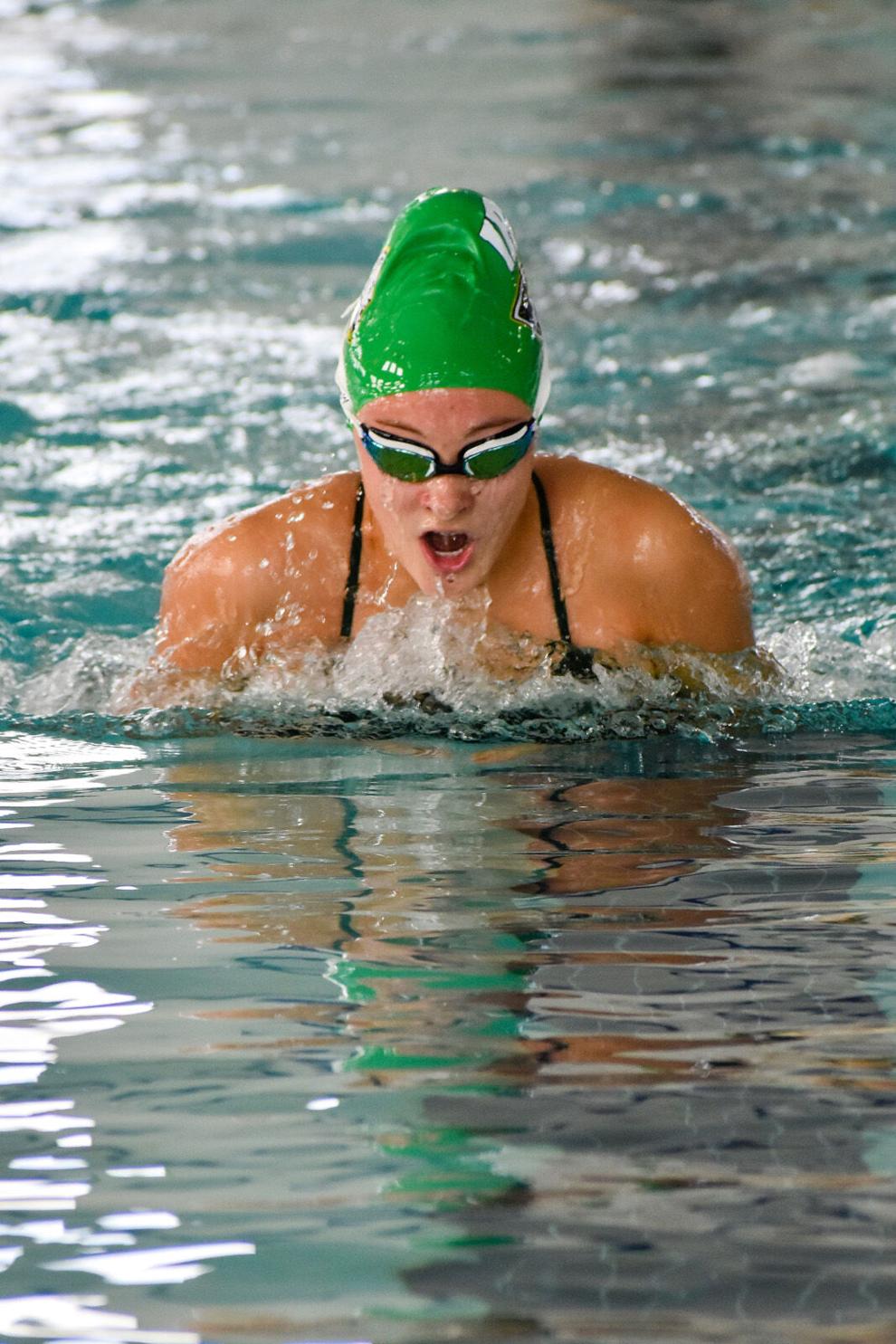 Preparing and competing at a high level despite not having a place to call home has become the rule, rather than the exception, for the Indian River High School swim teams. But that has not prevented head coaches Colin Crandell and Dana Schaefer from putting together exceptional student-athletes who do actually compete at a very high level, day-in and day-out, in the pool.
No matter where they are scheduled to participate, the Indians always put their best stroke forward against teams that basically all have a home pool to practice and prepare in daily.
Another example of that exceptional ability was on display on Tuesday, Feb. 9, when the Indians visited the Sussex Academy Aquatic Center for a Henlopen Athletic Conference matchup with the Seahawks. Sussex Academy has one of the premier aquatic facilities in the state, which is probably why it is being considered to host the DIAA state championships this year.
The Indians didn't come away with wins against the Seahawks, but they more than showed their impressive prowess in the pool. Sussex Academy edged the IR boys, 89-77, while the SA girls defeated the Indians, 100-65.
"I told them I wanted to see them start showing well before the conference championships," said Crandell of the upcoming meet on Saturday, Feb. 13. "We knew it was going to be tough going against them. They are a very good team, with kids that swim on club teams. We have tons of great things to focus on, and we had several more state cuts [times]. I couldn't be any happier. I am very, very pleased, and excited for Saturday now."
In the boys' meet, IR was able to win six of the 11 events; however, it was the depth of the Seahawks earning the points at second and third place that lifted them to the win.
IR senior Declan Burke wrapped up his final regular season with four wins in the meet. He took first place in the 200 free with a time of 1:57.36, as well as the 500 free with a 5:32.52. Burke then swam a leg in the winning 200 and 400 free relay events.
In the 200, Burke, Zach Lingenfelter, Jackson Donnelly and Shane Hall posted a time of 1:35.80 to win that event.
In the 400, R.J. Senseny joined Burke, Lingenfelter and Donnelly to swim a winning 3:32.14.
Lingenfelter won the 50 free with an incredible time of 23.99, while Hall took the 100 butterfly in 1:00.52.
"Shane and R.J. really swam incredibly well today," Crandell added. "R.J, in the 200 and 500 free, dropped both of his best times in those events, and he made state cuts in both. Shane, same thing — he made state cuts in both of his [individual] events," he said of the 100 butterfly and 100 breaststroke. "There were many more, but those two really stuck out for me."
Senseny's 2:01.93 was good enough for a second place, right behind Burke in the 200 free. Donnelly was second in both the 50 free (24.53) and 100 free (55.23). Evan Peterson was second in the 100 backstroke with a 1:05.79. Peterson also swam a leg in the second-place finish of the 200 medley relay with Hall, Max Forrey and Kyle Topper.
On the girls' side of the meet, senior Emma Barthelmess was a three-time winner with an individual first place in the 100 breaststroke, with a time of 1:14.71. She also swam legs in the winning 200 free and 400 free relays.
Bella Scharp was also a three-time winner, joining Barthelmess on the relay teams, while also picking up an individual first in the 500 free with a 6:05.68.
In the 200 free relay, Barthelmess and Scharp were joined by Lexi Hall and Heather Smyth to post a time of 1:53.94. In the 400, it was Barthelmess, Scharp, Hall and Brynn Crandell who touched first with a 4:18.44.
"Lexi Hall really led the charge today, especially in the 50 free with her state cut time," Schaefer said of the 27.94 mark. "Leading off in the relays, showing off her leadership this year, has been a tremendous growth example for her. We are thrilled for what Lexi has achieved.
"Emma Barthelmess had another best time tonight, and we are looking forward to another best time for her on Saturday. She has improved some from our meet last Saturday," Schaefer added of the meet against Dover, "so it's really exciting to continue to see her drop time. She hasn't even tapered yet. So we are very excited to see what she can still do."
Barthelmess added a second-place finish in the 50 free (27.10) to her night's work as well. Scharp also had a second-place finish in the 200 free with a time of 2:16.23. Hall finished third in the 50 and 100 free (1:03.79).
The quartet of Julia Moran, Lilah Hanley, Lauren Carter and Maddie Harris took third place in the 200 medley relay with a time of 2:24.47. Carter, Smyth, Moran and Elyse Moore were third in the 400 free relay, with a time of 4:46.59.
Smyth had an individual third-place finish in the 100 backstroke, posting a 1:17.29. Crandell was third in the 500 free, with a 6:19.83.
"Maddie Harris was really the surprise of the night, as she came out and swam just some really difficult swims back-to-back. And then being able to be counted on in that relay really was exemplary for Maddie's growth this year as a second-year swimmer. So, I am really, really proud of her."
Schaefer was also complimentary of Lauren Carter's performance against SA.
"Lauren is another second-year swimmer, and for her to come in and consistently hit below minute-10 here now is impressive," Schaefer added. "She is definitely going to swim at conferences, and we are looking to see what she can do at states as well."
The Indians will look to continue their success individually and as a team when the Henlopen Athletic Conference meet takes place this weekend back at Sussex Academy. Results will be on the Coastal Point Sports News Facebook page as they are available.