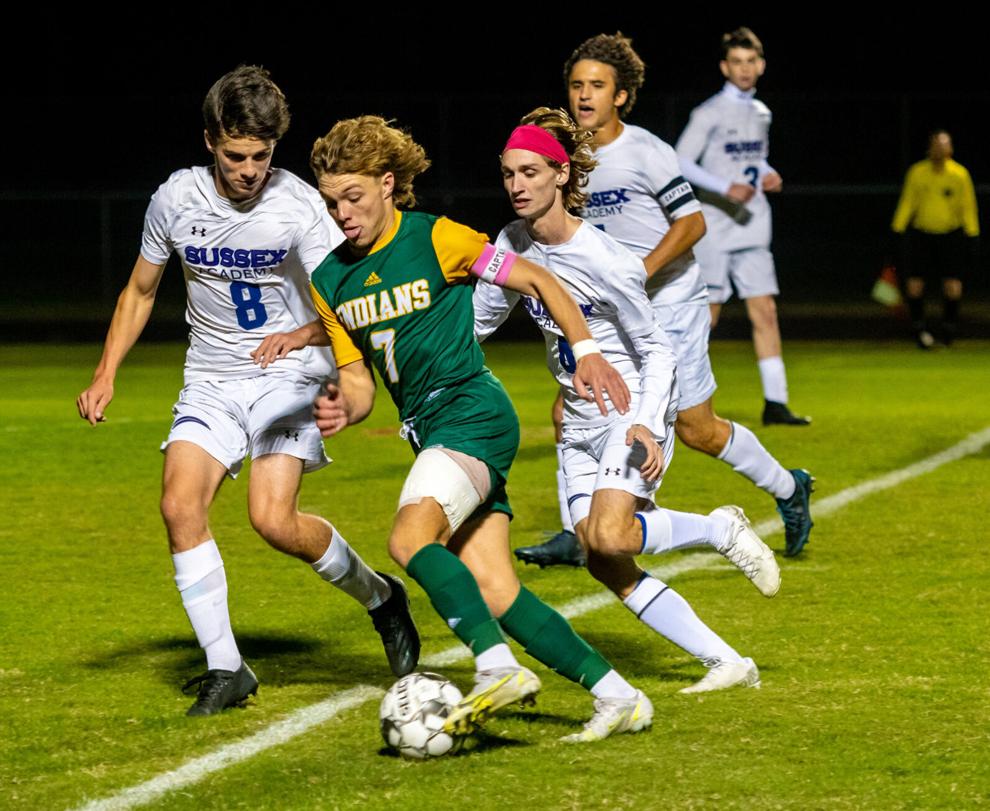 The Indian River High School boys' soccer team usually figures out the jigsaw puzzle pieces their opponents seemingly throw at them over the course of a game.
However, the Caesar Rodney High School boys' soccer program continues to be one puzzle to which the Indians struggle to put all the pieces together. Such was the case again last Saturday, Nov. 6, when the Indians fell to the Riders, 4-2, in the Henlopen Athletic Conference championship tilt.
As had been the case the first time the two teams met during the regular season, back on Sept. 28, the Indians scored first to take a 1-0 lead on the Riders, thanks to a goal by IR's leading scorer, Jordan Illian, in the 6th minute.
CR responded with the equalizer just one minute later — the first of three straight in the first half — when junior Thaddeus Glasser converted a penalty kick on an IR foul inside the circle. Tebar Gomez scored the first of his two goals then, in the 22nd minute off an assist from Ethan Stant.
Two minutes later, Glasser made it 3-1 before the halftime break, when he took a feed from Gomez in the 24th minute, and buried his shot past IR goalie Reece Stone.
Nine minutes into the second half, Glasser returned the favor to Gomez, assisting on his second goal of the contest for the insurmountable 4-1 lead over the Indians.
Connor Bird was able to get one back for the Indians in the 52nd minute, but the Indians ran out of time, despite several chances to cut into the CR lead.
The Riders held a 16-10 lead in shots for the game and had a decided advantage in corner kick chances, at 9-3. Stone made 9 saves in goal for the Indians, while Kaden Childs was credited with 6 stops for the Riders.
It was the fourth straight HAC championship game loss for the Indians in four years — three of those losses coming against the Riders, and the other being last year's setback to Milford.
The Indians have no time to dwell on the conference shortcomings and must now turn their attention to defending their DIAA Division II state championship as they open with a quarterfinal meeting against HAC South Division rival Delmar.
Following a first-round bye, thanks to their No. 3 seed in the tournament, the Indians will host the Wildcats on Saturday, Nov. 13, with the game scheduled to start at 5 p.m. IR defeated Delmar, 2-0, during the regular season, with both goals coming off the foot of Illian.
Tickets for the Nov. 13 game must be purchased online to be allowed entry. (More information on the ticketing system appears in this issue and on our website.)