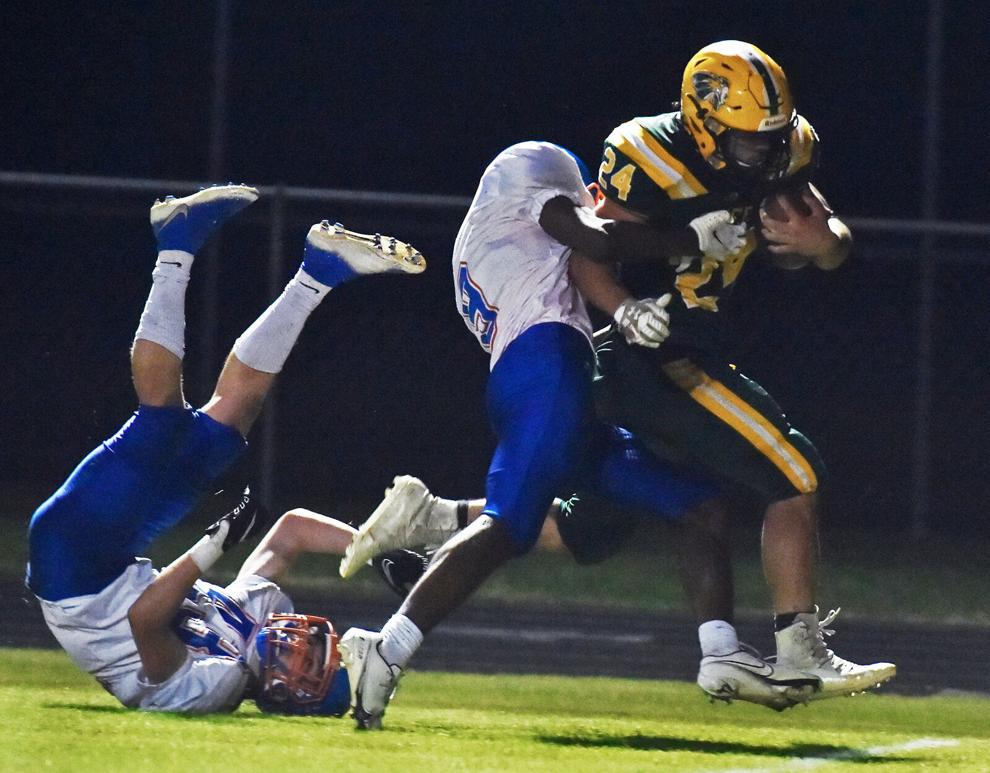 A refreshing positive attitude on a Dagsboro field in southern Delaware
Helped Coach Townsend's green 'n' gold gridders defeat several rivals, so beware
Playing smash-mouth football, winning trench battles on both sides of the ground
Breaking sports news — the Indian River football squad is playoff-bound
— The Bard of Bethany Beach
It wasn't a poetic, or pretty, 34-0 victory on a wet, slippery field at First State Military Academy last Saturday morning and early afternoon. But it catapulted Indian River High School's football team into the program's first post-season berth since 2013.
"It is great to be in the playoffs!" enthused IR head football coach Phil Townsend. "Playing football in November and December is fun, and it's something I hope the boys enjoy every minute of."
The Indians improved to 5-0-0 (5-3-0 overall) in Division 1A, District 2 play, and are tied for first place with Laurel (5-0-0 district, 7-1-0 overall), whom they will host this Friday night in a showdown for the district title, beginning at 7 p.m.
However, they may choose to burn the game films, which are lowlighted by a combined 23 penalties for 183 yards (10 for 80 yards by the victors).
"The field was very wet and slippery," said Townsend of the impact of Friday's rainstorms. "And, unfortunately, at times, it was hard to keep your footing. So we did get called for some holding penalties. [But] we showed up and did what we needed to do. We didn't get cute, we kept it simple."
Fortunately for the Indians, their defense forced four turnovers and held the Bulldogs to their second-lowest of the season 106 yards of total offense (-8 on the ground). Their offensive counterparts accumulated their second-highest of the year 345 yards of total offense, including 257 on the ground.
"The field conditions didn't really allow for big plays, so we just slowly worked our way down the field, one first down after another," said Townsend. "When the defense did get on the field, (they held FSMA to) three and out, and the (IR) offense was back on the field."
Controlling the game's tempo from the opening kickoff, the Indians jumped in front to stay, 7-0 midway through the first quarter when senior Dalton Hall battled 5 yards through traffic into the end zone for his team-leading seventh rushing TD of the season. Senior quarterback Ryan Sheerer's second TD pass of the campaign, a 25-yard strike to senior wide receiver Josh Townsend, doubled the lead to 14-0 with 36 seconds left in the stanza.
The Indians upped their lead to 21-0 in the final minute before halftime, when senior running back T.J. Burke used his only carry of the day to score on a 5-yard run, his third rushing six-pointer of the year, followed by senior Jack Williamson's 2-point conversion run.
Dalton Hall added a 27-yard scoring run — his eighth of the year — midway through the third quarter to make it 28-0. Hall finished with a team- and game-high 114 rushing yards on 15 carries, the fifth time he's topped the century mark this season. Junior Ashton Stephens finished the scoring with his first TD of 2021, a 1-yard burst halfway through the fourth quarter.
Stat's incredible
The Indians' overpowering running game included strong support from junior Ja'chi Duncan (seven carries for 54 yards) and Hall's brother, junior Hayden Hall (13 carries for 53 yards). Freshman Javion Chandler also added 28 yards on two carries, and Stephens chipped in with 18 yards on five totes.
"We always try to keep fresh legs in the game and distribute the ball to all of our backs," said Townsend. "They all ran well on Saturday despite the field conditions."
Sheerer completed five of eight pass attempts for 61 yards and the TD, while junior Ben Cordrey connected on both of his pass attempts for 27 yards. Receiver Townsend finished with three catches for 30 yards and his six-pointer.
"Josh has great hands, and when the ball is thrown his way, he is going to do everything in his power to come down with the ball," said Townsend. "He made some great catches on Saturday."
Duncan added two snares for 26 yards, while juniors Donovan Roos (one catch for 17 yards) and Hayden Hall (one snare for 15) also had the gift of grab.
Chandler also had a strong game defensively, with an interception, a fumble recovery and two tackles.
"Jayvion is getting better each week," Townsend noted. "He's still a freshman who is soaking up every little detail, and he is only going to [improve]."
Stephens led all tacklers with four, while Hayden Hall added an interception and three stops. Sophomore Alex Butts also picked off a Bulldog pass, while seniors Clifton Toomey and Williams had three stops each.
Sophomore Cole Brickman replaced the injured Tristen Hood, connecting on two of four PAT (point after touchdown) attempts. Hood, a two-sport standout in soccer and football who attended the game in street clothes, is expected to return this week against Laurel.
Milestones
The Indians have won five games in a season — including a forfeit by Early College (see below) — for the first time since 2013, when they finished 6-5 and made the DIAA playoffs. Their four 30-plus-point games in a season are the most since they posted seven such outings in 2012. Their two shutouts in the same campaign are the most since they posted three in 2010.
Early College at DSU cancels remaining football games
The IR win total includes a forfeit victory against Early College, whom they were scheduled to host in the regular-season finale on Wednesday, Nov. 9. Winless in seven games, the Hornets' administration canceled the remainder of their season after they fell 52-6 to Polytech last Thursday, Oct. 28. The Hornets were also scheduled to play at FSMA this Saturday afternoon.
"We will get the four points for the playoffs," said Townsend. "I am going to try to find a [team to] scrimmage for us. This late in the season, I don't think we will be able to find a game, but I am certainly looking. Without that game being played, we will have no competition for two weeks before the playoffs start," during the weekend of Nov. 26-27.
Showdown looming against Laurel
The Indians will battle visiting Laurel to determine who wins the Division 1A, District 2 regular-season championship this Friday night at Indian River Stadium beginning at 7 p.m.
"A win [against Laurel] could secure us a home game in the first round of the playoffs, and we would be crowned district champs," said Townsend. "Laurel is a good football team, and we need to limit mistakes this week."
The game against Laurel will be preceded by Senior Night festivities. For ticket information, visit the Indian River High School Athletics website at indians-sports.com. For those who can't make it to the stadium, the game will be available live and on demand to NFHS subscribers. Monthly ($10.99) or annual ($69.99) subscriptions may be purchased at www.NFHSnetwork.com.
Division 1A standings update
The District 2 playoff berths are set, with Laurel, Indian River, Seaford and Odessa having clinched berths. In District 1, St. Elizabeth (6-0-0), St. Andrew's (4-1-0) and Tatnall (4-1-0) have clinched post-season berths. Fourth-place Wilmington Charter (2-3-0) has the inside track on the final spot and is being pursued by Glasgow (1-4-0), Wilmington Dickinson (0-4-0) and Christiana (0-4-0).