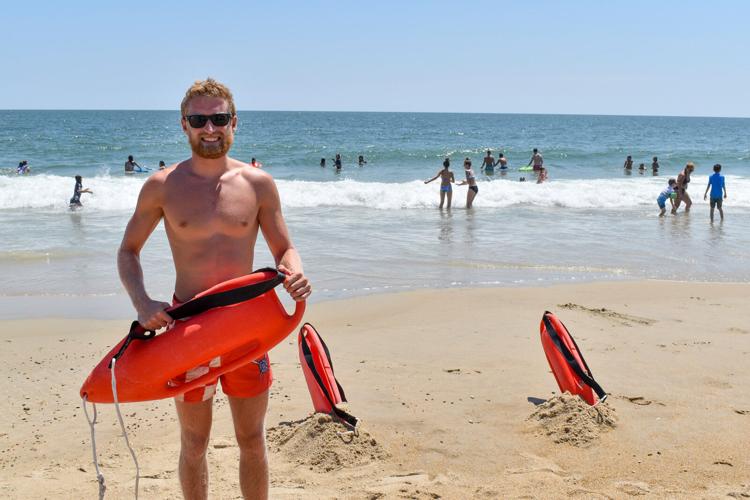 Brendan Keane was not the typical lifeguard candidate. The Bethany Beach Patrol lifeguard played football, baseball and basketball, and ran track, during his high school days. He was a good athlete but had little to no experience in the water.
Keane, a College Park, Md. native, had been coming to Bethany Beach practically his whole life, thanks to his grandmother owning a house in Dagsboro. He became best friends with one of the Bethany Beach Patrol guards, Brendan Regan — one of our featured lifeguards earlier in this series. It was Regan who talked Keane into giving lifeguarding a try.
"After sophomore year of college, I decided to try out," Keane recalled. "I never really wanted to be a lifeguard. It was never really on my radar. [Regan] had done it for two summers before I joined, and our sophomore year of college, he convinced me to try out. I'm a good land athlete. I'm a good runner. However, swimming was difficult for me. I never did swim team or anything like that. I mean, I knew how to swim, obviously, but I never did it competitively.
"It was really hard," he admitted. "I had to swim every day for like two months to pass the patrol test of 500 meters in under 10 minutes. When I first started training, I could barely swim 100 meters without stopping. In that two months, I worked really hard to pass the test."
Now in his fourth year on the squad, Keane said he has really enjoyed his time with the BBP.
"I have made some great friends and had some great experiences as a guard," said Keane, who will turn 23 next week. "It's the best decision I have ever made in my life," he added of the decision to become a lifeguard. "I never thought I'd be back for four summers. It's a total blessing.
"The first three summers I had lived with my grandma, but with everything going on this year, I am rooming with a couple other guards this year. It's been a lot of fun, just working as a team, and everyone on the patrol really depends on each other. It's our job to protect people's lives. It's really been a fulfilling experience."
A 2019 graduate of the University of Maryland, Keane said he was hoping to correlate his degree in turf/grass management into a position with the Washington Nationals, but that opportunity has since been put on hold, due to COVID-19.
"I had an internship scheduled with the Nationals this year, to work on their grounds crew," Keane said. "But with COVID happening, it's been delayed, and has kind of put my career on hold a bit. Once they start back up, I will be going back and forth between here and there. When they have home games, I will go work with them, and then when they have away games, I will come back here to guard, since there won't be a lot to do there.
"The captain [Joe Donnelly] is really supportive of what I will be doing, and has said he'll take all the help I can give him. He is really a great person, and really cares about all of us. Of course, I thought I'd be working with the Nationals this summer, but that's OK, because I get another summer at the beach, and get to lifeguard."
Just last year, Keane had the most memorable rescue of his short career.
"Toward the end of this cold day, we had about 15 minutes left on our patrol for the day, and you could tell there was a storm on the horizon," Keane reflected. "We hadn't had many people in the water all day, because it was kind of dangerous with the water being rough. This guy insisted upon going in, and I told him he had to be very careful to not go in past his waist. However, he was in there for only about two minutes, and decided to duck under a wave.
"A huge rip current opens up, and I immediately stand up and take off all of my clothes, because it was a cold day. By the time I get down off the stand, he was about 40 yards out. I jump into the water, and by the time I get out to him, he's 50 yards out. He's freaking out. I try to give him the rescue can, but he doesn't hear me because he is panicking. I try to calm him down and tell him everything will be alright.
"We start swimming in, and I get him in to the impact zone where the waves crash. I grab the rescue can, and we just get absolutely demolished by a big wave. We stand up, and I put my arm around him so we can march into the shore. We get in, and he lays down. He starts praising God that he's alive.
"He comes up to my chair a couple of minutes later and gives me a big hug. He tells me he's gonna buy me a beer. His girlfriend came over and starts slapping him for going in the water, telling him, 'I told you you shouldn't have gone in the water.'"
Keane said he isn't sure how many more summers he'll get to do this, but he does know that the lessons he's learned regarding teamwork, communication and keeping your calm in stressful situations are ones that he'll be able to carry with him for the rest of his life.