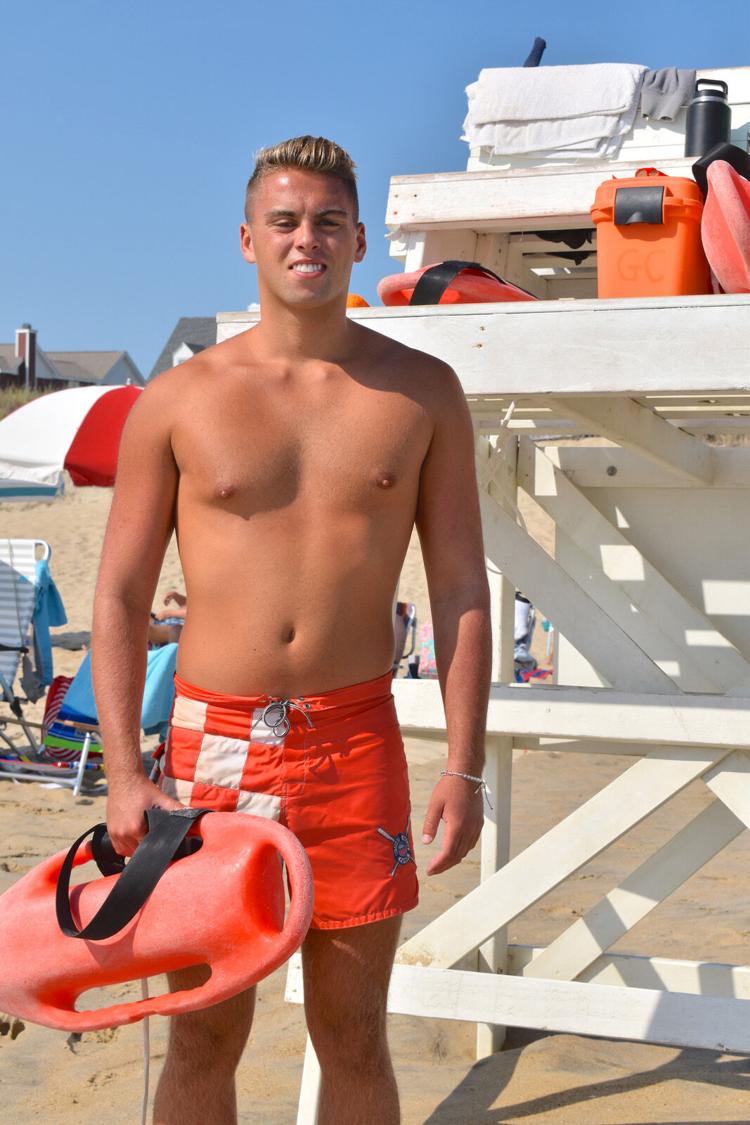 Ever since he was just a little kid, Bobby Rush's family would bring him down from northern Delaware to the shores of Bethany Beach to spend his summer months soaking up the sun and splashing in the waves. All those days and weeks gave him a firsthand glimpse of what his future would become during the summers in his young-adult life.
"I grew up coming to Bethany during the summers for as long as I can remember," recalled Rush, who is this week's Summer Lifeguard Series featured lifeguard. "We would stay at my Nana and Gramp's house on Second Street, and would walk to the beach and spend lots of time walking around in town.
"Growing up in Bethany with my family made it a special place, and having the opportunity to become a lifeguard in the very beach that I grew up going to was too good to not give it a shot. And it was a great decision, as I have just completed my fourth summer."
The Wilmington resident is currently heading into his junior year at the University of Delaware, where he is majoring in mechanical engineering with a minor in mathematics. He graduated from St. Mark's High School in Newark back in 2018.
During his youth and high school years, Rush would swim competitively, which helped groom him for his future as a lifeguard.
"I swam year-round for about 10 years before joining the patrol," Rush noted. "Obviously, it helped me in the water aspect of the job, as well as being comfortable in the ocean from growing up going to the beach frequently."
Rush is the son of Lisa and Bob Rush, and has two sisters, Lizzie and Katherine Rush, who both also spent their summers working in Bethany. Katherine used to work for Maureen's Ice Cream & Desserts downtown, while Lizzie still works for Steen's beach rental service. His grandparents still live in their house on Second Street.
Asked what the best part of being a lifeguard was for him, Rush couldn't single out just one thing.
"There are many great things that come with being a member of the Bethany Beach Patrol," Rush said. "Besides from the aspect of helping other people, I really enjoy all the different kinds of people you get to know, whether that be other guards or the people you see on the beach. I can confidently say that I have met and gotten to know countless people that I have learned life lessons from and made great memories with that I would have otherwise never would have interacted with."
And certainly the many days and weeks spent on the patrol, learning and training, can lend itself to picking up some lasting skills that can be used in everyday life.
"I have learned to have confidence in my abilities to tackle any obstacles," Rush added. "Confidence to face any challenges that can come up, whether they be physical or mental. Whenever I encounter something difficult in school or a hard workout, I always tell myself, 'If you made it through drills, you can make it through this.' Drills during your first year are very stressful, and both extremely physically and mentally demanding."
Not to mention those drills and trainings helping in the day-to-day aspects of the job of being a lifeguard.
"My first summer, I had a rescue that I still remember very well," reflected Rush. "It was one of my first pulls ever, so I was still learning the ropes and getting used to the job. It was a day where the waves were not massive, but the rip currents were strong. There was a little boy that had been slowly swept out into deeper water by a rip. He was young and was not too comfortable in the ocean, and had trouble keeping his head above water.
"My veteran guard at the time sent me, and I went in for him. I got to him and gave him the rescue can, and brought him in with no major issues. It was a typical ocean rescue, and that's all I thought of it.
"However, a few days later, I found a letter addressed to me waiting for me when I got home. It was from the family of the kid, thanking me for the other day. This meant a lot to me, that the family would go through the trouble to find out my name and address just to thank me.
"It helped me to understand the significance of the beach patrol and how honored I am to be a part of it. I have not forgotten this incident throughout my four summers, because it helps me to remember why I keep coming back every summer, and why I uphold the standards of the Bethany Beach Patrol."
Rush said he has no plans to end his summers on the beach as a member of the Bethany Beach Patrol anytime soon, and looks forward to getting back out in the sand and on the stand to continue to keep a watchful eye over the people he is trusted to protect.