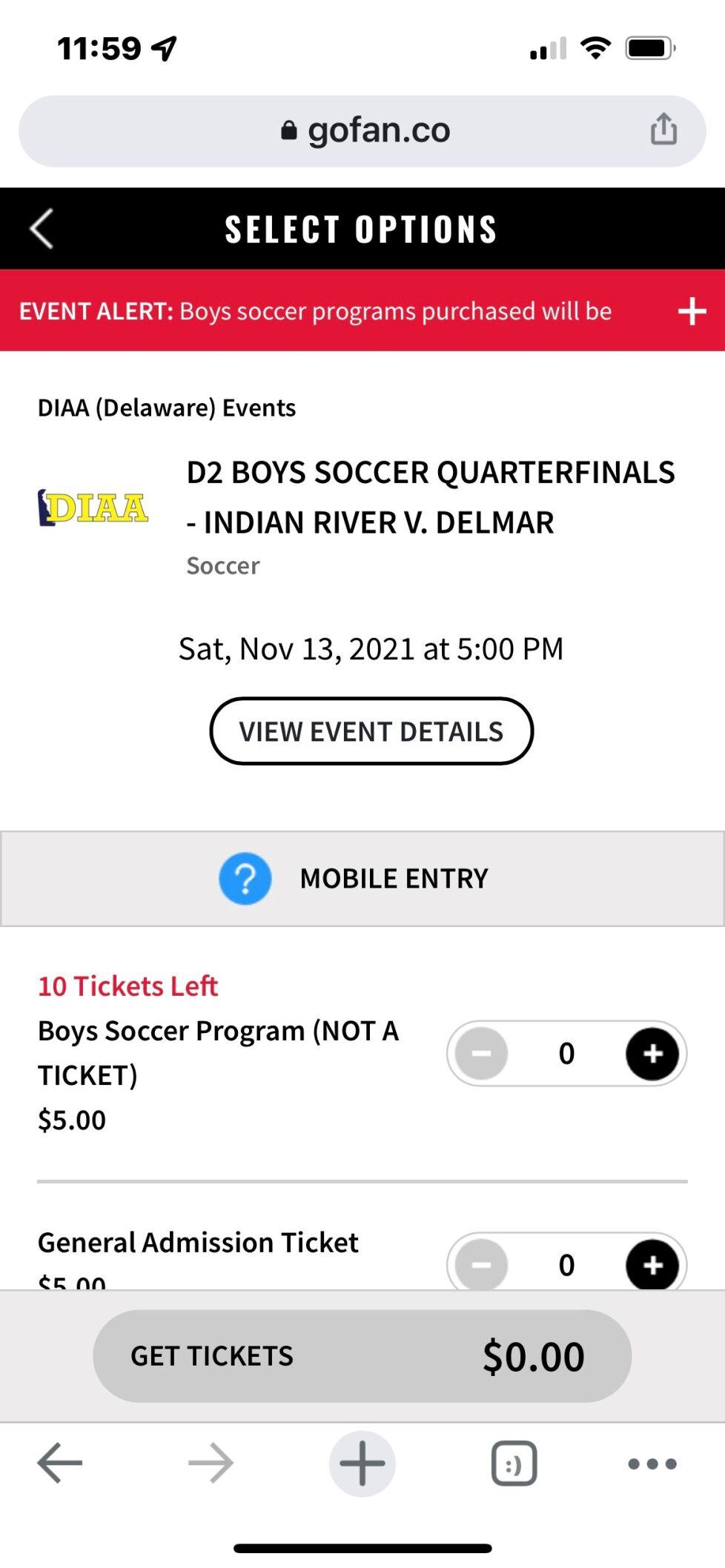 The Delaware Interscholastic Athletic Association (DIAA) recently announced that it has partnered with online ticket-selling site GoFan to distribute tickets to fans interested in attending 2021 postseason events this fall.
"The digital ticketing partner makes it easy for fans to get tickets," DIAA representatives said.
GoFan and its parent company, Huddle Tickets, are "the leaders in high school ticketing solutions," according to their website.
Since 2001, the online ticketing service has worked with more than 10,000 schools, selling more than 20 million tickets, which is more digital high school tickets than any other company. They are the ticketing partner for athletic associations in 39 states currently, and they expect to service more than 200,000 events this school year.
GoFan Ticketing will be helping the DIAA sell tickets for all of the DIAA championship events this fall, for field hockey, boys' soccer, girls' volleyball and football. This will immediately affect fans of Indian River High School's boys' soccer and football teams, since both teams have earned berths in the state playoffs.
The DIAA will be using this ticketing platform for all of its postseason events this year, and host schools — including IRHS this Saturday — will not be accepting cash at the gate for any of the state playoff events. All fans — no matter their age — will need some form of ticket. There are adult tickets for a fee, and then there are also "Kids Under 4" tickets that are free. Those attending must still get a ticket for any child younger than 4, even if they don't have to pay for it.
Fans can go online and purchase tickets on the GoFan site, and they will receive their tickets via email. They can print the emailed tickets or display them on a digital device at the gate. Tickets purchased in the GoFan app — available on the Apple App store and Google Play store — will also be available to be scanned for entry at the gate. All tickets must be scanned at the gate for entry to an event.
"Digital tickets are becoming the norm in high school sports," said IRHS Athletic Director Todd Fuhrmann. "With COVID restrictions, digital ticketing has been a way to still charge for events."
Again, there will be no cash sales available at the gate for any of the state playoff events. For more information on the digital ticketing process or to purchase tickets for an upcoming game, go to https://gofan.co (not .com). There is a service fee of $1.25 for each adult ticket purchased.