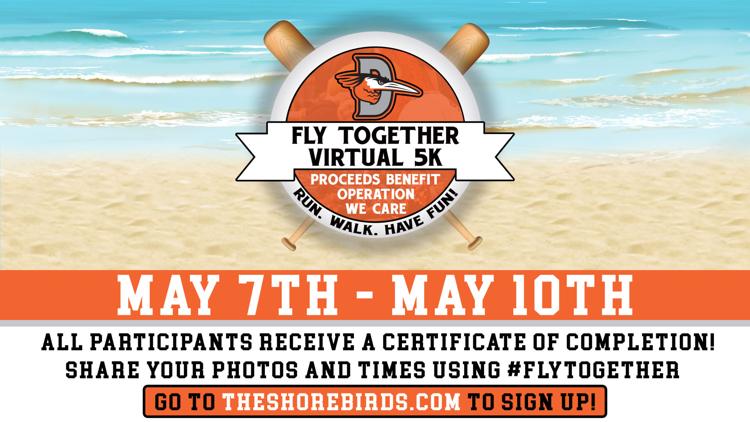 The Delmarva Shorebirds this week announced their first-ever Fly Together Virtual 5K, with all the proceeds going to Operation We Care on May 7-10. The Shorebirds Virtual 5K is designed to be family fun for all, and the team is encouraging people to get up and get active while supporting the cause.
There are two different ways for people to participate in the Fly Together Virtual 5K, with registration open until May 10. The first option — $10 — includes entry in the 5K and a certificate of completion. The second option — $20 — includes entry into the 5K, certificate of completion, and two Upper Reserved ticket vouchers to a Shorebirds future game date (exclusions apply and based on availability).
"We are excited to kick off our first ever Fly Together Virtual 5K to help support our community, Operation We Care, and all those fighting on the front lines against COVID-19," said Shorebirds General Manager Chris Bitters. "The Fly Together Virtual 5K is a community focused event that provides a fun, healthy and safe activity for all people as we await the beginning of baseball season."
How the Fly Together Virtual 5K works is simple. All people have to do is register online at www.theshorebirds.com, grab their walking/running shoes, and walk or run a 5K. Once they have completed the 5K, they can send their pictures and/or times to the Delmarva Shorebirds via social media, using the hashtag #FlyTogether (and don't forget to wear some Shorebirds gear.
"We hope everyone is able to join us for the Fly Together Virtual 5K to support a great cause in Operation We Care," said Bitters. "Our goal with the 5K is to bring everyone together, but apart, with a fun community activity as we continue to fight through these challenging times together as a community."
Participants can walk/run the 5K all from their home, in one shot, or they can split it up over the course of the weekend. For more information on the Fly Together Virtual 5K or to register, visit the Shorebirds website at www.theshorebirds.com.