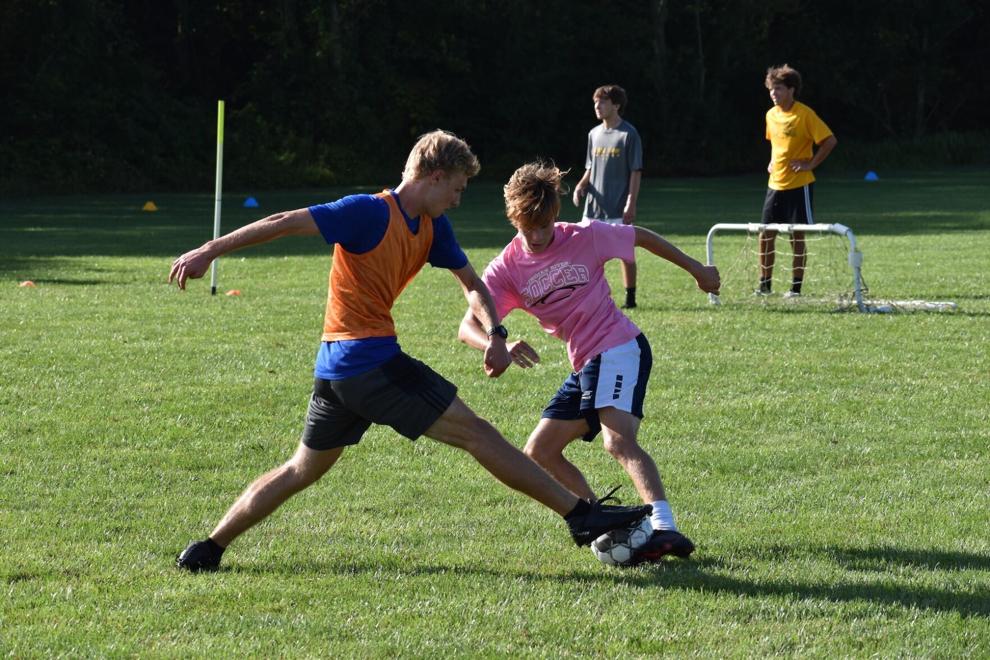 After a scoreless tie through more than 50 minutes of their match on Tuesday, Sept. 28, the Indians were able to get on the board with a goal from freshman Dominic Delaney, to take a 1-0 lead over their guests from Caesar Rodney.
It remained that way for almost 20 minutes before the Riders were able to tie the score with a penalty-kick goal from Thaddeus Glasser following an infraction inside the box by Indian River. Just three minutes later, Sawyer Ott gave Caesar Rodney the lead off a helper from Trevor Sullivan. It proved to be the game-winner, as the Indians weren't able to get the equalizer in the final two minutes.
Junior Jordan Illian recorded the assist on Delaney's goal for the Indians.
It was a tough loss for IR, after they played so well defensively throughout the first 75 minutes of the game. The setback brought to an end a three-game win streak for the Indians.
The Riders held a 19-11 edge in shots for the game, as well as a narrow 3-2 advantage in corner-kick chances. Senior Reece Stone was credited with 14 saves in goal for the Indians, while Kaden Childs made six.
IR had little time to dwell on the last-minute loss, as they were headed back out on the pitch on Thursday, Sept. 30, (after Coastal Point press time) with a home contest against Delmar in a Henlopen Athletic Conference South Division tilt.
Girls' Volleyball
Indians pick up a pair of wins
The Indian River High School girls' volleyball team picked up a pair of shutout wins last week over Woodbridge and St. Georges Tech.
In the win over Woodbridge, the Indians took down the Blue Raiders by scores of 25-10, 25-7 and 25-16.
Juniors Mya MacDonald and Cam Ehlers led the way for the Indians. MacDonald recorded 10 digs, 7 aces and an assist. Ehlers added 10 aces and a pair of kills in the win. Senior Nicole Norman had 11 assists, 3 aces and a dig.
Eight other players also chipped into the win over Woodbridge, with Scarlett Dunn (3 kills), Isabella Wade (2 aces, 1 kill), Taylor Conaway (5 assists, 3 aces), Sia Diakos (5 kills, 2 digs), Ava Tomlinson (3 aces), Madison Geppi (2 kills), Emma Rickards (3 digs) and Mya Mumford (5 kills, 1 dig, 1 assist) all contributing helpful efforts.
Against St. Georges, the Indians won by scores of 25-18, 26-24 and 25-14. No stats were available from that match by Coastal Point's print deadline.
Field Hockey
Indians fall to Tech in OT
Senior Emma Ruley scored both goals for the Indian River High School field hockey team in a 3-2 overtime loss to visiting Sussex Tech on Friday, Sept. 24. It was the first time in the program's history where a game was played inside the home stadium.
For the season, the Indians are 0-3, but have battled in each of their contests. IR recorded 25 shots in the game against the Ravens, as well as 10 penalty corner chances. Goalie Caylee Schmidt made 17 saves.
Ruley leads the team with four goals and an assist so far this season. Other goal scorers include Kinsley Hall and Brynn McCabe, who also has three assists to her credit. Macy Blades also has an assist for IR.
In a 6-4 loss to Lake Forest, Schmidt turned aside 23 shots while facing 29 in front of the cage.