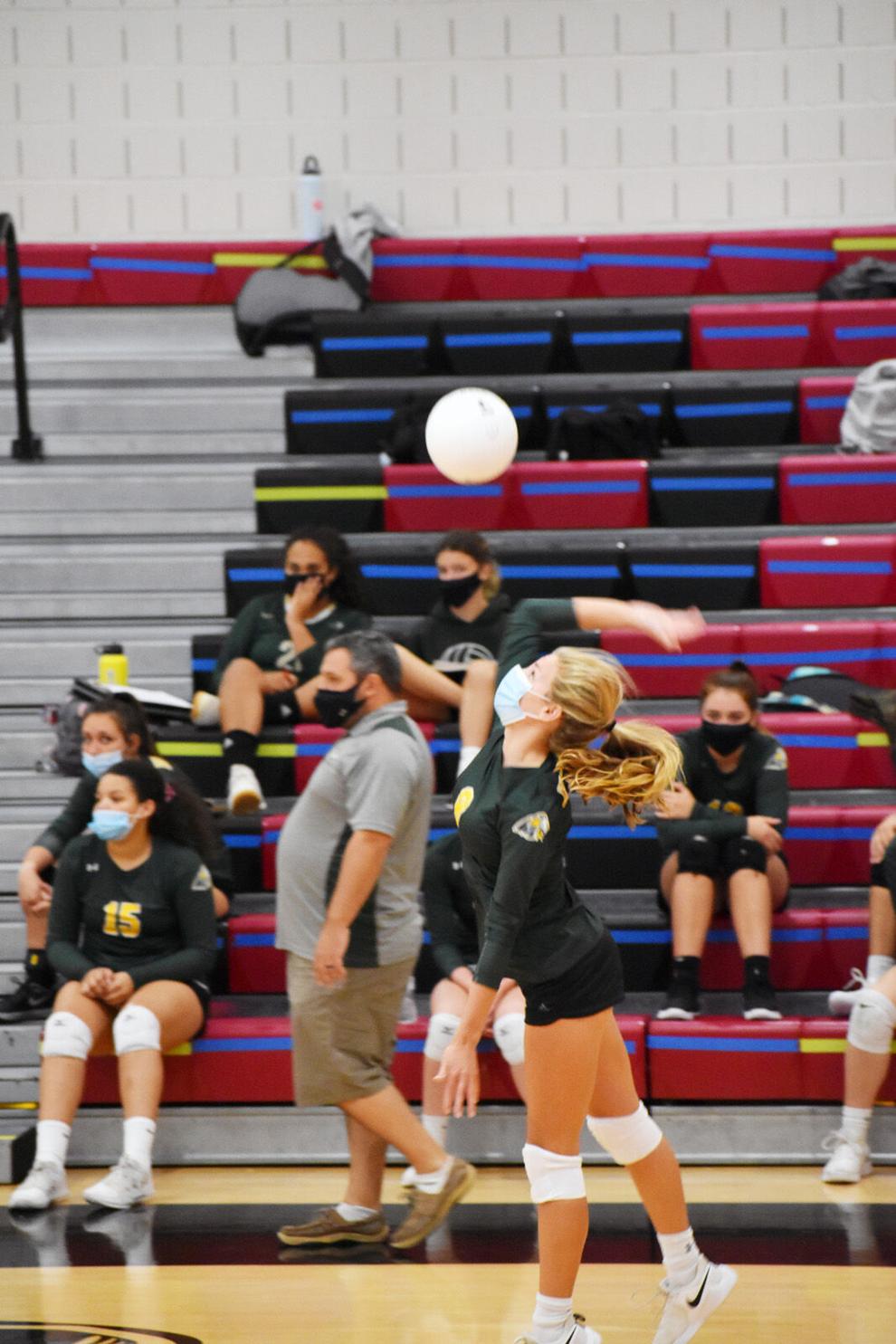 Emerging from beyond the shadow of a gifted, award-winning elder sibling to a position of leadership can be tricky. It's a transition that can be as difficult as dealing with a volleyball spike hurtling right at your head.
Fortunately for Indian River High School junior and girls' volleyball tri-captain Camryn Ehlers, she adeptly handled that would-be spike, returned it over life's net and scored a point for herself and her teammates.
Turn back the clock to 2020, when the 5-foot-6 Camryn — a sophomore setter that season — played alongside her older sister.
All the 5-foot-8 Raychel Ehlers did to culminate her outstanding career that began in 2017 was to literally rattle the hardwood with her explosive kill (for points) shots. Her athletic prowess and command of the game enabled her to partially rewrite the IR record book and help lift the program to new heights, including an 11-3 record and a DIAA quarterfinals showdown at Padua Academy.
It was not exactly a surprise when Coastal Carolina awarded Raychel with a full scholarship (academic and athletic) to study and play the NCAA springtime sport of beach volleyball.
Fast-forward to the present day, when Camryn can look back on her successful 2021 transition into one of the team's most complete players and unquestioned leaders, during what amounted to a 6-9 rebuilding campaign. Camryn Ehlers provided outstanding leadership en route to earning the squad's Most Valuable Player honors in addition to First Team All Henlopen Conference kudos.
Accepting the challenge
Having already surpassed the IRHS career record for assists (sets that lead to a kill) before the end of her sophomore season, Camryn accepted the challenge of improving her team's offense. To accomplish this, she transitioned into one of the team's primary passers, to enable her teammates to complete aggressive attacks. She also became one of the Indians' primary attackers.
An outstanding server, Camryn led the 2021 squad in aces per set played and serve effectiveness rating, and ranked second in total aces. She also contributed 262 attacks (81 kills), ranking her second and bringing her career total to 452 (132 kills). From the setter position, she contributed 86 assists on 288 sets, which ranked her second on the squad and enabled her to increase her school-record 888 career assists. The old mark of 650 career assists was previously set by McKenzie Johnson (2016-2017), who is now a teacher and volleyball coach at nearby Selbyville Middle School.
Those impressive numbers reflect Camryn Ehler's willingness and ability to adapt to a changing role.
"While she continues to be an outstanding setter, we had another really good setter and needed Cam's skill as a serve receiver, digger and attacker," said assistant coach Jay Clark. "Had she continued to be our primary setter, we would have lost almost all of her contributions in those other areas."
She also grew into a leadership role, according to her head coach.
"Camryn stepped out of [her older sister's] shadow and led the team" as a tri-captain, said Brigid Wolfgang, who succeeded Rich Comly as the Indians' head coach. "She brings a lot of heart to the game, and she works hard despite the fact she misses her sister a lot."
Raychel Ehlers: Impressive statistics, humbling awards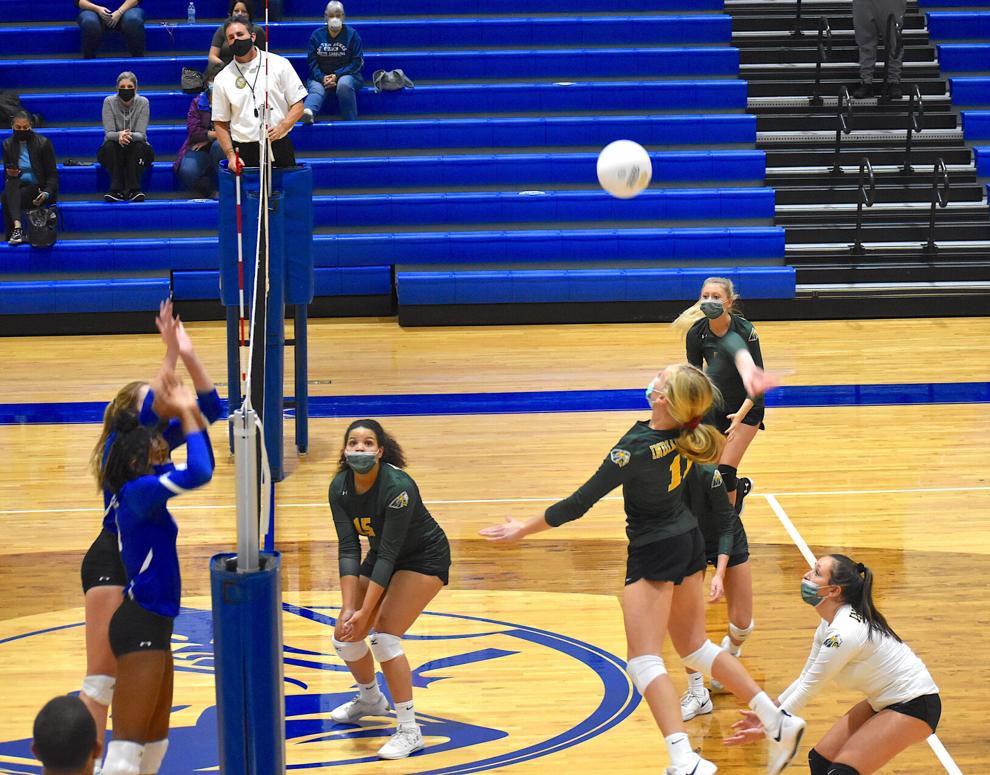 The power game of Raychel Ehlers lifted the Indian River girls' volleyball program to new heights. Improving each season in leaps and bounds, the eldest of three Ehlers sisters became a dominant force in the locker room and on the court. For her career, she led the Indians to a 52-14 record, four post-season playoff berths, two Henlopen Conference Southern Division titles and two conference championships. In fact, the Indians never lost a Southern Division match with Raychel Ehlers on the court.
Her outstanding play was aptly rewarded. Raychel became Delaware's first downstate player to earn the DIAA Volleyball Player of the Year citation. She also was awarded the 2020-2021 Gatorade Delaware Volleyball Player of the Year citation, IR's fourth overall Gatorade POY, joining Caitlyn Forte (girls' soccer), Brooke Beam (girls' soccer) and Jamie Jarmon (football). She was also selected as the Delaware Volleyball Coaches Association's Player of the Year, and earned her third All-State selection and fourth All-Conference nod.
Her overpowering game was matched by her impressive statistics. She averaged 20.9 kills per match, including school records of 36 in the regular-season finale against Dover to surpass 1,000 for her high school career, and 37 in the Indians' 3-2 season-ending setback at Padua Academy in the 2020 DIAA quarterfinals. For her career, the eldest Ehlers sister amassed a school record 1,101 kills, 175 (service) aces, 77 blocks and 589 digs. Her outstanding senior year was highlighted by 307 kills, 73 aces, 13 blocks and 135 digs.
For a fitting encore, Raychel maintained a weighted 4.45 GPA in the classroom as a respected scholar-athlete.
Raychel's "power may be what catches most people's eyes, but it's her finesse and range of offense that impress me the most," said Tyler Coupe, the Cape Henlopen High School head volleyball coach. "Her ability to hit all possible options on the court made her nearly impossible to defend."
Camryn Ehlers — a natural team leader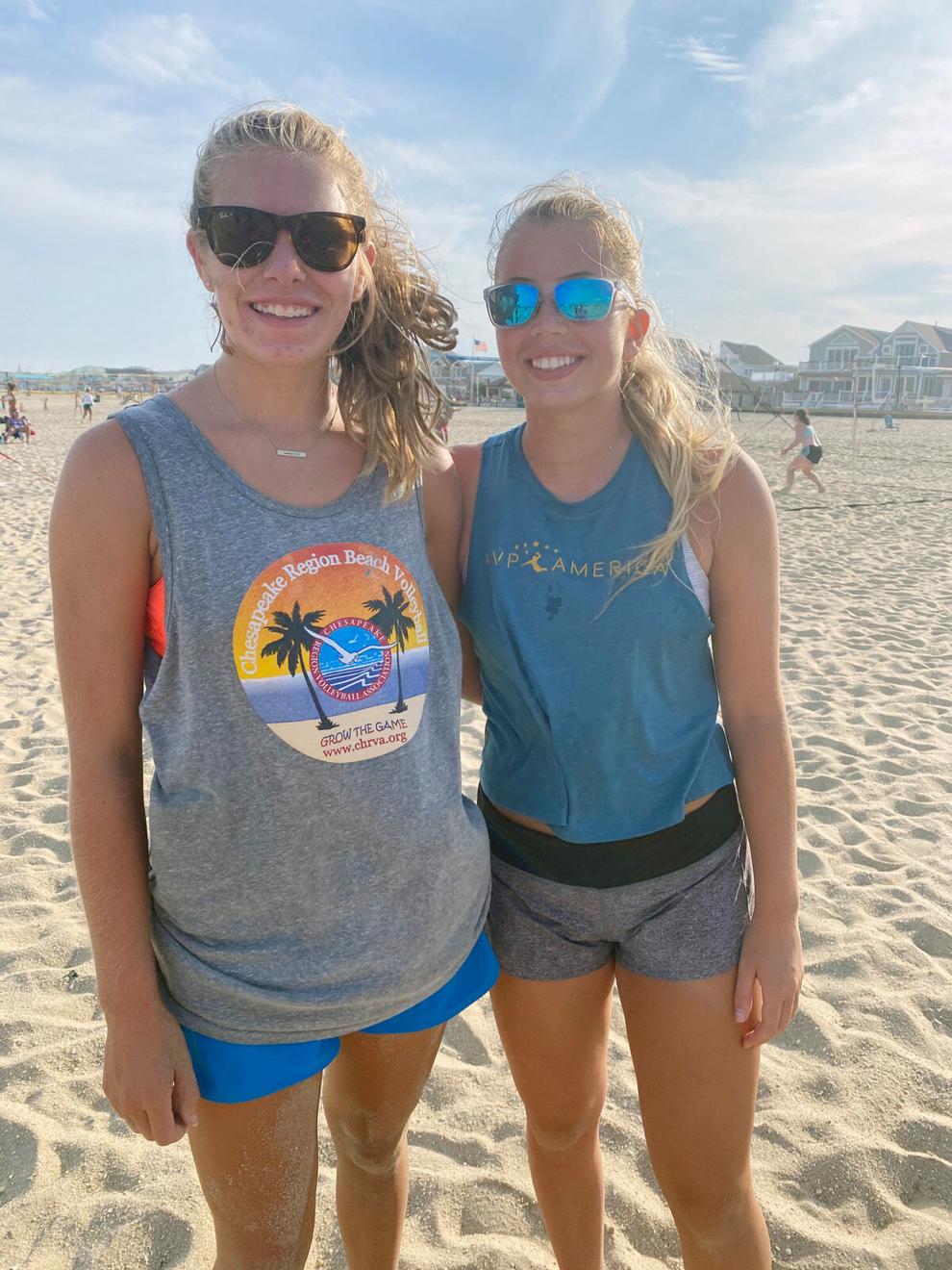 Being a team leader is nothing new to Camryn Ehlers, who was initially thrust into that role as a freshman in 2019.
"My first two years at IR, I was the setter, so I was put into a leadership position without a choice," she said. "The setter calls the plays and communicates with every player on the court" about all facets of the game, "like a quarterback. As a result, I was used to leading.
"But in 2021, more than ever, it was important" for her to be a leader, she said, "because I am now an upperclassman. I wanted to help my team in the best way possible, and [Wolfgang] had me playing several different positions," requiring passing, serving, setting and hitting. "Wherever I was [assigned], I wanted to do my best and help guide my team."
Wolfgang acknowledged that leading by example comes easily to Camryn.
"She can see the game [evolving], and it's easy to coach her because she can adjust in mid-game," said Wolfgang, who is also a mental-health professional in the school's guidance department. "During one of our games this season, we switched her to setter once we realized that [a teammate's] arm was sore and that player couldn't set. Camryn can adjust, read the other team, and even push teammates to play the smart game and get their momentum going.
"It's no secret that everyone had a big adjustment without Raychel this year," added Wolfgang. "And one might think it could be tough on Camryn, but she knows what needs to be done, and she does it. She stepped in when she was needed as a setter. She also remained a big offensive threat, and she was as steady and smart a defensive player as you could ever ask for."
Camryn's ability to lead and perform at a very high level is a product of having grown up learning from her older sister, both as a sibling and as an athlete.
"Having Raychel" in both roles "is really awesome," she said. "Sure, we might [bicker] with each other every now and then, but I always know she's someone who has my back and supports me as her younger sister. I only wish last year had not been so crazy because of [COVID-19], but I am grateful we were able to play together."
Establishing a 'sister connection'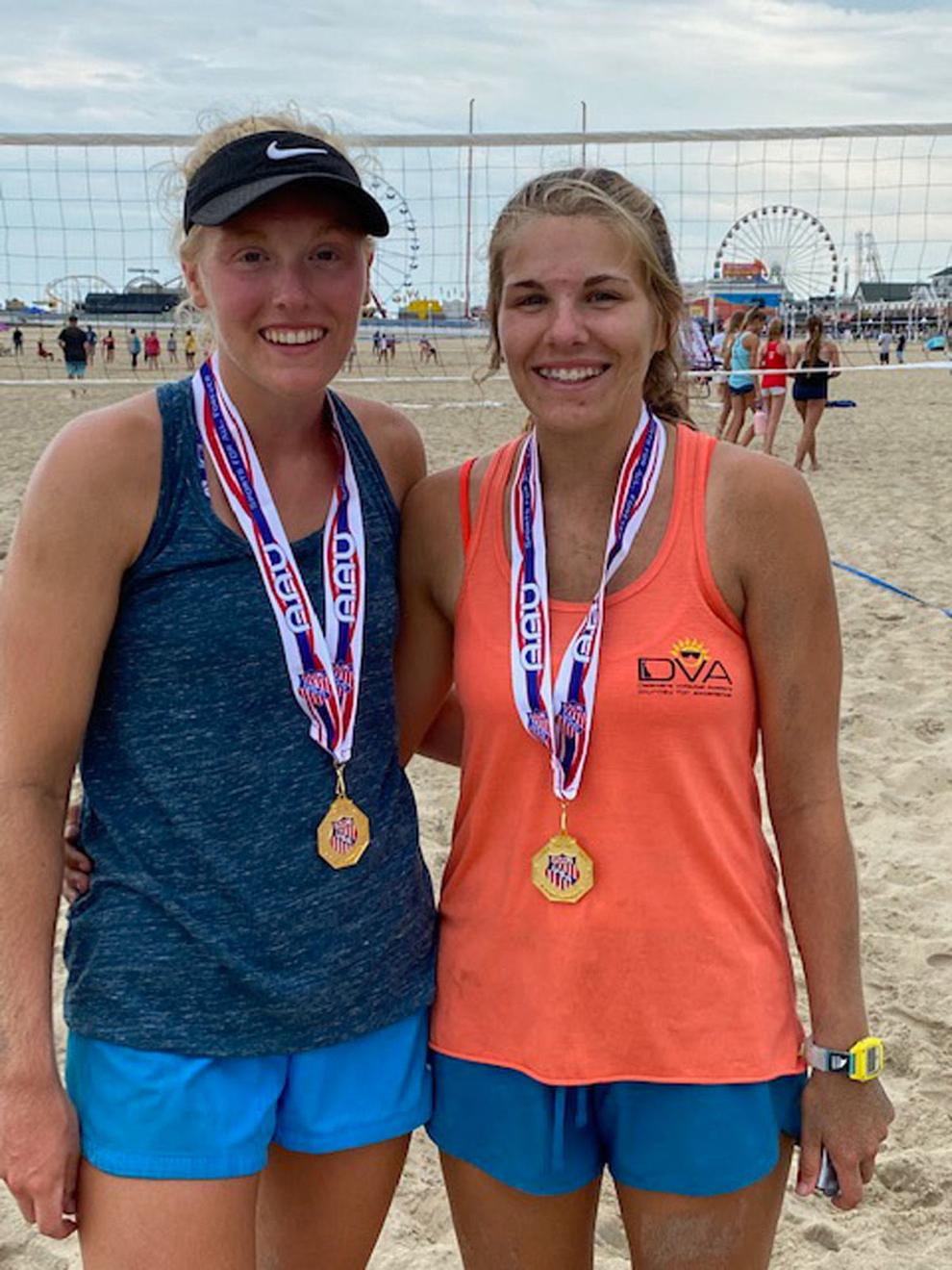 Camryn is quick to point out that playing with her older sister "was extremely special, because we were able to use our talents to help [take] the team the furthest it's ever gone into the state tournament. I was the setter," she noted, with 1,049 assists, and Rayehcl "was our best hitter, so we were able to work together and make plays happen," said Camryn. "I guess we had a sister connection. She is so easy to play with, and that made it more special."
According to Camryn, her older sister can be very stern and to the point, "But she's also very reserved. She normally is very quiet in a group setting, but when she does talk, she tells you what she thinks," said Camryn, who recalled the 2020 team's thrilling 3-2 comeback victory at Delmarva Christian. "We had lost the first two sets, and we were losing in the third. During a timeout, Raychel pointed to the scoreboard and asked" her teammates, "'What is this score? Do you guys want to lose, because I don't! Let's go out there and play to win!' I think that inspired the team, because it wasn't normal for her to be loud like that."
To say that the 2021 Indians missed Raychel Ehlers would be a massive understatement.
This season, Camryn said, "It has been very different not playing with her, and our team definitely had big shoes to fill this season in [Raychel's] absence," said Camryn. "It was a struggle the whole season. Losing the [Delaware] Player of the Year is not easy. I think the team was used to relying on her presence. Without her, there was a big hole. Every team has to go through a rebuilding process, and that's how I would describe this past season, and there was a lot to learn."
Looking to the future with younger sibling Leilani
Camryn Ehlers is looking forward to her senior season, when younger sister Leilani — a freshman junior-varsity standout in 2021 — might be one of her teammates on the varsity squad.
"I'm glad she is able to participate in the same sport that Raychel and I did," said Camryn of her 5-foot-11 sibling. "It will be fun to return and watch her play when I'm [in college]. She seems to be [improving], and I hope she will put in the effort to be a great player and be a leader for her team."
Camryn said she considers it a blessing to have played with Raychel, to anticipate Leilani as a future teammate, and have her family involved with her volleyball career.
"They're really dedicated to helping me and giving me the best opportunities to [improve]," said Camryn, whose mother, Tanya, father, Andrew, and grandparents Terry and Lynn Davis rarely miss one of her games. "My pop-pop has always kept stats for every game for my sisters and me," she said of Terry Davis. "The support and encouragement my family gives is a gift! My mom, who is [a cancer survivor] attends every game and cheers me on. It means a lot to see her there."