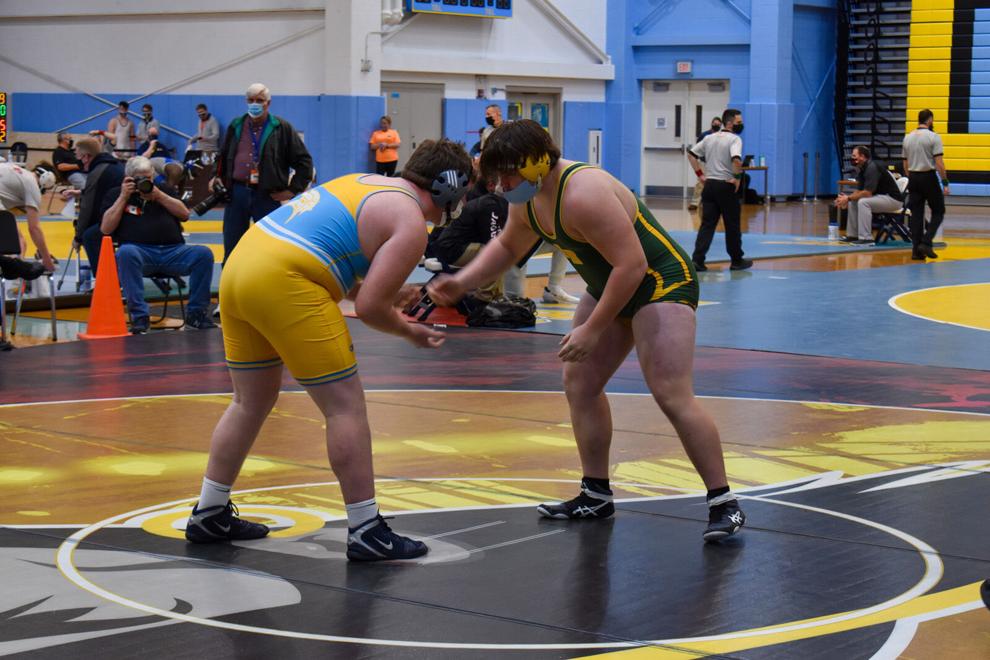 The grind of a state championship tournament is difficult no matter what year it is. However, considering that this was no other year, with all of the regulations and protocols in place due to COVID-19, the wrestlers who fought through to place in their respective brackets are all the more impressive.
The two-day grind, with multiple matches each day, is something that not all the wrestlers could prepare for during the regular season, as the Delaware Interscholastic Athletic Association (DIAA) capped teams on scheduling only dual matches this season and, at that, they were only able to schedule a total of 12 regular-season contests.
Indian River High School wrestlers T.J. Burke and Ian Shaubach have been on the stage of the DIAA State Wrestling Championships before. They were all too familiar with what it takes to fight through that grind. That experience was certainly helpful as the duo worked themselves into the top parts of their brackets in the 2021 tournament.
Burke would pick up a third-place medal after pinning Delmar's Chance Wells in their consolation match final, in 2:16. Burke and Wells had faced each other a couple times previously, so both wrestlers were very familiar with each other. As for the IR junior, he was very confident heading into the match.
"I knew, when I saw it was him, that I was gonna win," Burke said afterwards. "He got me once before, but I beat him pretty good two other times. I was very confident going into the match. I knew what I wanted to do, and I accomplished it. I should have won this thing," he added of the 285-pound bracket, "but I will be back next year."
Burke had to win four matches to pick up the third-place medal after dropping a 3-1 decision to Cape's Lucas Ruppert in the quarterfinal round. Ruppert went on to finish second to Caesar Rodney senior Kevin Hudson.
Ruppert and Burke will likely see each other again next year, as both are juniors.
Shaubach's run to a seventh-place finish became more arduous after he suffered a knee injury early in the tournament. The IR senior knew he had to fight through it if he was going to end his career on a high note.
"It was tough, because I hurt my knee in the early rounds, and I had to manage it," Shaubach said. "It's not the finish that I had hoped for for my senior year, but I am happy with how I was able to fight through. I ended it with a win. Not knowing if we were even going to have a season here for my senior year… at least I was able to have this experience one last time."
Shaubach fought back through the consolation rounds to defeat Caesar Rodney's Marlon Smith in the seventh-place match with a 5-1 decision. He had a chance to get himself a bit higher, but a 9-8 setback to Laurel's Cody Drummond ended Shaubach's bid for a top-six medal.
Cape Henlopen won the Division I state team championship with 228 points, while Caravel dominated the tournament overall, with 309 total points. Caravel had five individual state champions, including an eighth-grader who was participating in his first-ever state tournament. It is believed that Edward Radecki's title in the 106-pound bracket is the first time in DIAA history that an eighth-grader was state champion.
Other individual state champions included Smyrna's Gabe Giampietro (113 pounds), Caravel's Luke Poore (120), Milford's Jack Thode (126), Milford's Trenton Grant (132), Caravel's Ethan Gray (138), Cape's Luke Bender (145), Caravel's Alex Poore (152), Smyrna's Joseph Natarcola (160), Sanford's Justin Griffith (170), Sussex Central's Josh Negron (182), Caravel's Danny Stradley (195), William Penn's Nasir Dreuitt (220) and CR's Hudson (285).