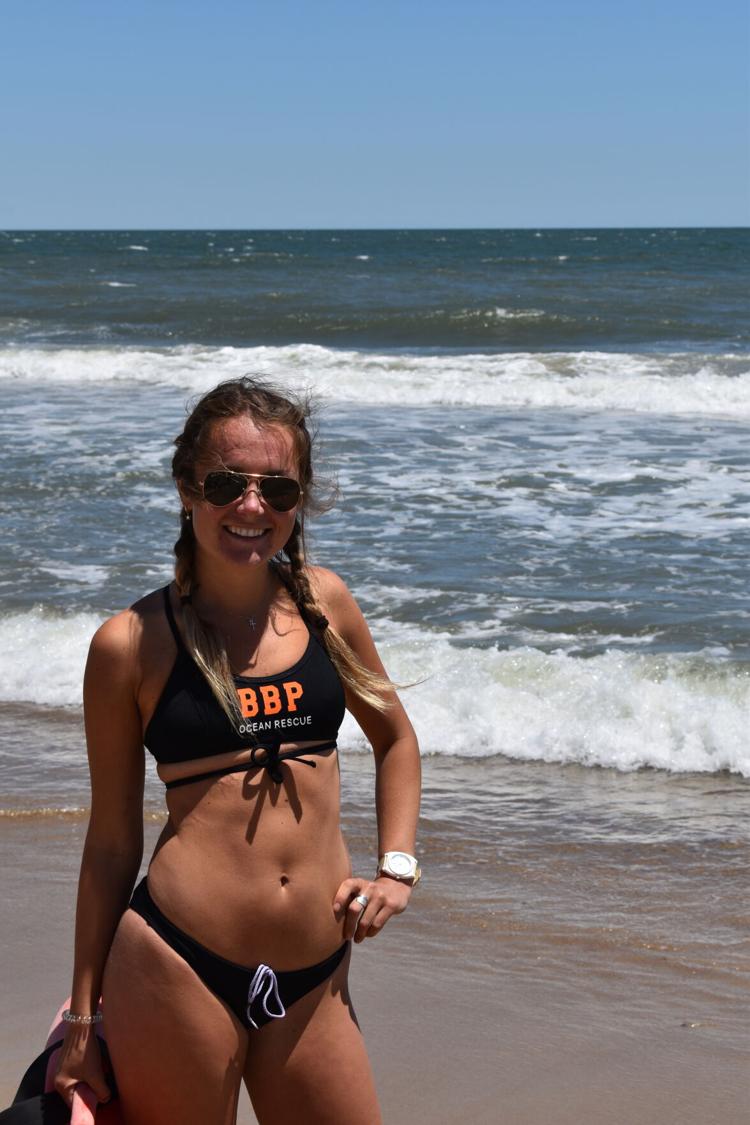 The daily grind of a lifeguard is what excites Katie Bole. When waking up every day, Bole is excited to get her day started and get to work.
"A day at the beach-office is better than a day at an actual office," said Bole, this week's featured guard in the Coastal Point's weekly Summer 2020 Lifeguard Series. "My dad was a guard, and I found out about it through him. I remember when I was a little girl that he would always have his orange hoodie. He would always talk about his time down at the beach, and how he made lifelong friends. I knew that was true, because I would always see him around them since then."
Following in her dad's footsteps, Bole has just started her fourth summer guarding the shores in Bethany Beach. The 22-year-old just recently graduated from the University of Delaware, where she received her degree in history with a minor in political science. She is looking ahead to possibly going to law school after taking a year away from school so that she can study and save up some money.
But, for now, her focus is on enjoying another summer on the lifeguard stand.
"A typical day for us is getting up every morning for our workout," noted Bole. "We always say that the bond you form in the trenches — which is the soft sand from 8:30 to 9:30, when you're just totally sweating, you're dehydrated, you need water and you just push through that hour so you finally get done that workout — it's the best feeling in the world."
Bole graduated from Caesar Rodney High School in Kent County, but during these summer months she calls Bethany Beach home. She rooms with some other girls from high school who also work in the area, and enjoys her time making new memories at work, as well as away from the beach.
"I swam at CR in the 200 [individual medley] and the 500," Bole said of her original swimming experience. "I was the captain of the team my senior year, but in all honesty, cross-country was my favorite sport. My sophomore year [at CR], I took eighth place in the county, and won the Female Athlete of Promise Award as well."
That certainly explains her conditioning to fight through those early-morning workouts.
"Katie's enthusiasm for the job is infectious," said Bethany Beach Patrol Capt. Joe Donnelly. "She bring an energy and determination to the job that challenges others to be their best."
It's that energy and determination that pushes Bole to continue working hard to prove that lifeguarding is not just "for the boys."
"The best part about being a female on the job is that it's not traditionally for females," she said. "The females that take on the task of lifeguarding are aware of the fact that, biologically, they have to work harder to achieve the same standard of excellence as your average male. It feels absolutely sick. It feels great knowing that not many other women can do the same job. The ocean doesn't care if you are a male or female, nor does the victim's family you are saving. You are tasked with saving their lives, and must uphold that same standard."
And her effort and determination could possibly inspire some other little girls in the future to want to become lifeguards.
"The thought 100 percent crosses my mind," Bole admitted. "I hope young girls recognize the challenge for its entirety, acknowledging the demands of the job, along with the rewards. I hope the future generation of young girls take to the challenge and continue to show the tenacity needed to fulfill the duties of a lifeguard."
Bole said she knows that if her lifeguarding career were to continue, there is no other place she'd rather be than as a member of the Bethany Beach Beach Patrol.
"I think that what sets Bethany apart is that there's a very strong sense of camaraderie," Bole concluded. "You can ask anyone on the beach patrol if they would choose their college friends or their patrol friends, and they will almost 99 percent of the time choose the beach patrol friends.
"These are my family. These are the people that I am going to know the rest of my life. I know that I can call on them any given day, and they will be there for me. The sense of community that Bethany fosters, and the camaraderie — it's the feeling of being a part of something bigger than myself."