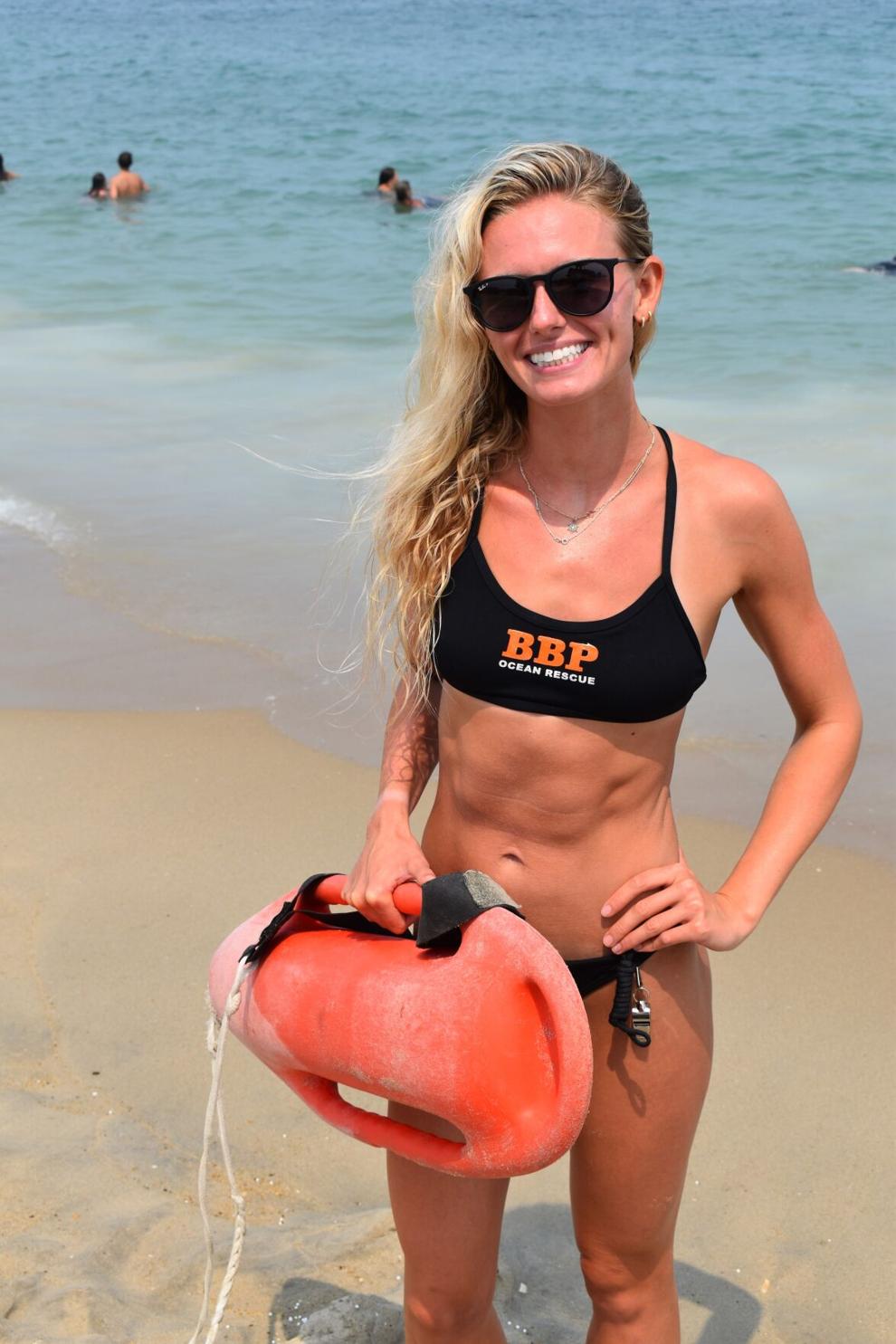 She was a NCAA Division I-level swimmer for Gardner-Webb University in Boiling Springs, N.C., so being a high-level athlete in the water was no question. She completed her four-year bachelor's degree in clinical psychology. She was set to embark on the "real world."
For Bethany Beach Patrol lifeguard Carol Zangla, all that was well and good, but she had felt like she wasn't ready to give up the competitive swimming part of her life. She had always wanted to give being a beach lifeguard a shot, but because of her commitment to her collegiate swimming career, she was never able to give the beach a chance.
"I was a four-year swimmer at Gardner-Webb, and I was not ready to give up the whole swimming thing," said Zangla, an Arlington, Va., native. "So I decided I wanted to try out for the beach patrol. After I made it, I was able to keep competing, and doing competitive swimming, but kind of transitioning to open-water swimming. That was really cool for me."
And how did she happen upon Bethany Beach in Delaware, being from Virginia, and attending college in North Carolina?
"My grandmother had bought a property in Salt Pond when I was a baby, and we always would be vacationing in Bethany ever since I was a baby," explained Zangla. "I grew up in Bethany, and being a guard was always something that intrigued me, and something that I thought was very impressive to me. It was always something in the back of my mind that I knew I needed to do before I progressed into the real adult world."
Zangla has been a Bethany Beach Patrol guard for three years now, and while she still considers herself a bit of a "newbie," the life experiences she has had during that time has helped to change the trajectory and focus for her career in the future.
"After experiencing some very fast-paced medical situations on the beach, and encountering them with proper training, as well as skills that I had acquired in becoming an emergency first-responder, I realized that I wasn't sure that clinical psychology was actually the path that I wanted to go down," Zangla said.
"I realized that I actually might want to pursue a career in nursing. That's when I started considering pursuing nursing as my career, instead of clinical psychology, and I applied to some accelerated bachelor's programs, which are a second bachelor's degree for people that already graduated college once.
"So, after taking some pre-[requisites], guarding for a few years, as well as actually moving abroad to coach swimming — which was an opportunity I encountered because of being a lifeguard for Bethany — I ended up being accepted into Drexel University's accelerated program for nursing. I am halfway done with that program and will be graduating with my nursing degree in August of 2022.
"I fully credit Bethany for helping me to realize that I had a passion for medicine in an uncontrolled environment," she said. "My dream now is to become an emergency-room nurse."
Certainly, working with people who motivate her every day, and those who are becoming lifelong friends, makes it all worthwhile as well.
"It's amazing to be around people that are dedicated to taking care of the people around them, taking care of themselves physically as well as spiritually … being motivated, and overall being dedicated to having a positive mindset to adding value to the world around them, or in our case the beach around them," Zangla continued.
"It's an absolute dynamic environment. We have to be a team. We have to understand that we have to value each other. We have to understand each other's strengths and weaknesses. I think it's how we have so much success.
"Alone, we can't do that much, but together we can safely guard Bethany Beach. The fact that we all have teamwork as one of our core values — I think it is what makes us so successful, and keeps us coming back. That sense of teamwork is so strong."
Not only has Zangla seen a life-changing career opportunity unfold for her after guarding for Bethany, but she also has been able to continue her competitiveness with the various lifeguarding competitions that are also involved.
In 2019, Zangla — along with her partner Miranda Johns — was a finalist in the United States Lifeguarding Association's national competition in Virginia Beach, Va., in the rescue swim event, and she will be going again this year to the competition in South Padre, Texas. She has participated and become nationally qualified in the run-swim-run, surf race, and the swimmer rescue race events.
"It's a beach on the Gulf [of Mexico] side of Texas, so the waves are gonna be pretty flat, and it is going to be pretty hot," Zangla added. "It's definitely going to be a different environment, for sure, than what we are used to. I think we are going to work well together, and it's gonna be good. Flatter waves make it a little easier, since there's less rip currents and less uncertain territory."
Currently, Zangla lives in Philadelphia, in University City, while finishing up her degree at Drexel. She stays with some lifeguard friends in Bethany during the summer. If all goes according to plan, she will be in Bethany for the next several summers, and for the foreseeable future.