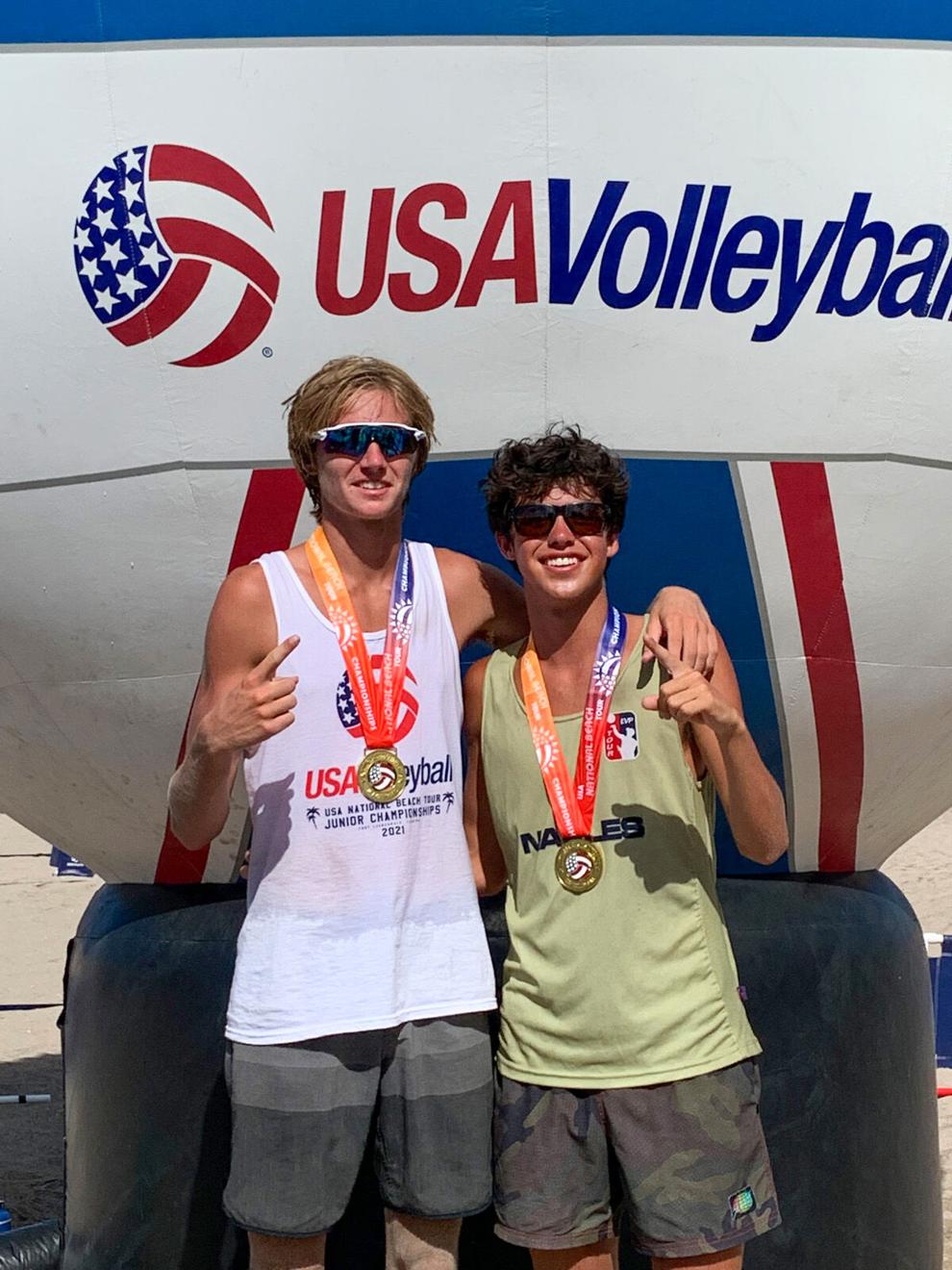 Volleyball has been a very big part of Carson Barnes' life for the past several years. He's been a part of the Indian River High School boys' volleyball team for the past three seasons, while helping them to a state title his freshman season, with his brother Michael Barnes and Mitch McGee, among others.
His success isn't just relegated to the volleyball court. He was also a member of the IR boys' soccer team's DIAA Division II state championship team during the 2020 campaign.
Carson Barnes is a winner, and that winning has continued on the beach volleyball circuit, where he has teamed up with Ayden Keeter to win multiple tournaments, among other successes over the past year. The duo's winning ways led them to qualify for the AVP Beach Volleyball Junior East Coast Championships in Clearwater, Fla., this week.
But that's not all. Barnes and Keeter have also earned their way onto the United States Beach Volleyball U21 team, and they will be heading to Phuket, Thailand, in December to participate in the Federation of International Volleyball's World Championships.
"I'm very excited, because it means I get to represent my country, while doing something I love," Barnes said of the opportunity to play internationally. "I'm also excited to play against the best U21 players in the world. I don't have any expectations — just to play my best and have fun with my partner, Ayden Keeter."
The journey for the duo started six months ago, when they competed in the USAV 18 National Championship tournament. Their performance there led them to wanting to take a shot at the U21 USA Trials to see where they stacked up against some of the best players in the country.
Not only did they play well, but they were able to showcase their teamwork and ability. All summer long, they stepped up to the challenges of each tournament, and won multiple national championships along the way.
Their efforts — coupled with a few players having to back out on the U21 level — have provided Barnes and Keeter with the chance to join the U.S. national team in Thailand. They will be heading out to Chula Vista, Calif., to train at the USA Olympic Training Center prior to leaving for the FIVB World Championships.
Midweek this week, Barnes and Keeter — along with their parents — were in Clearwater, Fla., participating in the AVP Beach Volleyball Junior East Coast Championships.
Barnes and Keeter have been working extremely hard and have earned themselves an opportunity Barnes said they are very excited to have ahead of them.
"I've been preparing by playing volleyball," Barnes said of how he's been preparing for the upcoming World Championships. "I've played in California, Tennessee, Annapolis (Md.), Florida and locally."
Keep updated on how Barnes and his partner are doing by following the Coastal Point sports news Facebook page.