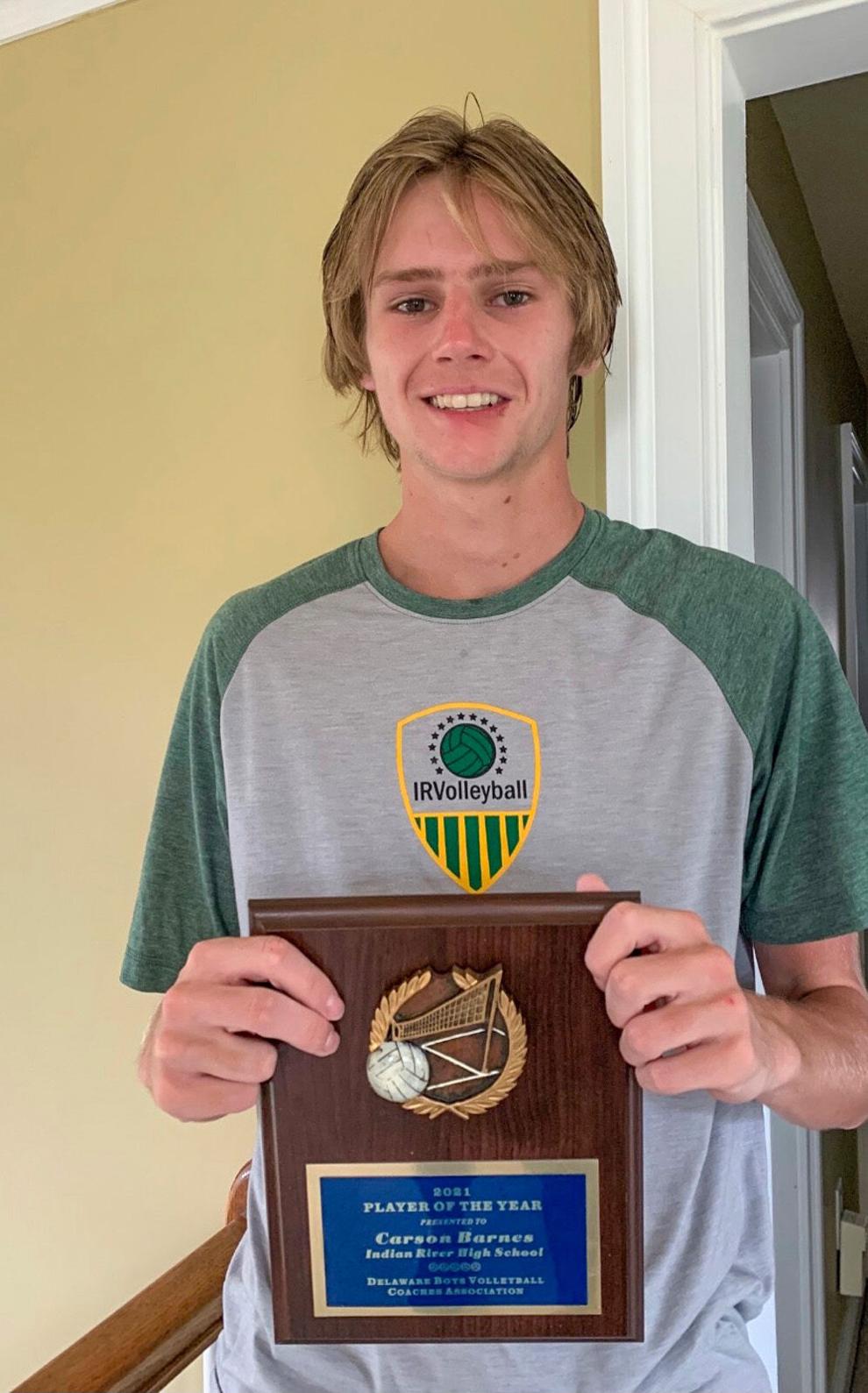 For the first time in the program's young history, the Indian River High School boys' volleyball team can boast that it has the best player in the state of Delaware, as junior Carson Barnes has been awarded the honor by the Delaware Boys Volleyball Coaches Association.
Barnes led the Indians to a No. 2 seed in the invitational state tournament this season, thanks to a 9-1 regular-season mark. The team won their first-round match in the tournament 3-0 over Cape Henlopen before bowing out to Delaware Military Academy, 3-1.
Barnes was the complete player for the Indians this season, especially since he had to help recruit several players to the team after it was depleted by graduation last year, as well as the COVID-19 pandemic. The team's captain, Barnes was the team's physical and emotional leader all season long, and served as another coach on the floor for the inexperienced squad.
"I was very honored to have been selected as the Player of the Year," Barnes said of his award. "I worked very hard this season — not only for myself, but for my teammates. This is not just my award, but also an award for my teammates, because without them it wouldn't be possible.
"I really tried to help [my teammates] get better every day. For many of them, it was their first time playing volleyball. For us to have the success we did as a team was very rewarding."
Barnes averaged more than 20 kills per match this season, with a total of 244. He also had 32 aces, with only 12 serving errors. Add into the mix 11 blocks, 11 assists and 164 digs, and it all equates into what a Player of the Year should be — the total package. For good measure, Barnes' serve receive passed rating was a 2.51 out of 3.
"Carson is a great player that is fun to watch," said IR head coach Jim Barnes, who also happens to be Carson's dad. "He really has a good understanding of the game and control of the ball, with the ability to get the impressive kill, which will have you hear the occasional 'Wow!' and 'OMG' from the fans watching.
"Carson also displayed great sportsmanship and gamesmanship this year. He appreciates his teammates, coaches, and has built positive relationships with players from the other teams. He realizes that he is a good player but stays humble, knowing that he can always get better and works hard to do so."
Barnes also garnered First Team All-State honors as well this season for the Indians.
When not in-season, Barnes is playing for the Sandsharks Beach Volleyball Club, as well as the Annapolis Volleyball Boys National 18U Team. His efforts both on and off the court have gained him plenty of exposure to the game, and have certainly provided many opportunities to continuously improve.
"I am always looking to get better," Barnes acknowledged. "I really enjoy playing beach volleyball because it allows me to work on my overall game, and not just focus on being a hitter. I am very excited for what the future holds, and want to continue to work hard for not only myself but for my teammates."
Barnes will now shift his focus to his two club teams for the summer after participating in a state volleyball all-star showcase on Tuesday, May 25, with teammates Michael Peterson and Gustavo Rivera Tejeda.