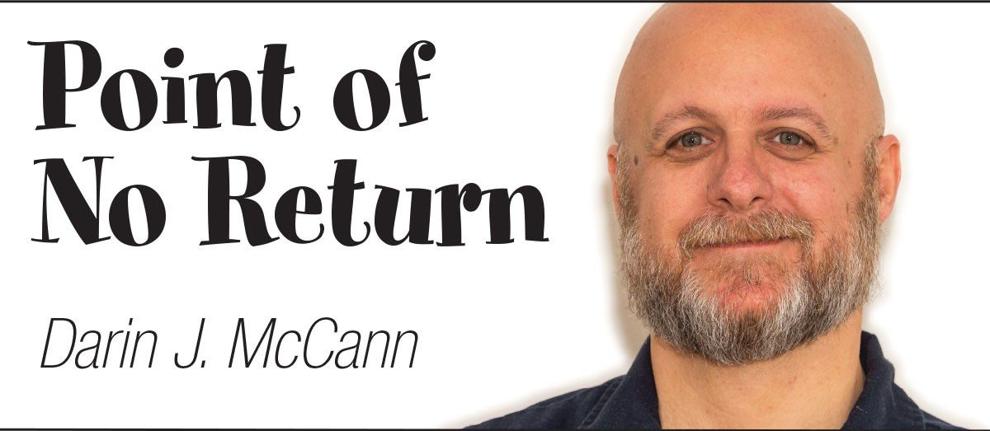 I was planning to start this out by saying that 20 years ago, I had hair.
It wasn't the strongest head of hair you've ever seen, mind you. But it was there — brave follicles knowing full-well what their future held for them after watching the unbearable horrors of gravity and genetics annihilate their colleagues and...
But I digress.
And, now that I look at it, I guess I did start this out by talking about the fact that I had hair remnants 20 years ago. And while I'm sitting here banging away at this piece, it's easy to recognize that a lot has changed since Sept. 8, 2001 — exactly 20 years before this paper went off to the printer.
For instance, my Baltimore Ravens were the reigning NFL champions, having undressed the New York Giants in Super Bowl XXXV behind a historic defense. The Orioles, on the other hand, were winding down a season that would see them lose 98 games during the last chapter of Cal Ripken Jr.'s illustrious career.
I had yet to meet my wife at that time, let alone my daughter. I did not yet know that one could pull a muscle in one's back by sneezing, or that I would one day enjoy sitting down and eating a salad that did not feature sauce-slathered ribs or Reese's Peanut Butter Cups as major components. I had no idea that Keith Richards would somehow still be, well, Keith Richards, and there was absolutely nothing to suggest to me that Scott Baio and Alec Baldwin would be influential figures in our nation's politics.
Also, I had never seen cowardly bags of rancid filth fly airplanes into the World Trade Center or the Pentagon, nor had I heard of a group of passengers on another plane willingly sacrificing their own lives to protect those of strangers.
So, things changed a few days later. Everything changed a few days later.
Everything.
I've always thought that this version of America lost its innocence that day. Oh, many have seen war, or been victim to disgusting or horrific crimes, or experienced grave loss — but collectively, as Americans, many of us had been largely sheltered from things like enemy combatants attacking us on our own soil.
The Civil War and attack on Pearl Harbor forever marked earlier generations of Americans, and Sept. 11, 2001, stained a new wave of this nation's sons and daughters. We lost not only our innocence, but also our sense of security. Americans had not dealt with bus-bombings or mass hijackings or any other number of terrifying incidents like the ones from far corners of the world that we had all seen on our television screens.
Until that day. The day everything changed.
All of us of a certain age have our "9/11 stories." Where we were. How we first heard about it. Loved ones we feared might have been caught up in the unspeakable carnage unfolding before us on live television. The resulting fear, anger, sadness and confusion that enveloped many of us like a thick fog.
Mine took place on a seemingly-normal Tuesday-morning deadline while working as editor of another local newspaper. Interestingly enough, I had the same publisher at the time, in Susan Lyons, and was working with Kerin Magill, a reporter whose professionalism and presence I still get to enjoy today here at the Point.
Now, "seemingly-normal Tuesday morning deadline" is a magnificent misnomer. There is nothing normal about any deadline, outside of dangerous blood pressures and nearly-poetic streams of profanity and veiled threats flooding out of the editor's office. But this one didn't seem any different than the others.
Until it was. Until the bowels of Hell were unleashed on people who were wiling away at work, or traveling to different destinations or doing any one of 75 million things that had nothing to do with the human garbage who decided to purposely take the lives of innocents that day.
We heard about the first plane hitting a tower, and it became a bit of a conversation around the office. When the second plane hit, the conversation moved from curiosity to confusion. As the rest of the morning unfolded, anger, sadness and fear ruled the day. Somehow, we got the paper off to the printer. We had a quick staff meeting, and everyone took off to go home and glue themselves to the news, try to contact people who might have been in danger that morning, or simply hug our loved ones.
The next day was another filled with tears and fears, as casualty numbers became more clear, and our grief became even more pronounced. But there was also an air of patriotism in the wind, as businesses and churches dedicated their marquees to messages of hope and love, and strangers stopped to talk with one another. We were united — bound together through a shared experience, and we watched as our leaders in Washington presented a united front.
We know what happened next. We went to Afghanistan in search of justice. We went back to our division by affiliation. We fought over, well, everything. Still do.
This Sept. 11, take a moment and remember all those who were taken all too soon. And remember that next day, too, when we were all the same.
And my hair. Remember that head of hair, folks.