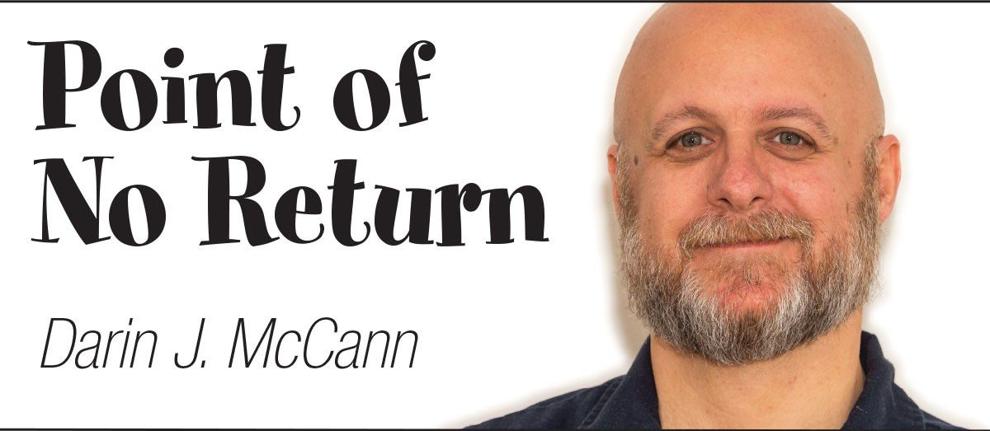 It's almost sad that we have to be reminded every year to be thankful, isn't it?
Here we are, blessed to be in what many still consider to be the best nation in the world, and all we tend to find the time to do on a consistent basis is complain. We live in a time in history that sees the very best medical care mankind has ever before witnessed, enjoy technological advances that allow us to communicate with loved ones instantaneously in any corner of the world and can read that handsome editor's column at the Coastal Point with a press of a finger, yet we spend far too much energy whining that our Wi-Fi is slow for a few minutes.
And, come here. Lean in.
We live at the beach, yet hardly anybody ever walks around with a smile on their face unless they are walking out of a happy-hour special. This should be a place filled with smiles, Hawaiian shirts and... well, happy-hour specials galore. That's a gratitude buffet right there, right?
But we sulk. We fawn over our neighbor's new car, or complain about advantages other people get. In the grand scheme of things — being where we are, and when we are — we have so much to be thankful for, don't we? Yes. The answer you are searching for is "Yes."
And I'm blowing a lot of smoke here about being thankful for every blessing in my life when I am probably more guilty of not stopping to appreciate all that is around me than any of you. I stink at it. I mean, here I sit with this beautiful face and chiseled jawline and all I can do is...
But I digress.
Without further slipping down this false-bravado rabbit hole, let's get to that same old column every other talent-deficient hack in America is writing this week. I present to you the things I am most thankful for this year:
• I'm thankful for my wife and daughter. We could fill this column up with just that statement, and I'd be fine with it. They truly fill my soul.
• I'm thankful for happy-hour specials. Who's with me?
• I'm thankful that I have been blessed with family and friends and co-workers who showed me ridiculous kindness, patience and support when I lost my mother earlier this year. To say I've been a mama's boy my entire life might be underselling it a bit, if we're being honest. She was one of the smartest and funniest people I've ever known, and she was my greatest cheerleader in life, even when I was offering her very little to cheer for at various stages of my journey. That pain will never go away, but neither will the gratitude for everyone in my life who was "really there for me."
• I'm thankful for having a goofy dog that excitedly jumps on me every time I walk in the door, no matter what kind of day I just finished. We talk about "unconditional love" a lot in this world, but I'm not sure anything displays that as much as a faithful dog. I'm maybe not as thankful for how she bullies me to becoming a contortionist in bed each night as she feels the need to sprawl out sideways before she begins her symphonic sounds of canine flatulence and snoring for the next six to eight hours, but you get what you get with a dog, right?
• I'm thankful for the friends I've made in this community over the past few decades, and I look forward to the new ones I make over the next couple. Editor's Note: I fully recognize that it sounds a little cocky for a man of my advanced years to talk about the next couple decades like they are a foregone conclusion. But, if you haven't noticed from my earlier comments about my beautiful face and chiseled jawline, that's kind of how I roll.
• I'm thankful for my sister, her husband and my three nephews. No snarky comment here.
• I'm thankful for my... OK, one snarky comment to go with the above bullet point. My sister has cooties.
• I'm thankful for our publisher, Susan Lyons, and her entire family. It's been a blessing to work with her for the last 22-plus years, but the greater joy has been being "taken in" by her clan.
• I'm thankful for great food, a nice short glass of Tullamore Dew and strong coffee. I've had to enjoy each with a little more moderation over recent years, and maybe that makes me appreciate them more. But, man, all three of these things can make me smile.
• I'm thankful that my beloved Baltimore Orioles finally began to show signs of life this year after some tough years of getting bashed in the head over and over again for 162 games chock full of ineptitude, poor contracts and the general presence of a living, breathing, walking collection of awful decisions. The future actually looks bright, if they can stay out of their own way.
• I'm thankful for all of you who read our paper, advertise your businesses and generally care about your community.
• I'm thankful for the Pointies. You guys are awesome.