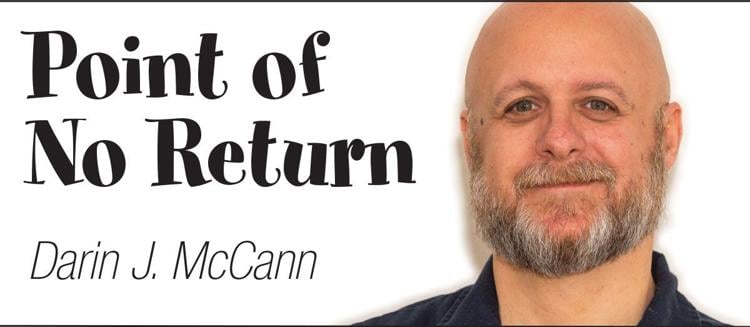 "Who was that masked man?"
Well, nearly everyone. With all due apologies to "The Lone Ranger," and with the complete understanding that I'm dating myself with that reference, there are tons of masked crusaders out and about these days.
People in the grocery store aisles are wearing masks. People in the drugstores are wearing masks. People working at restaurants, or those picking up their food orders, are wearing masks. The guy running out of the bank with the burlap sack with a dollar sign emblazoned on it was wearing a mask as he sped by me... oh.
Regardless, people need to go out in public to get goods, and they are largely being smart about it by wearing some kind of protection against this invisible foe the globe is battling. There are videos circulating on social media and online video platforms instructing people how to make their own masks, and neighbors who are just making as many as they can to help out one another. It's become the latest and greatest uniform sported by humanity, and it has a purpose to boot — win-win!
Of course, some of us are placed in positions where that mask is even more critical than it is for the rest of us: those healthcare workers on the front lines of this mess who are interacting with sick patients each and every day. They aren't wearing masks because they might encounter someone with COVID-19. They are wearing masks because they are consistently interacting with people who do have COVID-19.
Marinate on that for a minute. Then please say a prayer for these folks, or offer your gratitude or whatever it is you do as an individual.
Southern Sussex Rotary is trying to help out, as well. Along with other local Rotary clubs and organizations, they are raising money to buy 10,000 medical masks for local hospitals. The masks are being purchased through Disaster Aid USA, and the effort is part of the Masked Superhero Project.
They can't do it all by themselves and are looking for a little help from the community. According to organizers, a donation as small as $15 can cover the cost of 10 masks. Think about that. It's a pretty easy way to make what could be a life-saving contribution for people who are, well, life-savers. That seems like a decent investment in our community, and humanity in general.
To donate, contact President-Elect Amy Senseny at (302) 841-5909, or donate through their website at southernsussexrotary.org.
SoDel Concepts is also trying to get a little support heading the way of our healthcare heroes, with a fundraising effort this Saturday, April 18, intended to help out the Beebe Healthcare COVID-19 Relief Fund. Eleven of SoDel's restaurants will donate 100 percent of their takeout sales to the fund. Keep in mind that restaurants across these fruited plains have taken huge hits from coronavirus-related shutdowns, and SoDel is no exception. But they plan to try to help the greater good.
"The doctors, nurses and other healthcare providers are doing a remarkable job of caring for our community in this crisis, and we are committed to their wellbeing and safety," said Scott Kammerer, the president of SoDel Concepts. "We want to help them get the resources they need to continue the fight."
The restaurants have online ordering available, and those menus can be found at sodelconcepts.com/carryoutmenus. The community can also donate directly to Beebe's fund by visiting them online at beebehealthcare.org/donate-funds-covid-19-relief.
Karen Kampmann, the creator of I Love Bethany Beach and owner of Dragonfly Social Marketing, reached out to Lili Oller, the owner of Water Lili, to try to help our local businesses. They came up with a contest that features a nice grand prize as an incentive, and they are calling it the "Community Over Covid Revolution."
The contest encourages people to buy gift cards and/or products from participating businesses online, and every $25 spent earns a drawing entry for the prize, which will include a gift certificate from all participating businesses. This gets cash in business owners' pockets at a time when, well, no cash is getting into business owners' pockets, and encourages people to come back to these businesses when we return to normalcy.
"It's a win-win," said Kampmann, "generating income and awareness for all involved. Folks can shop in their PJs while sipping their favorite beverage, all while generously helping our community when we need it most."
The list of participants is growing quickly, and those interested can go find all the details at ilovebethanybeach.com/contests.
Really, we are surrounded by heroes these days. That's some comfort during otherwise uncomfortable times, right?