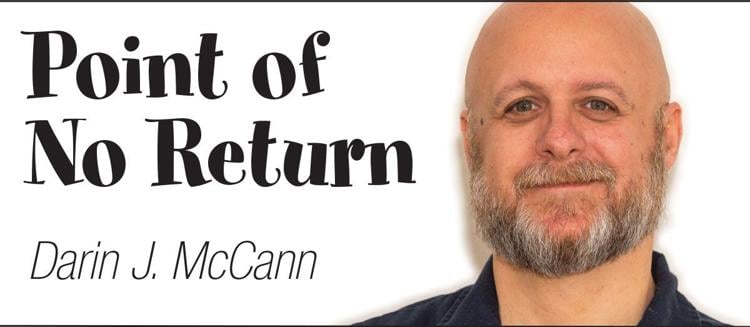 I really don't want to imagine a world where I no longer look forward to things with childlike anticipation.
Sure, we've all been hardened by things in our lives that can build up our shells and force us to keep up our guards a little longer than we used to, and I'm not immune to that. You don't touch a hot stove without thinking twice about doing it again, right? Right?
After watching some of you people on social media lately, I'm not entirely sure that's something I should assume.
Regardless, while we age and understand that there are no certainties in life, and it's always probably a little better to practice a little restraint in regards to how wildly we anticipate something good to happen, I argue that we should still treasure those things we do, indeed, look forward to in life. Maybe it's a holiday that fills you with hope. Or a family vacation. Or the NFL Draft. Or picking up your kid at a bus stop. Whatever it is that you look forward to, you should still look forward to.
Now, before we go any further here, let's all accept that 2020 is a different animal. Many of us have lost or altered those vacations we were looking forward to, and our holidays have taken on a different feel. The NFL Draft, like nearly every other instance of human interaction this year, was done via web conferencing, and it's certainly not five days a week you can pick up your kid at the bus stop, at least not here.
But it's still ok to look forward to those things, no matter how limited they might be this year. I still love waiting on my daughter to get off that bus two days a week. I still had fun eating turkey and offering thanks, even though my loved ones were scattered across the country. I'm still glad the Ravens took Patrick Queen in the first round of the NFL Draft, even if his anticipation skills still need a lot of help, and the team hasn't solved it's endless quest to find a game-changing receiver...
But I digress.
One of the things I most look forward to every year (allow me to pull out my "nerd" card here) is the unveiling of the word of the year by Oxford English Dictionary (OED). There's no red carpet, and fashion reporters do not critique the wardrobe choices of etymologists, but you can still learn a lot about the times of any era simply by seeing what word stood out the most in that year.
But, like everything else in 2020, a wrench got thrown into this year's unveiling, as one word simply would not do it justice.
"It quickly became apparent that 2020 is not a year that could neatly be accommodated in one single 'word of the year," said OED officials, and cited the English language in 2020 as adapting "rapidly and repeatedly," per a CNN story.
As the introductory paragraph of an NPR piece read, let's take a look at how the world, and its words, changed so dramatically this year:
"Just a year ago, a sentence like, 'I was in self-quarantine so I had nothing to do but doomscroll and found an article about an anti-mask rally that looks like a superspreader event' would've gotten you pinged as a weirdo, but it's completely normal for 2020."
So, the OED took a different approach this year, and released a report titled, "Words of an Unprecedented Year." They explained how different words gained popularity in their usage throughout the year, as determined by "spikes" they could track online.
For instance, "Black Lives Matter" and "Cancel culture" were prevalent in June, according to the CNN story, while "Mail-in" grabbed momentum in August. "Superspreader" gained traction in October, along with "Net Zero," which refers to Chinese President Xi Jinping's pledge that China will be carbon neutral by 2060.
The report also showed that "coronavirus" was more frequently used than the word "time" by April, and "time" is one of the most frequently-used nouns in the English language. They also highlighted "remote," "Zoom-ready" and "furlough," according to NPR.
So, yeah, 2020 has wrapped its virus-laden tentacles around just about every single piece of our lives this year, including my beloved "word of the year" tradition. But here's a secret for you...
Come on. Get closer. It's a secret.
It's not the worst thing in the world. Yes, the death, suffering, economic destruction and acrimony amongst the American people is positively gut-wrenching. Those facts are not in dispute, and 2020 could go down in the history books as one of the most tumultuous and awful years in the brief history of this glorious nation.
But as the words of the year do show, we did adapt. We have adjusted the way we conduct our business, we've watched pharmaceutical companies rush to hopefully find a solution and we've seen the human spirit, once again, shine more brightly than any darkness that could be cast upon us.
We will all remember 2020 as a year of struggle. A year when we "couldn't do stuff" and couldn't see people the way we could in a "normal year." But let us all remember it for exactly those things, as well as how we responded.
And now we get to look forward to 2021, and all the crazy words and phrases that might come with it.