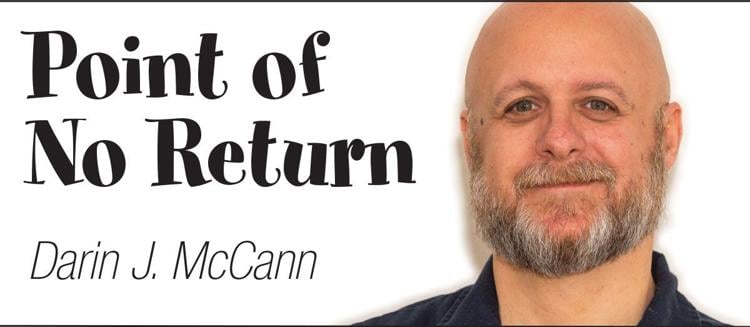 "The gift that keeps on giving."
Are you familiar with that expression? I actually tried to find the genesis of that term, and discovered that it has been used in marketing for years — originally traced to an early-1920s campaign by Victor Radio, and then used by various companies throughout the last 100 years, including Hotpoint Appliances, DuMont Electronics, RCA Victor, Kodak and Godiva chocolates.
The theory behind the expression is that the proper gift is not a one-time deal, and it should bring joy or functionality to the recipient long into the future. Or, in the case of Godiva, one could share his or her chocolate with others, making it a "gift that keeps on giving." That is an interesting concept in that…
But I digress.
My beautiful and should-already-be-sainted mother gave my wife and me what we called "the gift that keeps on giving" about 14 years ago, when she delivered a scrawny, wild-acting pug puppy named Bailey to our door as a housewarming present. I grew up in a dog family, and was happy to have a furry, four-pawed addition to the house, but got a little concerned with the sound of her breathing.
Now, if you have spent any time around pugs, you know that their normal breathing sounds consist of a marriage of grunts, snorts and gasps that compare to an obscene phone call from a Martian or me walking up a flight of stairs. My parents had previously owned a pug for years, so I was at least familiar with those noises, but Bailey's were different. She seemed to get exhausted from the mere act of breathing, and she got winded very quickly when playing.
We took her to a vet and discovered that she had emphysema, which most likely developed from kennel cough as a newborn. I got the bill for the doctor's services, promptly blanched from the taste of bile in the back of my throat at the cost and muttered about "the gift that keeps on giving" as I planned to eat cereal for the next six weeks in response to the bill.
Bailey also developed epilepsy, which caused her tiny body to convulse and stiffen and break our hearts from minute to minute. Another visit to the vet came with more financial and emotional cost, and we were told that the most likely scenario at that time was that Bailey wouldn't see her first birthday.
But, like an Energizer Bunny, Bailey just kept chugging along, despite her very serious health concerns. She did make it to that first birthday. And her second. At some point in that third year, Bailey had a seizure so bad that it literally knocked her eyeball out of the socket. She got put on different medications, and her world got completely flipped upside down when we took in another puppy, named Guinness, that had been in an abusive situation.
And Bailey just kept going — the gift that kept on giving.
Bailey was 8 years old when our daughter arrived, and that meant another adjustment for her to make, as the attention afforded her was divided once again — this time even more severely than the last. She was curious about this newcomer, but kind of kept her distance. Guinness and the baby bonded right away, but Bailey wasn't sure yet, and the baby seemed just fine avoiding Bailey, as well.
Two years ago, we lost Guinness to cancer, and that one hurt bad. She was the fun one with a ton of energy, and the protector of our daughter. Bailey and Guinness became close over the last few years together, and Bailey retreated deeper into herself, sleeping or lying alone for months after Guinness passed.
Gradually, our daughter and Bailey grew closer. There were many times I would walk in the living room and see my daughter watching television, softly petting a resting Bailey. On those rare occasions when Bailey would get into a playful mood, my daughter would practically lose her mind laughing over Bailey's energy and excitement.
And then, a few weeks ago, we suffered a tragic family loss and had to say goodbye to Bailey, a week short of her 14th birthday. That flatulent, heavy-breathing, wildly-expensive pug that snotted on my face as I slept each night and seemed to be on death's doorstep for more than a decade, finally succumbed.
And it absolutely broke our hearts.
The house feels a bit emptier these days, and my daughter now sleeps with Bailey's food bowl and a touching photo of Bailey given to us by my friend Al Casapulla next to her bed. I find myself reaching next to me when I sit on the couch and not finding anything but some stray hairs that appear to be permanently embedded in the upholstery.
I catch my wife tearing up sometimes, and instantly know why. We all know why.
We lost our gift — the one that just kept on giving.