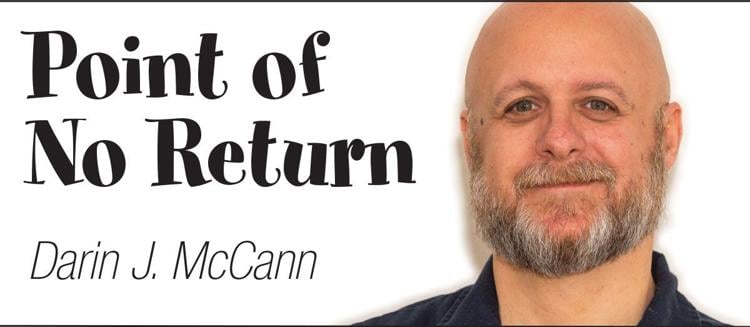 Let me tell you about Elsa.
No, not Elsa of Arrendelle, the Snow Queen of "Frozen" fame who built ice castles with a wave of her hand while simultaneously belting out Broadway-caliber songs, though this one was named after her by my Frozen-obsessed daughter.
The Elsa I'm talking about today is our 4-month-old, husky-boxer-bull terrier mix that has infiltrated our home with a constant barrage of tiny little bites, unexplained mad-dash sprints around the house and piles of, well, you know, things that resemble an odiferous minefield in a war-torn land.
She's actually a great puppy — affectionate, happy, playful and pretty smart, if you don't take into account the number of times I've watched her fall off the couch while scratching an itch. But who of us have not had that happen a couple times a week?
Anyone?
Regardless, Elsa is pretty darn cool. She has bright blue eyes and a patchwork of colors in her fur, and loves going on long walks, even if she stops a few times to lie down and enjoy her surroundings. What she has not done, at least to my immediate knowledge, is save a missing woman and 1-year-old baby.
Which brings me to Max, a 2-year-old German shepherd mix who serves as a police dog with the Dyfed-Powys Police in Wales. After rigorous training, Max began his first day on the job as a licensed police dog tasked with helping authorities try to locate a mother and her child who had not been seen for two days, according to a BBC article.
Police did have a starting point for the search when they discovered the woman's car on a mountain road, according to Inspector Jonathan Rees-Jones, via an article in USA Today.
"This is where PD Max's tracking skills really came into play," said Rees-Jones. "Despite only recently becoming licensed, and on his first operational shift, he immediately commenced an open area search."
Max and his handler, Police Constable Peter Lloyd, eventually found the missing woman near a steep ravine on a mountainside, according to police officials. Mother and child were "safe, but cold," according to police.
"I was really pleased that during our first operational deployment as a dog team, myself and Max were able to safely locate the missing mother and baby," said Lloyd. "Max remained focused throughout the long search and he proved invaluable when he reacted to the call for help which resulted in us locating them."
In contrast, Elsa took off with a spoon I dropped on the floor while putting my ice cream bowl in the sink, and I haven't seen it since Sunday afternoon. It hasn't shown up in any of her land mines, though, so I'm still hopeful. I mean, yeah, I'll wash it and all if it turns up, but...
But I digress. Let's just stop right there.
Obviously, Max and Lloyd were not the only ones responsible for helping this woman and her baby. The Brecom Mountain Rescue Team, an NPAS helicopter, an advising search expert and others were all parts of the effort to find them, and, like any type of operation, they all needed to do their part to make it a success. But let's take a second here and offer some appreciation to Max and other dogs who serve every day to try to make the world a better place.
In a 2015 Washington Post story, Jim Watson, director of the North American Police Work Dog Association, estimated that there were about 50,000 working police dogs in the United States. I have seen other sources state that the number could be upwards of 80,000.
The American Kennel Club boasted that police dogs aid in apprehension, detection and search-and-rescue operations, like our buddy Max in Wales. We've seen dogs help out in jails, with detecting contraband and drugs, quieting risky situations and helping in ending uprisings.
And we've seen handlers bring their dogs out to both entertain and educate our local children. Heck, Ocean View's K-9 Hardy has helped find missing children and drugs, and his handler, Cpl. Justin Hopkins, received the 2019 Joshua M. Freeman Valor Award for raising more than $26,000 to provide a Tactical Canine Casualty Care training course for all Delaware K-9 police teams. Basically, these dogs, and their handlers, rock.
While Elsa, on the other hand, might have eaten a rock the other day. I'm still waiting for that one to make an appearance.