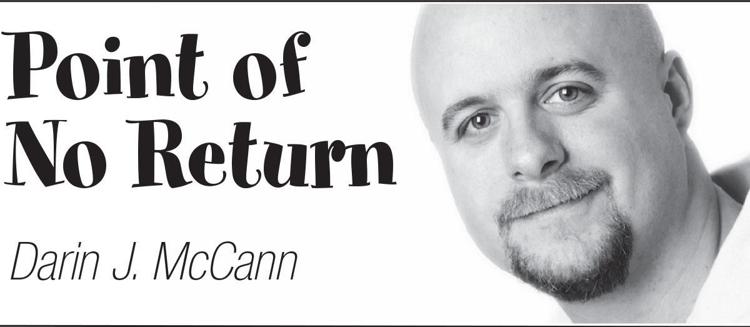 It's probably time to start paying attention to what's taking place near Dagsboro. In fact, it's probably past that time, because the freight train that is the Delaware Botanic Gardens at Pepper Creek is already rolling down the proverbial track. And it is only picking up steam now.
Last Thursday, Sept. 6, I was fortunate enough to get a sneak preview of the progress at the Delaware Botanic Gardens (DBG) at their 1st Annual Dinner at the Gardens event. For the record, the event itself was fantastic, despite intermittent rain and some bordering-on-unholy humidity between downpours.  
Our publisher, Susan Lyons, has volunteered at the DBG over the past few years, and took us on a tour through a winding wooded path that led us to a picturesque and serene spot along the water. Dotting the path were tiny flags showing where future plantings will take place, and a few pterodactyl-size nests fashioned together out of random sticks and branches by volunteers. When we re-emerged from the woods, we found ourselves on the perimeter of the DBG's crown jewel — the Meadow at the Delaware Botanic Gardens, designed by internationally-renowned Dutch garden designer and author Piet Oudolf.
According to DBG's June newsletter, a proclamation from the Delaware House of Representatives, presented by Rep. Ron Gray, read that the "design consists of more than 65,000 herbaceous flowering plants and grasses that include 85 percent native species and the remaining 15 percent pollinator-compatible exotics."
Admittedly, I am without a green thumb, and know little to nothing about the world of gardening. I once had a cactus as a kid, but I'm pretty sure I remember trading it to someone for a candy bar at some point. Or, it could have been a pack of gum. Or, now that I'm thinking about it, I seem to recall...
But I digress.
Speaking from the position of someone who is admittedly uninformed, 65,000 herbaceous flowering plants seems like a lot. Speaking from the position of someone who was standing on a small hill looking out over the meadow last Thursday evening... Wow. It is a find-yourself-lost-in-wonder-type place — the kind of rare aesthetic beauty that allows you to simply cast aside any stresses or concerns you might have banging around in your head, and instead get lost in the tranquility and ease that sometimes only nature can provide.
In those moments before another dumping of water came cascading down upon my head, I felt like I had found my Nirvana, and I was already excited about the notion that this instant "happy place" is right up the road. It was staggering to see what was taking place at the DBG, and between the raw beauty all around us and the fantastic glass of bourbon clenched tightly in my fist, life was good.
As far as that glass of bourbon goes, it came from a bourbon-tasting table that was set up by Ted Banks of Banks Wine & Spirits. There was also a station set up by Dogfish head, offering some selections from their vast lineup. These are not lightweights in the community, folks. The DBG is lining up prominent local supporters and donors, and Dogfish Head is also sponsoring the Wetland Outdoor Classroom, another feature that I'm looking forward to in the future.
Ronnie Burkle and his crew from SoDel Concepts prepared a remarkable meal for the event, and as guests, volunteers, donors and supporters feasted on the results of SoDel's hard work, speakers gave updates on the progress of the Gardens, the work ahead and the need for more resources to continue building on the Delaware Botanic Gardens before its anticipated opening in 2019.
You know a simple way of determining if people were impressed that evening by the DBG and the people working on making it a reality? According to Sheryl J. Swed, the executive director of the Delaware Botanic Gardens, they raised more than $100,000 that night.
That's a lot of plants.
But it's going to take a lot of plants to make this project what the organizers envision it becoming, and it's going to take a lot of volunteers to help bring those dreams to the surface. Maybe I should have said "more" volunteers, because according to Carol McCloud, the outreach coordinator and a board member of the Delaware Botanic Gardens, there had been 8,005 hours of work performed by volunteers at the Garden from 2016 to last Thursday's event.
Let those last few numbers roll around your mind for a minute when you think about what's happening down off Pepper Creek. They raised $100,000 at an event the other night, and volunteers have already performed 8,005 hours of service to the Gardens, with plenty of work still to get done.
The Delaware Botanics Garden is going to be a really big deal, and, as I learned for myself last week, it already is. There was an air of pride and confidence amongst the leadership and volunteers at the event, and the energy and enthusiasm from everyone in attendance was unmistakeable.
This will be a terrific place to take your family on a pretty day, a destination for students to learn more about their natural surroundings and an economic boon to our entire region. Make no mistake about it — garden enthusiasts and vacationers will come from everywhere to enjoy this garden when it's done, and they will be visiting shops, restaurants and lodging establishments while they're here.
The train is coming. And it's coming fast.