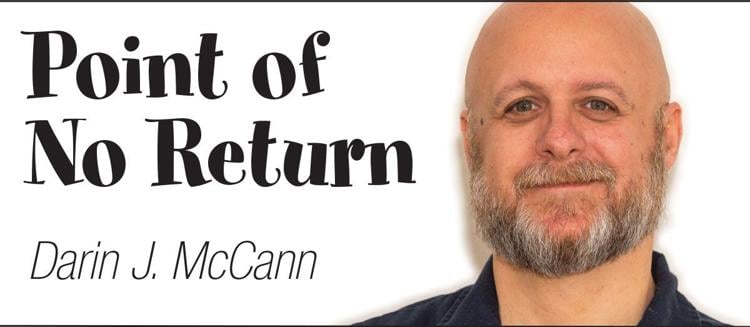 Fate is an interesting concept to me.
You know, the idea that there is some kind of predetermined course for each of our respective paths to take in life, and that they may, or may not, intertwine with each other's in, again, a predetermined outcome. The architect of this reality in our lives would be, in my personal belief, God, while others of you might have a different higher power or spiritual conductor who would orchestrate your every interaction and life event.
Or — and this is another possible concept — it's all a bunch of hooey. We create our own fates by working hard and treating people well, and the only thing really predetermined in this wacky spinning globe we precariously share with one another is that flies will bite the ever-loving soul out of any living thing on our beach during a west wind.
Regardless, I keep going back to fate.
For instance, I wonder if it was fate that led me to having lunch at the former Fat Tuna one day and meeting my future bride. Or if fate led me to Delmarva one weekend for a trip that ultimately led me into moving here for good. Or if it was some kind of predetermined master plan that brought me to crossing paths with my dear friend Jane Meleady.
You see, I was looking to move to the area from Philadelphia in the late 1990s when I remembered that a newsman I had known from the City of Brotherly Love was now managing editor of a paper in Ocean City. I reached out to him, and he ended up hiring me on the spot.
What I didn't know was that he had neglected to share that information with the office's general manager, who was out of the office at the time. When I showed up to work for my first day, well, the GM was a bit surprised, to say the least. "Awkward" would be a good way to describe my initial foray into working with her.
But, as fate would have it, that GM was Jane Meleady. And I've been blessed to have her in my life ever since.
A lot of you know Jane. She's been working for newspapers up and down the shore for more than 40 years — the last decade-plus of which has been working right here at the Coastal Point as an advertising representative.
Jane and I became close when I was working for her in Ocean City. She knew I cared about her and the newspaper, and I knew she cared about me and the newspaper. I also knew she cared about my fellow reporters on staff. Our editors. Our ad reps. Our production people. Our administrators. The folks who delivered the paper. Random people who swung through to ask for directions.
Jane cared about human beings. She always has. She always will.
Circumstances led to me taking a job in New England eventually, and when I came back to Delmarva, I did so without a job — again. Jane called the general manager in Bethany Beach (one Susan Lyons — you might have heard of her), and got me an interview. I ended up being editor of that paper for a little more than two years before something (Fate?) led me to Atlanta.
Jane had moved on to a Rehoboth Beach newspaper by that time, and when she had a need for an editor, I came running — reuniting with a woman who I felt made me a better person and journalist. When you watch someone show nothing but kindness to others, even when it is not-often-enough returned, well, you want to improve your own abilities to be kind. You want to be better.
Right?
Something (Fate? Temporary insanity?) led me to helping start the Coastal Point with Susan Lyons a little while after that, and something else (Fate? Temporary insanity by Jane?) led Jane to join our merry little band of mayhem-producers and misfit toys a few years later.
Once again, in a different office, in a different town, Jane became an object of everybody's affection. People here were drawn to her for her ability and willingness to share her love, and her passion for all that is good in humanity.
Jane is nice. That's the best way I can put it.
Last week, we said goodbye to Jane as she stepped off with her husband, Greg, into a life of retirement. There were tears as we wished her well. Laughter as we shared stories. And love as we all embraced who she is and what she stands for. It was a celebration, both for and of Jane, and all that she is.
All the best to you, my friend. May fate bring us together once again.