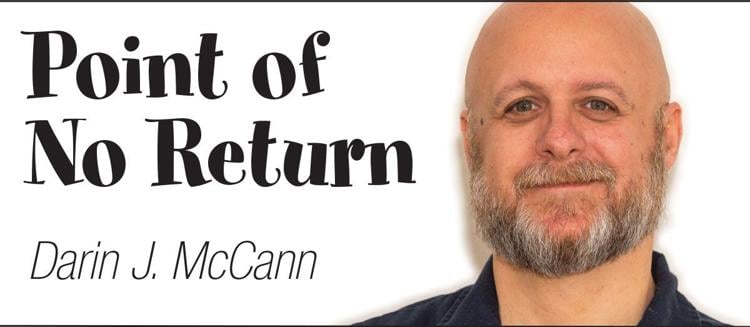 Most of us are at least aware of the term "mid-life crisis." It's basically when a person wakes up one day, comes to the jarring realization that the years ahead are maybe fewer than the years behind, and that individual clings to his or her youth with a drastic change of behavior, such as buying a snazzy little sports car, dabbling in the mystic arts of spray-on hair or eschewing nights at home for carousing the bars into the wee hours.
Perhaps it was an "end-of-millenium crisis" that caused me, in the fall of 1999, to leave my adopted home of Delmarva and venture north to a larger media market, or maybe it was just misguided ambition. Whatever the case, I made the move, found a job I really liked and settled into a nice little life with good friends and talented colleagues I really respected.
But there was always that little "tug."
Know what I mean? That nagging feeling in my soul that I wasn't where I really needed to be — geographically or figuratively. I found myself driving back here a little more frequently towards the end of that winter in 2000. By the time spring broke, I was certain I wanted to come "home." And, without a job in hand, I came back at the end of April that year.
My previous boss at that time was Jane Meleady — who now works with us here at the Coastal Point as an advertising rep. She didn't have a position available for me, but allowed my former editors to give me a few freelance assignments to help pay my bills. By the way, one of those former editors of mine was Susan Canfora — who now works with us here at the Coastal Point as a reporter, and recently won a "Best of Show" award from the Maryland-Delaware-D.C. (MDDC) Press Association for a touching tribute she wrote about her mother.
Cool, right?
Jane later heard of a job opportunity up the road in the company's Bethany Beach paper, and she graciously helped me get an interview with that office's general manager. Long story short — I ended up accepting a job offer, and I became the editor of that newspaper 20 years ago this week. Oh, that general manager who gave me that job and changed my life forever? Susan Lyons — the publisher of the Coastal Point, my business partner and a true friend for life.
Ready for another fun little connection with this story? Our lead reporter at that paper at the time, 20 years ago this week, was a talented writer by the name of Kerin Magill. Kerin works with us here, as well, and recently received a "Best of Show" award from the MDDC for an article she penned about the changing of the guard at Fenwick Hardware.
When you're not very bright, surround yourself with very bright people. They make you look better. That's what I do.
Or, as Susan Lyons is fond of saying, "People make the paper." It is a mantra we have practiced since we started working together two decades ago. We hire smart people with great work ethics, try to give them all the tools they need to succeed and get out of their way. It's served us fairly well over the years, and any success this paper has had is directly tied to the quality of the individuals you find in our staff box every week.
Well, a huge chunk of the success, at least. The rest of the credit has to go to Susan.
Ours is a small community. Our business owners often know each other, and the lifelong locals have a connection the rest of us can't even get a close look at, usually. A reputation means almost everything here, and I saw firsthand how people thought of Susan's reputation when we started this paper 16 years ago.
People believed in her. They trusted her with their advertising needs and dollars, and they knew she would do right by them. She vouched for me, over and over again, and people were willing to take her word on me and give me a chance. I'm forever grateful for that.
And I'm forever grateful for our personal friendship. Since we first met I have been divorced, met a girl, married her and now have a 5-year-old daughter that puts the sunshine in my mornings. I've watched Susan marry off all three of her children, and celebrated in the arrivals of all eight of her grandchildren.
We have watched Senior League Softball World Series games together under a blazing sun, mourned the loss of one of the best people we've ever known in former Pointie Bob Bertram and shared cocktails in Ireland.
We've come close to blows over stories, argued over budgets and basically wanted to cause bodily harm to one another on more than one occasion. And we keep coming back, to the paper and each other.
Happy 20th anniversary, partner. There have been ups. There have been downs. And there have been scares. And for 20 years, there has been you.
Here's to 20 more. I wouldn't trade the ride for anything else in the world. You are family.