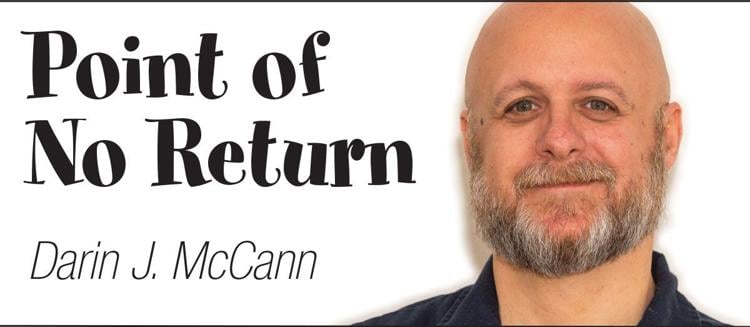 We all have our own impressions of what constitutes "The American Dream."
For some, it is championing that entrepreneurial spirit — rolling up one's sleeves and chasing down ambitions with a time-tested combination of blood, sweat and tears. For others, it might look different. Maybe they see the American Dream as building something secure and stable so the generations that come behind them have an easier path to comfort.
And, for many, it is the Rockwellian imagery of the white picket fence, dog asleep at the foot of the bed, and a son and daughter filling the home with laughter. Of course, that whole, "son and daughter" thing can get a little tricky, right? There's no button to push when one is pregnant to guarantee an equitable combination of genders. Sometimes a couple might have two sons before a daughter, or vice versa. Or three. Or four.
Or 14.
Let me introduce you to Jay and Kateri Schwandt, a couple who started dating during their freshman year of high school in Gaylord, Mich., according to a story by NPR. Their love proved not to be just a fleeting high-school romance, and they wed shortly after graduating high school before going off to Ferris State University in Big Rapids, Mich. By the time they graduated, the couple had three children, all of them owners of... well, the children were boys.
I was going to say Y chromosomes, by the way. Grow up, people.
The Schwandts continued forth with their happy lives, and their numbers continued to swell. Four boys. Five boys. Eventually, they found themselves with 14 boys, and still without that little girl — a statistical anomaly that was only .02 percent likely to happen, according to NPR. That doesn't even take into account Boomer, the family dog, who is also of the male variety. Their unique family situation had gotten them a little notoriety, and they recently debuted a television show called "14 Outdoorsmen."
They might have to change that name.
On Wednesday, Nov. 4, Maggie Jayne Schwandt was brought into this world — 7 pounds, 8 ounces of healthy girl entering the male-driven world of the Schwandt family. In a 2020 that has seen much of the country — no, the entire planet — endure upheaval, political and racial discourse, strain and, in many instances, abject ruin, the Schwandts have received their baby girl.
"This year has been so memorable in so many ways, for so many reasons, but Maggie is the greatest gift we could ever imagine," Jay Schwandt told the Detroit Free Press.
Tyler Schwandt, the first of the 14 boys and now 28 years old, said the family never really believed they would add a girl to their rolls.
"I don't even know if my mom owns any pink clothing — or anything," he said. "It's been about 12 hours since my dad told us, and I still haven't quite wrapped my mind around it."
Tyler added that there were certainly going to be some changes around the family's 200-acre farm — most notably, a new need to put down the toilet seats. That, by the way, is probably a courtesy that Kateri Schwandt would have liked to have seen play out many years ago.
Just a hunch. I have no inside information there. Just some palmprints embedded in the back of my head from my own mother growing up, for not remembering to put down the seat. You know, why does it fall on men to drop the seat? Why can't women simply...
But I digress.
Jay Schwandt is obviously excited, and not just because he suspects they'll stop expanding the family now with the arrival of Maggie Jayne. He's excited to join the ranks of "girl dads."
"I want a girl, a girly girl, but she's got 14 brothers," Jay Schwandt told Michigan Live. "She will play hockey, she will play basketball, she will get dirty, she will climb trees, she'll hunt.
"I can't wait to go to a dance recital or a daddy-daughter dance," he continued. "We're only 24 hours into this and I'm already looking 14 years down the road."
I haven't yet been able to find any comments from her mother since Maggie's birth, but I did stumble across something she told the Detroit Free Press earlier this year when she announced she was pregnant again. She said that there was enough testosterone in the house to "fill a stadium" and that if they were blessed with a little girl, she would be "the most spoiled and protected child her entire life, especially during her teenage years."
Huh. That brought me back to my own teenage years.
<Insert wavy lines and groovy flashback music here>
One of the most nerve-wracking experiences as a teenage boy was walking up to the front door of a girl to pick her up for a date. It's bad enough that you have a whole, you know, "date" with a girl you're obviously interested in, but then you often have to face down a firing squad of a non-trusting father, and, in some cases, a brother or two who would like to remove your head from your neck.
Just imagine being the boy picking up Maggie Schwandt one day.