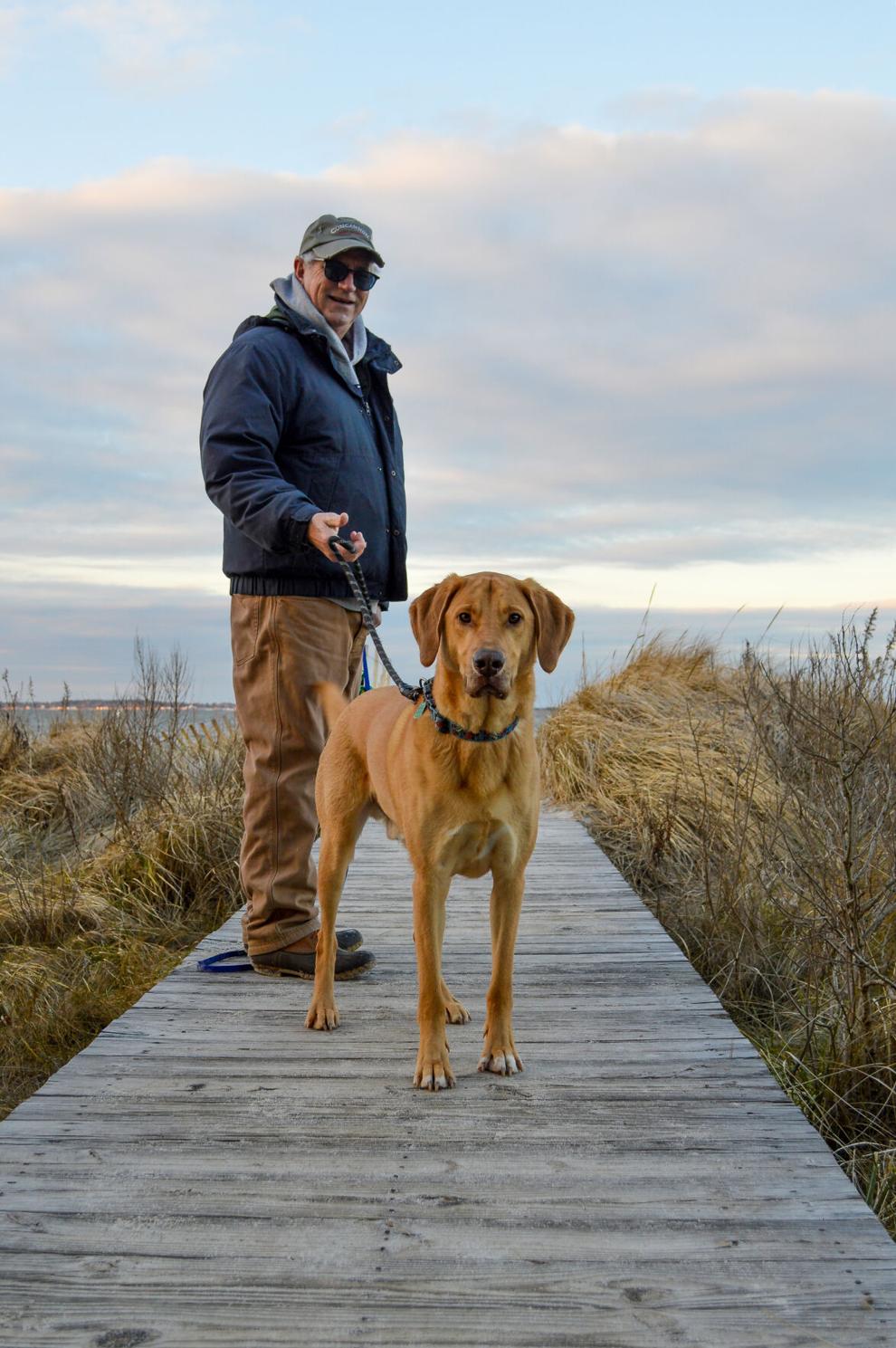 We often receive press releases from the good folks at Best Friends Animal Society in Wilmington, reminding us of days set aside to celebrate our four-legged companions, including National Dog Day, a time to "pause and appreciate the joy dogs bring and the comfort and companionship they provide."
I was doing a little writing at home when I read it, my laptop situated on the screened-in porch and both of my beagles nearby. Buddy, now 14, who has been by my side through proverbial thick and thin since he was 3, was lying on his stomach, snoring with the gusto of Moe, Larry and Curly, while 3-year-old Crusoe, who I adopted two years ago after his family was killed in a house fire in Dover, was looking out the window at the squirrel who, daily, torments him.
The little rascal scampers up and down a tree, chattering and making direct eye contact with Cruz, as I nicknamed him, prompting him to get up on his back feet and sing that beagle howl I love. But Cruz is a happy, gentle cuddler, and wouldn't hurt the squirrel if it walked into the kitchen and stole the good silverware.
Life deals hands to us all. In my case, there were no children, but I have been blessed with a gaggle of kittens, cats and dogs that I refer to as my kids.
I love the cats — all rescues — some who were dumped into my driveway by those who knew I'd take care of them, others in desperate need, starving.
David had a leg amputated last year. Chase was born deaf and with chronic bronchitis. Stanley Clive was thrown from a car on my street and came limping down my driveway, scratched and with his tongue bleeding. I was outside stringing Christmas lights. I picked him up, cleaned his wounds, fed him and fell in love. My neighbor Marge and I took care of Stanley Clive for years, until he died a decade ago.
Arthur was no bigger than my hand when he was discovered hiding and trembling under my car at 11 p.m. one night last year, after somebody knocked on my bedroom window and quickly disappeared.
There have been dozens over the years, all making my heart swell with compassion at first glance, every one of them reducing me to sobs when I had to say goodbye. Containers with their ashes, dotted with seashells and flowers, are in my home office and on a hutch cabinet.
As much I love my cats, I've always had a different kind of closeness to my dogs. When I adopted Buddy, he didn't have a middle name, so I gave him four, dubbing him Buddy Bartholomew Theodore Solomon Alexander Canfora. Nobody knows what Cruz's real name was. His fosters were calling him Blaze — kind of insult, considering he witnessed a deadly fire and is still terrified of sirens. I named him Sebastian Sir Alistair Crusoe Canfora.
When we walk on the trail around the pond near our house, I introduce him as Crusoe. Humans invariably say, "Hi, Caruso." As a longtime wordsmith, I get frustrated, but he just wags his tail and gets closer, hoping to get his little head rubbed.
I was pleased when I didn't see Crusoe on the list of the most popular dog names for 2020, among them Luna, Cooper, Bentley, Winston, Toby, Oakley, Apollo, Nova and Beau. I've heard others, too, that no self-respecting dog would claim, such as Ermengarde or Entwhistle. What were their owners thinking?
Cruz falls into the cool-dude category, from his name to his personality. I often joke he's reincarnated as James Dean and can imagine him in a red leather jacket, keys to a sports car dangling from his paw. He is unflappable and goes along with just about anything, except when he is determined to walk in a particular direction. Then he squares off his shoulders and refuses to budge, even if I tug on his harness. He looks at me out of the corner of his eye — thus, another nickname, Sidewinder — reminding me I usually give in.
Buddy has an air of dignity and classiness, but he will quickly defend me if he senses danger. He is my entire heart and soul.
Ah, dogs.
Actress Elizabeth Taylor said some of her best leading men were dogs and horses, and Mark Twain, in his wisdom, wrote, "The dog is a gentleman; I hope to go to his heaven not man's."
Humorist Josh Billings hit the nail on the head when he observed, "A dog is the only thing on earth that loves you more than he loves himself."
Very true — as long as you don't name him Entwhistle.