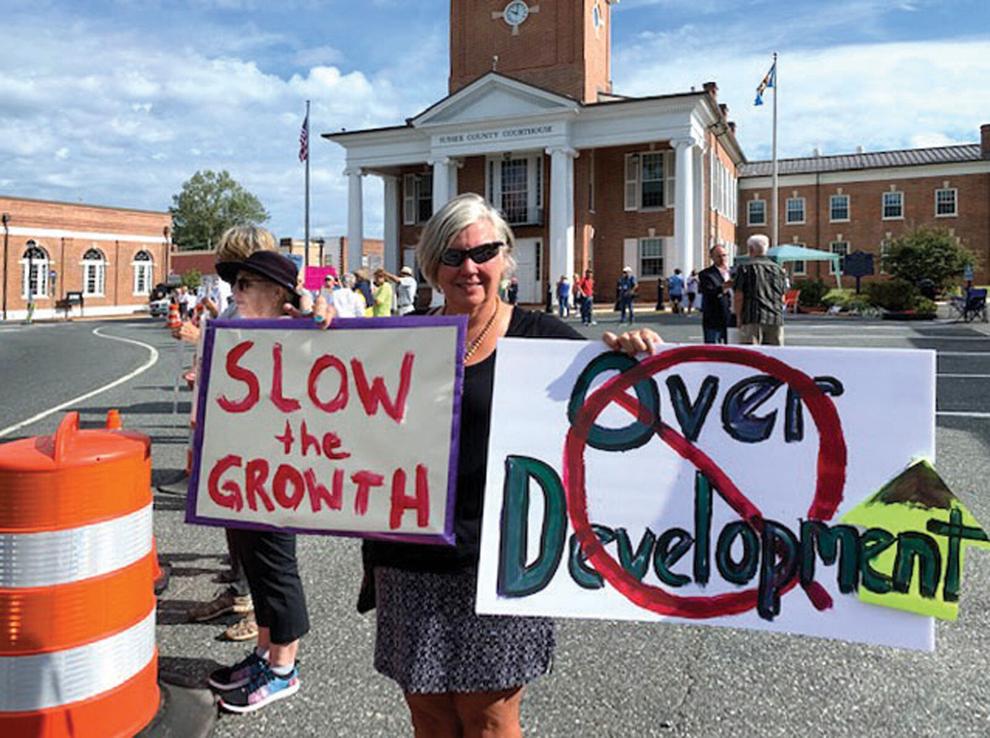 A stalwart group of about 100 people exercised their right of assembly to share concerns about over-development in Sussex County on Tuesday morning. With a petition of more than 2,000 signatures, called "Enough is Enough," presented to the Sussex County Council, the slower-growth movement made their position clear, calling for an infrastructure plan.
Members of the Southern Sussex County Community Action Group, environmentalists and petitioners signing a demand for reducing commercial and residential development, online at Change.org, lined The Circle in a scene reminiscent of the 1970s and birth of the environmental movement.
"I have been an activist since I was a kid," said Judy Rolfe of Lewes. "Doing nothing is not an option anymore. People who are profiteers are treating our wetlands and our marshes like a commodity."
"The real change needs to happen at the Sussex County Council, because this is not working for us," said Rolfe. "I am very happy to see most of these people from coastal Sussex, which may lead the nation in terms of development in flood-prone zones" near wetlands, she said.
"There is an exhaustive process that goes into every development," John F. Reilly, Sussex County Council vice chairman, told the Coastal Point. "All the state agencies go through the planning process before it comes to our council. We take into account infrastructure impact and balance that with the rights of the property owner. Our job is to find the happy medium. It's not rubber-stamping."
"We have seen the mega-trend of the exodus out of the cities that really caught us off-guard," said Reilly. "People realized they could do their work at home, so why not do it at the beach? We have the Baby Boom wave breaking. It has a noticeable impact on Sussex County."
Sussex County budgeted $24 million in transfer taxes revenue during the most recent fiscal year, and ended up with $55 million in transfer tax revenue based on new residents. Reilly also cited recent Wall Street Journal reports about Sussex as an ideal location for retirement as a source of new residents. A national magazine also declared Millsboro as a great place for tele-work.
"We are on the radar!" said Reilly.
"Yes, we are all struggling to adapt. Del-DOT will bring $1.2 billion of new transportation construction, and even that will just be keeping up" with traffic, Reilly added. "We increased our budget for open-space to $3 million this year, which is an increase of over $1 million. We are looking for opportunities to purchase land to put it out of play. Market forces are powerful."
"We are open-minded, we all live here, and I think we all want the same thing," said Reilly.
"This is a grassroots movement and is a reflection of the growing anger," said Greg DuRoss of Lewes. "I reached a limit when I saw 11 new developments on Robinson Road. The new status quo of uncontrolled growth is not acceptable, and that is what we are protesting today."
"It is about managed growth, rather than no growth," said DuRoss. "Let's slow the growth and do more planning."
Dottie Cirelli was one of the chief organizers of the protest and also provided the Change.org petition with 2,000 signatures that was submitted to the county council and to 15 state lawmakers in Dover. She is from Rehoboth Beach and said she was dismayed that no member of Sussex County Council nor state government had replied to her petition.
"We want to preserve the quality of life we have here," said Cirelli. "The development is just out of control, and there is no infrastructure."
"We need to protect our environment and our fragile ecosystems," she said. "We have to get rid of the current county council" and the Planning & Zoning Commission, who she said are approving all the development.
Protest signs and homemade placards, reading "Slow the Growth" and "No More on 54!" among other slogans, dotted The Circle on Tuesday, with the assembly calling on passing motorists to blow their horns in support of less development. The Circle was a cacophony of horn blowing as county council met in chambers inside the County administrative building, just a stone's throw away from the protest.